LA Police Gear is a supplier for all things survival, everyday carry, camping, military, and police. The company began in Los Angeles in 2001 with police officers who wished to bring great deals to other law enforcement professionals. But thanks to the Internet, this top-notch gear is available to ordinary citizens, too. Now you can take advantage of this and stock up on all the best tactical products.
The brand has everything from gear for outdoor activities, emergency medical needs, private security, home survival, and more. Whether your gear needs are professional or personal, LA Police Gear has something for you. In addition, they carry reputable and recognized brands such as Condor, Oakley, Bates, and 5.11 Tactical. They also have top-quality accessories, bags, and apparel. We will be covering some of these items in this article today.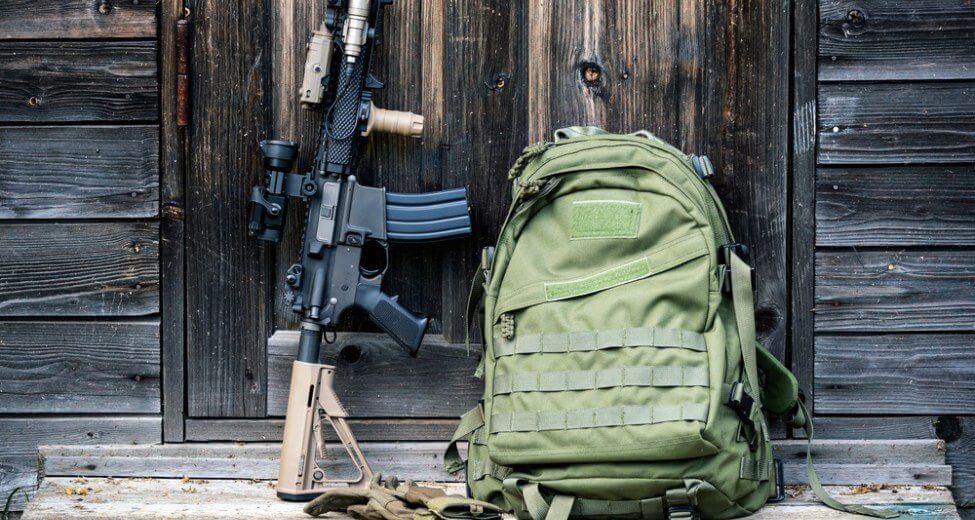 Image via Astraightarrow.net
Why Choose Tactical Gear?
When you consider buying gear or clothing for survival uses or hiking, your first thought may be heading to the local sporting supply store. But why not go for military-grade items? There are many benefits to choosing LA Police tactical gear, or gear that is intended for law enforcement or military. Let's look at a few of these advantages now:
Durability
If you are okay with some extra weight when it comes to clothes, accessories, and other items, the durability is worth it. Tactical gear, like that offered by LA Police, will hold up through harsh weather and conditions. Law enforcement-grade products won't wear out as quickly, so you can use them again and again over the years.
You'll Save Money
True, high-quality gear is more expensive, that's a fact. But when you buy the cheapest shoes you can find, for example, how long do they last? Usually, you end up having to buy them once or twice a year. Replace this with a quality pair of law enforcement or military-grade boots, however, and you'll be wearing the same shoes for ages without having to worry.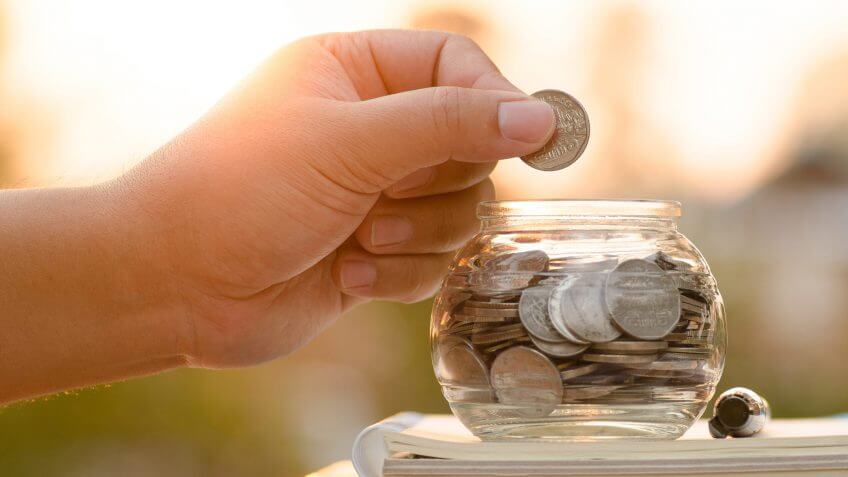 Image via Gobankingrates.com
Adaptability
Tactical gear is designed for use in a wide variety of environments. Whether you need quality work supplies or just want to take your survival skills to the next level, this is a benefit. If you end up having to bug out, for instance, you will need items that are rain proof, lightweight, and adaptable to many situations.
More Pockets
Ordinary clothes or gear might not come with pockets. And if it does, they are probably quite limited. On the other hand, tactical gear comes with plenty of sections and pockets for organization. To be truly organized, you need a system that doesn't require hunting and rifling through your pockets each time you need your keys or phone.
Comfort
Tactical and military-grade products are often made with care and designed to be comfortable for long periods of use. For example, tactical belts, vests, and bags have cushioning and padding on the straps. They also tend to be designed to evenly distribute the weight of the items you need for everyday carry. In addition, tactical clothing and gear tend to be breathable and crafted to prevent chafing.
These are just a few of the many reasons why you should consider LA Police Gear and other tactical-grade brands. And it's not necessary to buy your gear or hiking clothes from a local shop. Instead, check out online retail for the best quality products.
In this article, we will cover tactical backpacks and bags, tactical shirts, tactical pants, and a few different types of accessories.
LA Police Gear Tactical Bags
Carrying a tactical bag will bring you many benefits. Whether you're using it to carry everyday items, camping in the woods, or hiking the trails near your house, a tactical bag is a good investment. These products are great for tough, demanding environments due to the variety of features present on them.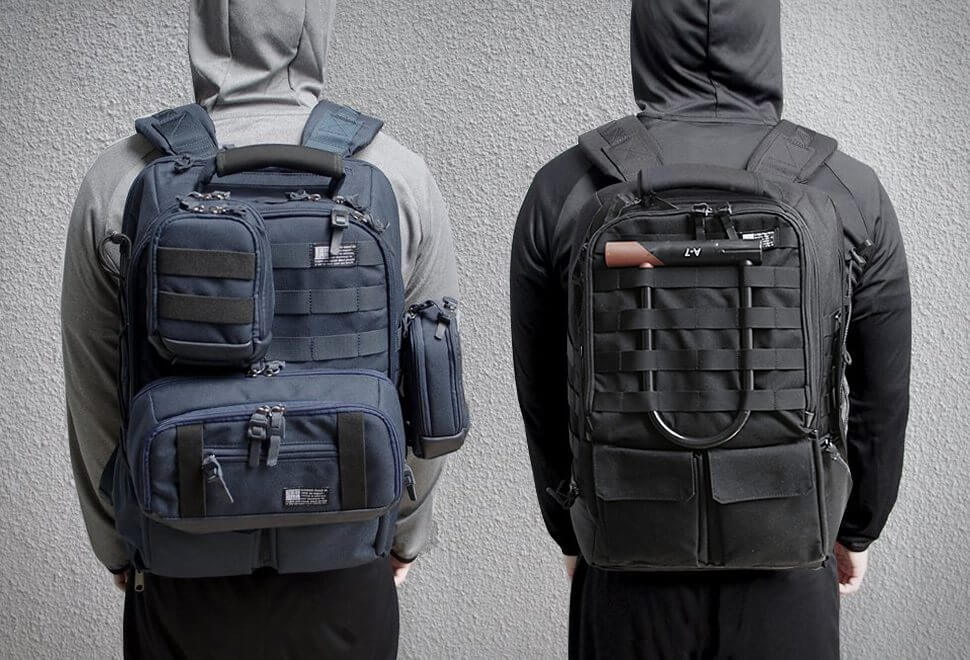 Image via Blessthisstuff.com
Tactical vs. Ordinary Bags
Regular backpacks may be uncomfortable, leading to pain in the shoulders or back. This is an inconvenience and danger that should be prevented at all costs, especially during outdoor missions or adventures.  In addition, ordinary bags and backpacks aren't suitable for military or law enforcement as they just aren't advanced or reliable enough.
Essentially, tactical bags have extra attributes that make them better than normal bags. If they are good enough for military and law enforcement, they should be good enough for you. They offer support, sturdiness, and comfort that is unparalleled. And with the durability and strength offered by these items, you can rest easy even in a stressful environment, knowing your personal items are safe.
The Benefits of Tactical Bags
These products are made to protect your belongings from the elements and to fit your back comfortably and ergonomically. But just in case those reasons aren't enough, here are some more convincing reasons to use a tactical bag:
-Ruggedness
Tactical bags are usually made from polyester blends or waterproof nylon. Due to their highly structured designs and all-weather materials, they are far more resilient than other bags. Wearing an ordinary canvas bag in the rain can lead to trouble when your papers get soaked. Get a tactical bag instead to prevent this mishap.
-Modular Connectivity
Your bag can be adjusted according to your unique needs with MOLLE, ALICE, PALS, and other systems for connection. With these pouches, you can choose to leave additions behind or load your bag up even more. Connection systems make it easier to access items and keep the important things close at hand. A lot of different pouches and connection systems are available on the market, so it's up to you to find the best one for your situation.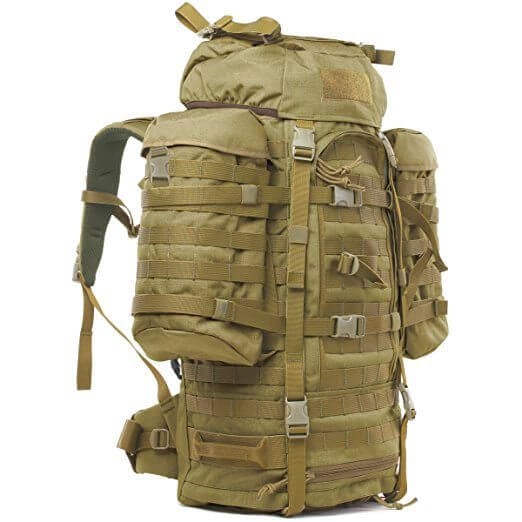 Image via Amazon
-Hydration
If you are choosing a tactical bag, you'll need one that has a system for hydration. An ordinary backpack requires the wearer to stop and unzip the pack each time they need a drink of water. But with a tactical bag, getting hydrated is much easier. Many modern day tactical bags either have pockets for your hydration system or come with a bite valve that you can connect to your water bottle. Filling this with icy water will keep you cooled down on a hot day.
What Else to Consider
When you're choosing the best tactical bag, there are some considerations to make. For instance, what will it be used for? What gear are you going to bring with you in the bag? How much does your gear weigh? How can you organize your bag so that the items you need quick access to will always be within reach? And remember to prioritize comfort.
The padding and hip straps on your bag should fit you well. That way, you can wear your bag for long periods of time without unnecessary fatigue. The truth is that you won't ever find the perfect tactical bag. But no matter which one you choose, it will by far outweigh the benefits of a regular bag. With this in mind, let's look at some of the best tactical bags available on the market from LA Police Gear.
LA Police Gear Operator Tactical Backpack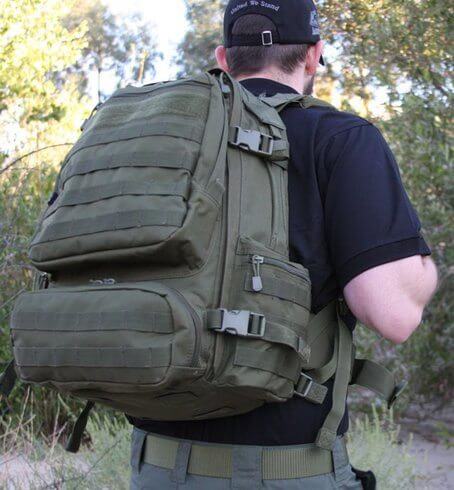 Image via LApolicegear.com
The Gear Operator Backpack is a new product from the LA Police Gear brand that comes with a multitude of features for your convenience. You can choose between OD Green, Tan, and Black for your bag to ensure it matches your gear or provides you with camouflage as needed. You can even purchase a bag of each color to use for outings in the city (tan), outings in the woods (green), and for cover at night (black).
This carefully designed product comes with ergonomically designed compartments and pockets for your items and a padded back for your comfort. The bag measures 12 by 16 by 20 inches with a maximum waist circumference of 56 inches. Let's take a look at some of its other noteworthy features.
-Hydration Compatible
This bag is hydration compatible and holds up to 3 liters (100 oz.) of water. You can route the water tube to the side that is most convenient for you to stay hydrated while you're on the job. Note that the Hydration Reservoir must be purchased separately.
-Storage Space
The Gear Operator backpack by LA Police gear has a main compartment with plenty of space for bigger items. You will find more space for your clothing and smaller items along with adjustable straps to keep them secure. There is a flap inside that has two separate mesh compartments with zippers.
-MOLLE Compatible
This backpack has a lower front compartment with sections and dividers for easy organization and storage. On the outside of the compartment, there is MOLLE material for extra attachments and pouches. There are two sections on this upper front compartment.
-Ammo Space
There is a large pocket on the backpack that has numerous dividers and two magazine pouches that you can adjust to your liking. This is perfect for holding pens, medical kits, ammo, and more. The bag also has two small pouches on the side for extra small items or water bottles.
LA Police Gear Atlas 24 Hour Tactical Backpack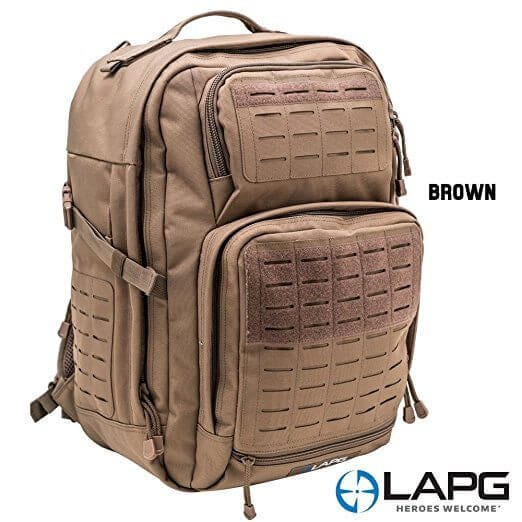 Image via Amazon
This particular line of tactical backpacks comes with so many features that you'll find one fit for any line of work you need it for. And the Atlas 24 Hour bag is no exception to this. As with other products by LA Police Gear, this product has top-notch materials and quality for an affordable price. Let's look at some of its noteworthy features:
-Quality Material
The Atlas backpacks are made with a PCV coating and super-tough 900D Polyester material. In addition, they come with laser-cut MOLLE so you can attach your important items to the outside.
-Chest Pack Attachment
Your Atlas bag will come with an attachment system for your LA Police Gear Chest Pack, sold separately. This will essentially give you the storage space of an additional bag and is perfect for smaller items.
-Portability
Compared with other backpacks, the Atlas bag is compact and easy to carry. Although you will have plenty of space for your items, its dimensions are just 10 by 16 by 20 inches.
LA Police Gear Jumbo Bail Out Bag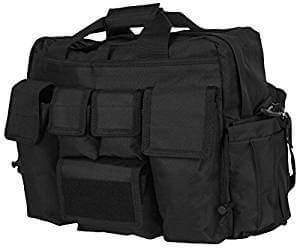 Image via Amazon
If you'd rather have something closer to a duffle bag than a backpack, the Jumbo Bail Out Bag by LA Police Gear might be more your style. It's similar to the Bail Out Bag offered by the brand but about 30 percent larger in size. Now, you'll be able to enjoy the same reliable design offered by the previous product with more room for your laptop and other must-have items.
-Advanced Storage Layout
This duffle bag has numerous pockets included on each side with two big hidden pockets and attachment points for extra storage. The inner compartment is very large and also has additional pockets and a center divider that you can remove if needed.
-Affordable Price
Other brands offer bags similar to this one but charge much more. LA Police Gear, on the other hand, has found a way to give customers more for what they spend. This bag won't break the bank but will still give you everything you need. Its dimensions are 15 by 11 by 20 inches with the main compartment measuring 5.5 by 13 by 16 inches.
Tactical Shirts by LA Police Gear
Tactical shirts are useful for a variety of reasons. For starters, they have a sleek and professional look. In addition, they tend to offer more storage space for your everyday items. Whether you need a casual shirt to wear for your off days, or something to cover your needs on the job, LA Police Gear has you covered. Let's look at some specific tactical shirts offered by the brand now.
LA Police Gear Operator Tactical L/S Polo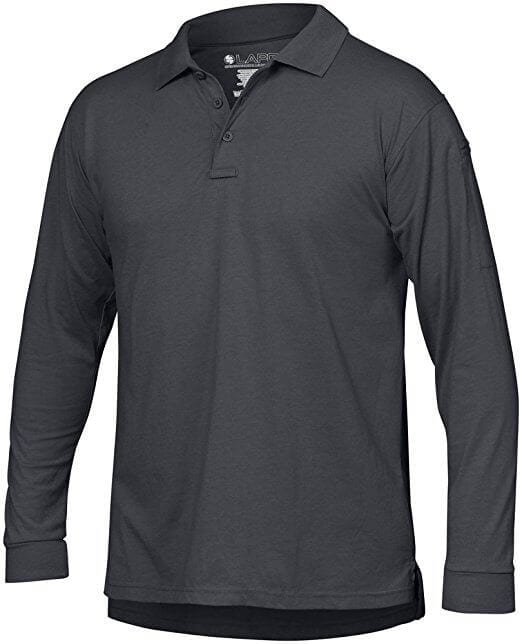 Image via Amazon
If you need a professional shirt for tactical purposes, this Operator Tactical long sleeve is a great choice. It won't wrinkle, fade, or shrink, and costs less than 30 bucks. Even after being washed and dried repeatedly with hot temperatures, the shirt won't shrink.
This tactical polo can be pulled out of the dryer and won't wrinkle at all. It's made from a blend of cotton and polyester, making it lightweight, comfortable, and soft to the touch. You will always look professional in this and the shirt works great with embroidered wording or badges.
LA Police Gear Terrain Casual Button Up Shirt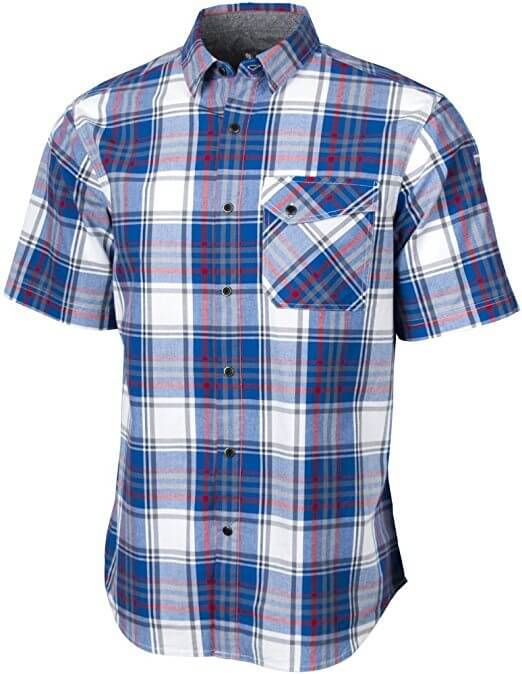 Image via Amazon
For those of you who prefer a button-up style for your tactical shirts, this Terrain Casual shirt by LA Police Gear is worth thinking about. It comes with mechanical stretch, fade-resistant, 100 percent cotton, making it very tough yet soft. If you need all-day comfort along with free mobility at work, the mechanical stretch design is ideal.
Each of these shirts are stitched to create a clean appearance with contrast stitching and the fabric is top quality. The shirt is both practical and covert in appearance. There is a left pocket at the chest for functionality and style. Except for the very top one, each of the included buttons snaps shut to give you easy access to your belt or waist.
On the left sleeve you will find two pockets for your pens. This is an especially useful feature if you'll be wearing this shirt to the office. Despite all of these useful features, the shirt is far cheaper than similar products by rival companies. Now you have access to high quality without needing to break the bank!
LA Police Gear Pants
At first glance, tactical pants seem like any other pants. But look a little closer and you'll see that the pockets are strategically placed for functionality and adaptability. This style of pants allows you to have all of the most important tools of the day within quick and easy reach. With reinforced pockets, extra strong stitching, and only the greatest material, tactical pants are the best out there for operational wear.
They are perfect for shooting practice, casual everyday use, professional needs, and let's not forget survival. Originally designed for mountain climbers, tactical pants have now become the first choice for military operators, FBI agents, EMTs, and police officers. Let's check out two awesome pairs of tactical pants by LA Police Gear currently on the market.
LA Police Gear Atlas Tactical Pant With STS

Image via Amazon
The ideal pair of tactical pants won't be short on storage space or features. So if you are concerned about either, The Atlas Tactical Pant is a great place to start. Highly technical, they are extremely comfortable and offer the durability and low-profile look you'd expect with pants that cost three times as much.
Built with a Stretch Tech System, these pants use stretch panels in the most important areas, offering unrestricted movement for your lower body. The rear yoke on the pants has a stretch panel and so does the seat and crotch area, offering free mobility and comfort. With these features, you can kneel down, work in your yard, and even do a somersault unrestricted.
LA Police Gear Elastic Waistband Operator Pant with Lower Leg Pockets

Image via Amazon
You won't find any shortage of useful features with these Elastic Waistband Operator Pants by LA Police Gear. These imported pants come with a zipper closure and are made from a blend of 65 percent polyester and 35 percent rip-stop cotton fabric. They come with two pockets on the lower leg and two slip pockets at the front.
There are two cargo pockets included with magazine storage space and great opportunity for internal organization. You'll find no shortage of room for all of your important everyday carry items with this 10-pocket design. These operator pants come with double knee fabric, a double seat, gusseted crotch, and as suggested by the name, an elastic waistband.
Although they have so many useful features and so much storage space, these pants still cost far less than competing brands. They offer far more freedom of movement than other pants at half the price. For these reasons, you can keep a few pairs of these pants on hand to use for different occasions.
LA Police Gear Accessories
But clothing and bags are only part of the picture when it comes to being ready for survival. To stay prepared for ever-changing environments and hazards, you will need some high-quality tactical gear. The accessories sold by LA Police Gear will give you the chance to access what you need on the go, no matter where you find yourself. Especially combined with the previous products in this article, the right tactical accessories give you a sense of preparation that nothing can top.
From slings to gloves, to tactical knives, military watches, and powerful flashlights, tactical accessories are built to serve the operator. LA Police Gear tactical accessories have precision engineering, superior craftsmanship, and attention to detail. This makes their products super durable and long-lasting. Let's take a look at some of their top accessories, so you can expand your arsenal of tactical gear.
LA Police Gear Rescue EDC Folding Knife Serrated Edge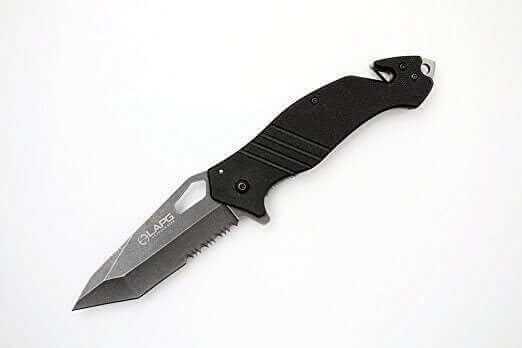 Image via Amazon
LA Police Gear is a brand known for offering useful, exciting products that look great, save you money, and provide the best functionality. The Rescue EDC Folding Knife with serrated edge is a perfect example of this high standard. Their knives are made of durable, tough steel that can be sharpened easily into a razor-sharp edge.
Perfect for carrying in your pocket, this knife works well for a variety of emergency situations. There's a removable pocket clip included on the knife's edge for a discreet, low-profile look when it's attached to your pocket. The perfect product when you need something lightweight, this balanced knife is reliable and sturdy.
You'll find a locking mechanism for safety and a blade that can be ambidextrously opened with the finger tab or thumb opening. The knife's rear area comes with a glass breaker and seatbelt cutter so it can be used as a multi-tool. The blade on the knife can come either partially serrated or plain and has an attractive, timeless gunmetal finish.
LA Police Gear Tactical Chest Pack Attachment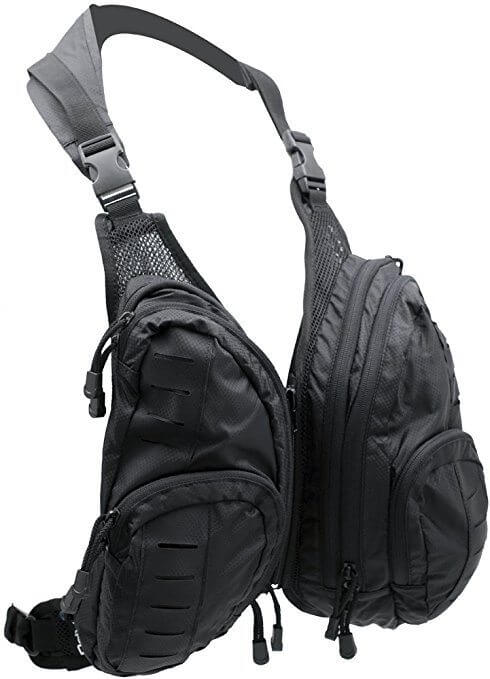 Image via Amazon
If you're looking for an innovative way to store everyday carry items while on the job or doing home survival, check this next item out. Mentioned earlier in this article, the Chest Pack Attachment from LA Police Gear is a new product built for easy access to stored items. You can wear this chest pack separately or attach it to an Atlas backpack by LA Police Gear. To do this just use the included buckles.
A chest pack cuts out the inconvenience of having to open your backpack while you're out on the trail, which is time-consuming. Instead, you can access food, water, and more as you're walking on the trail.
Whether you use this pack on its own or with another bag, it allows you to store your items and grab them quickly as needed. For this reason, it's perfect to take on long hiking trips. The product is uncluttered, simple, and a unique concept in terms of tactical gear.
LA Police Gear Recon Rechargeable Flashlight

Image via Amazon
There are countless uses for a tactical flashlight in addition to simply lighting your way in the dark. You can use it as a makeshift weapon or to signal to your group members when you get separated. This Recon Rechargeable Flashlight by LA Police gear produces a 1,000-lumen beam and can be recharged via USB.
For how compact and portable it is, you'll be surprised at how bright its light is. You can choose between three modes of output with this product; low, medium, or high. Anyone who has been buying products from LA Police Gear is already accustomed to a certain degree of quality with what they purchase, and this flashlight is no exception to that.
It feels comfortable in your hand with enough weight to feel durable, but light enough to carry on a daily basis. In addition, the charging process is simple. Just unscrew the back of the flashlight and you can access the USB-C port. There's an LED indicator to show you the charging status.
The flashlight has a spare cover for the button just in case the original gets worn out. There's also a spare O-ring in case you need it for the light's battery cover. You will also find a well-built holster included that holds the light securely and comfortably. You can expect to own this flashlight for years.
Conclusion
As you can see, you won't be missing out on quality or functionality when you choose tactical products from LA Police Gear. These are items that have been trusted by medical professionals, law enforcement, and military officials for years and years. Now you can also have access to these great items and, best of all, you don't have to sacrifice quality or comfort for affordability. If you care for your tactical products over the months, they will last you for ages. Hopefully, this article has been helpful to you and good luck with your tactical gear shopping!