Nothing can beat a great pair of tactical boots. If your ankles have been injured or are prone to injuries, the added support can make all the difference for stability. Tactical boots are also great if you need to carry a heavy load or take a long hike in a bug-out situation. They are also perfect for newbie outdoors men since they offer extra support. And last but certainly not least, tactical boots offer protection. A great pair will shield your feet and ankles against snake bites and other unfortunate injuries in nature. Let's take a look at the best 5.11 tactical boots available on the market today.
$115.00
in stock
2 new from $115.00
Last updated on December 3, 2023 10:45 pm
More of Our Favorites
5.11 Tactical A.T.A.C. Sage 8″ CST Boot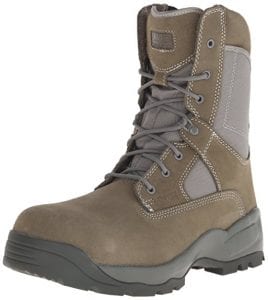 Image via Amazon Crafted for maximum safety in dangerous outdoors environments, the ATAC CST boots by 5.11 Tactical offer amazing utility, protection, and comfort with a professional look. The uppers give stability and allow your feet to breathe, the midsole is puncture-resistant, and the toes are ASTM-certified for safety. The lining of these tactical boots is moisture-wicking and antibacterial to keep your feet clean and free from infections. Even on long treks, you will stay dry and cool. Other advantages include the slip and oil-resistant outsoles for great traction and speed and the shock-mitigating feature. The boots will last for ages and support you in harsh situations along with everyday wear.
5.11 Tactical A.T.A.C. 8″ Storm Boot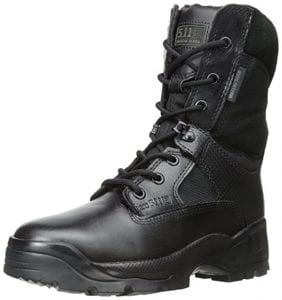 Image via Amazon Created to shine in a variety of environments, the Storm Boot by 5.11 Tactical offers one of the most versatile wearing profiles available today. These shoes are waterproof, durable, and exceptionally comfortable for what they offer. Even under pressure from athletic movements, they get the job done. The shoes feel similar to sneakers on your feet and are easy to put on and take off due to the tough, durable zipper. The laces don't need to be used often so they hold up well over time. If you need great traction in your shoes, these offer that as well. Plus, the material is durable enough to take some real abuse in the great outdoors.
5.11 Tactical A.T.A.C. 6″ Side Zip Boot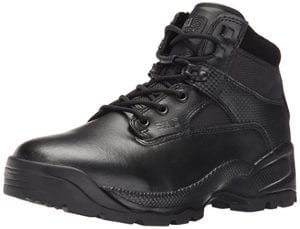 Image via Amazon Used by special tactics and law enforcement teams across the globe, these 6" ATAC boots by 5.11 Tactical have a professional look with a functional design. The side zip allows you to take them off and put them on very quickly, cutting out the hassle of using laces each time. The toes are made from full-grain, high-shine leather, which looks great. These tactical boots have uppers crafted from nylon for breathability and resilience that is fit to handle rugged patrol environments and situations. The foam cushioning is dual-density and the lining keeps moisture at bay so your feet stay fresh. The outsoles won't squeak and also offer oil resistance for safety and stability. And the boots as a whole offer stamina and reliable traction no matter the surface.
5.11 Tactical A.T.A.C. 8″ Shield Boot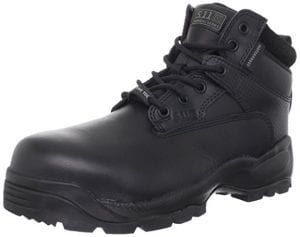 Image via Amazon If comfort is your number one concern on the job or at home, you can't do much better than the 8" Shield Boot by 5.11 Tactical. Once slip them on, they will fit perfectly while offering safety and a lightweight. This makes them ideal for long hours at work or out on the trail. Compared with tactical boots by other brands, these offer a lot of cushioning. Some may even find that they don't require the dreaded "break-in period" that most other boots do. Like the previous two items on our list, these have the side zipper that makes them easier to take on and off. Note that the zipper is a little stiff at first but will get easier to use once you've had the boots for a while.
Caring for Your Tactical Boots
Service members have required great-quality boots for ages, and that hasn't changed one bit. But tactical boots in our modern day are incredible compared with the boots of even 20 years back. The new materials used to make them lighter and tougher than ever before. So you've just chosen the boots you'll be wearing for months or years to come and you're satisfied. But selecting a quality boot is only the first step on this journey. Next, you'll need to ensure that your shoes stay in great shape with some extra care. The following tips will help your tactical boots last longer:
Remove Dirt Buildup: Cleaning your boots isn't just about how they look; it will help them last longer, too. Dirt is abrasive and can gradually eat away at the outside of your shoes, so wipe them down on a regular basis. A simple damp cloth with some mild soap should do the trick, but make sure you are caring for your boots properly if they're made from real leather.
Keep a Spare Pair: It's best to have not one, but two pairs of tactical boots. Break in both pairs and rotate them instead of wearing only one pair every day. This will ensure that you always have a pair ready if something happens to one of them.
How to Break In Your Boots: The last important consideration you must make as a proud new boot owner is properly breaking them in. You can't simply take a pair of boots out of the box and expect them to immediately be ready for a 10 hour shift on your feet. Instead, put them on and take short walks at first to see how they feel. Work your way up to longer periods of time until they start feeling more comfortable. While you may get lucky with some shoes, most will require this extra period to fit right.
Make a Careful Purchase
Boots are one of the most important parts of your tactical gear and not an area you want to be stingy in. Instead of looking to save as much money as possible, make sure you invest in a great pair of quality shoes. And don't be afraid to go the extra mile to keep them in tip-top shape.