[Update] This post was updated on [last-modified]
Looking for the best Casio G-Shock available in 2020? After hours of research & reading ALL the manuals, I know you'll find the perfect watch that fits YOUR needs.
If you are confused about all the G-Shock models, I've distilled all the information into this concise guide.
For people wanting to get straight to the point, hands down, this is the best watch on our list.
Note: A military watch doesn't just mean a 24-hour dial. 
G Shock Comparison Chart
[toc]
About Casio G-Shock Military Watch
G–Shock is as a brand synonymous with durability and toughness. Known for its resilience, each piece embraces many more additional characteristics.
The other fundamental components of a G-Shock timepiece include resistance to electric shock, gravity, low temperature, vibration, water, and shock. This means that this ruggedized watch can handle hard impacts (thanks to internal components protected with urethane and suspended timekeeping modules in the way that it is structured) and inclement weather without issue.
Additional benefits of this brand can include LED light with afterglow, 4 daily alarms, an hourly time signal, 1/1000 second stopwatch, countdown timer, and 48-city world time with 29 time zones.
The G-Shock Reviews
Men's GWN-1000E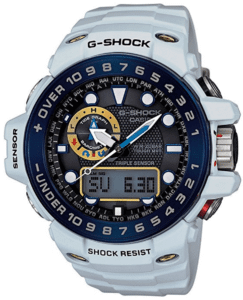 The G-Shock Men's GWN-1000E is the type of watch that has been designed to offer a variety of outdoor activities such as deep sea diving. This analog watch is large and is even larger than the Rolex Submariner. Yet it is extremely lightweight and comfortable to wear.
Atomic Time Function
This is one of the top features related to the G-Shock Men's GWN-1000E. It has been suggested that once you take advantage of this function you will wonder why you didn't get it before. This is especially true if you are one of those people who are fanatical about the time.
Works Well Under Water
This watch operates well under water, so is a great choice if you take part in outdoor activities involving water, such as diving. The solar-powered feature also lets you turn your watch towards the sun in colder weather. The watch may be prone to condensation underneath the glass, but this will typically clear up as soon as you go inside.
Check Amazon.com To View Current Pricing & Availability
Features And Specifications
The case is shock-resistant while the face of the watch features hardened mineral-glass
The watch offers 29 time zones in 48 cities and UTC
You can alternate the time between world time and city time
You can choose the daylight saving option by either selecting ON or OFF
Offers both a 24 hour or 12-hour format
Has an auto-calendar up to the year 2099
The watch features a digital compass
Comes with triple-sensor capabilities that can be used for altitude, atmospheric pressure, and direction
The Temperature Hands indicate compass bearing and atmospheric pressure
You can use this watch to a depth of 200M in water
Comes with an automatic LED light along with an afterglow
Offers you the option to choose up to 5 alarms daily along with 1 snooze alarm
The watch runs on solar power
What Customers Are Saying
Even though the watch is advertised as white, the color is more of a dove matte gray. It is comfortable and lightweight and one of the main features is the atomic-time function that ensures you are always able to know the precise time.
The majority of the customer reviews on this watch are positive. However, a few customers mentioned that they hoped for a longer lasting and brighter lumen. In addition, some say that the backlight function is somewhat weak, but overall the various feature packed functions seem to override these minor issues.
Over and above the negative as well as positive reviews on the G-Shock Men's GWN-1000E the watch is feature-packed, comfortable and stylish. In addition, you never have to worry about replacing the battery or wind up the watch as it runs on solar power.
Based on all the information about this men's watch I would not hesitate to purchase this fantastic product.
This is an outstanding watch that offers you all the features you will ever need. In addition, it is comfortable to wear and functions great as a navigator. All the other features such as the compass, water resistance, sensors, and alarms all perform outstanding functions.
Check Amazon To View Current Pricing & Availability
G-Shock GA110-1B Military Series (Black)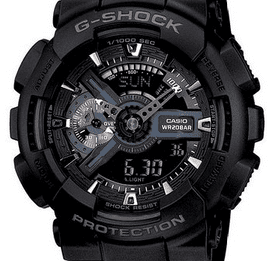 Specs
Afterglow LED
Antimagnetic
Shock resistant
Water resistant
Adjustable Band
What We Love
The adjustable band has "teeth" which keeps it from slipping. It offers all the features that you would expect to find in a Casio G-Shock.
It does not offer things like, "phases of the moon." It does make up for it with its big rugged look.
Check Amazon To View Current Pricing & Availability
G-Shock Men's G100-1BV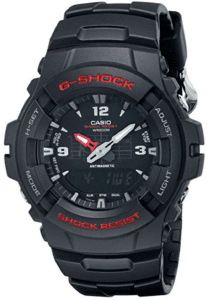 The Casio G-Shock G100-1BV is a classic shockproof watch.
It makes for the perfect watch for anyone who lives for the outdoors. As well as being shock resistant, it's up to 200 meters water resistant and magnetic resistant. These features make it ideal for diving and long outdoor excursions alike.
The G-Shock G100-1BV also features a stopwatch and auto-calendar, as well as a backlight with afterglow, so you can use it in any lighting.
It's a watch that will stand the test of time; it has a battery life of roughly three years. Coupled with the brilliant durability of the watch, you can almost guarantee you won't have to buy another watch, at least for a long time.
It's minimal black design and coloring means it can blend in with a casual or formal dress as well as its intended use of outdoor or underwater activities.
Check Amazon To View Current Pricing & Availability
What Are Customers Saying?
Customers who have purchased this watch love the ruggedness and durability of it. The battery life is a major bonus for many users as well.
Many were surprised at the battering this watch can take; whether dropped from a rock face or deep into the water, it always comes out ticking. It is easy to see why G-Shock technology is extensively used by the military, police and other armed forces.
Some customers did have a con or two about this watch. One customer noted that the backlighting isn't great and that they struggled to read the watch at night. It is important, as with any light, to keep it switched off until needed. By leaving the backlight on during sunlight hours, you will diminish the power of the light rendering it useless when you need it.
Others noted that the watch was a little bulky. This may be true but it is also to be expected when buying a highly durable watch. G-Shock watches are made for action and collisions, meaning they need to be dense and padded to sustain shocks and pressure.
Overall, customers were more than happy with this brilliant watch. The quality of the product ensures that it is a real investment and something that won't need replacing shortly after you buy it. It's a quality and very good value. Whether spear fishing or scaling cliff faces, you can be assured that your G-Shock G100-1BV will be functioning with you all the way.
Check Amazon To View Current Pricing & Availability
G-Shock Men's DW9052-1V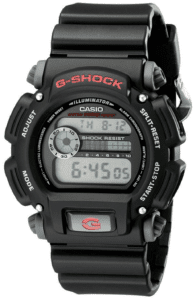 The G-Shock DW9052-1V is a fine watch for anyone who frequents the great outdoors, the deep blue and the highest of peaks. As a watch made for the outdoors, it's highly durable.
This watch is perfect for long excursions into the wilderness, where you might be scaling rock faces or swimming through rivers. It's useful for the dark as well, as it comes with a backlight for darkness. Sometimes we need to be rougher and throw our arms about, which would shatter a lesser watch, but the G-Shock series of watches are shock resistant, so you don't need to worry about it.
Perhaps the standout feature of this watch is that it is 200 meters water resistant, making it ideal for diving or spearfishing. Even if you were to drop it from your boat, you would probably be able to source it and find it still works. It is suited to professional marine diving, as well as serious water sports, such as surfing, sailing and jet skiing.
Check Amazon To View Current Pricing & Availability
What Are Customers Saying?
Customers who had purchased this watch were really satisfied with the durability of this watch. Many were surprised at the amount of battering it could sustain. This is primarily down to the expertly designed exterior casing of the watch.
They were also amazed by the water pressure it can sustain. Frequent snorkelers often purchase this watch as it suits the depths at which they might be diving. The shock-resistant shell also allows for divers to knock it off rocks as they dive for exotic sea life.
Some customers had complaints about the water resistance of the watch; scuba divers will reach much greater depths than other divers. Continued pressure through regular scuba diving is bound to add excessive pressure to the watch, damaging it over time. As durable as this watch is, continued pressure of 200 meters and more will shorten the lifespan of this otherwise brilliant watch. To preserve the already lengthy lifespan of this watch, you shouldn't continually dive to great depths with it.
Overall, this is a really great and durable watch. Customers are generally impressed with the value and quality of this product. The lifespan it offers suggests you won't need to purchase a new watch for many years to come.
Check Amazon To View Current Pricing & Availability
Casio G-Shock DW5600E-1V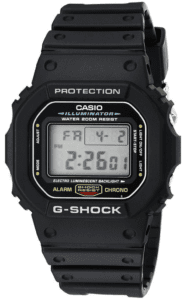 The Casio G-Shock DW5600E-1V is a durable and reliable watch with a classic, retro look. Many durable watches are extremely bulky and uncomfortable, but the G-Shock DW5600E-1V is small and elegant, while retaining its sturdiness.
It has a thin shock resistant exterior, meaning it is both comfortable on your wrist, and also capable of withstanding knocks against hard surfaces. What's also really useful about this watch s that it's up to 200 meters water resistant. This makes it useful for someone who snorkels or swims a lot. The stopwatch means you can record your times if preparing for a competitive swim. It also allows you to time yourself if training your lungs for deeper dives.
Check Amazon To View Current Pricing & Availability
What Are Customers Saying?
Customers who have purchased this watch loved the elegant sizing of it, which makes it ideal for casual use, as well as the durability of such a small watch.
The backlighting of the clock face allows you to easily see the watch face at night, which was also a major plus for many customers. Customers who serve in the army noted how the watch was reliable throughout their training, which would involve crawling through mud, swimming through rivers, and climbing rock faces.
Some customers had complaints about the comfort of the watch, claiming it didn't sit well on their wrist. For this reason, it's a good idea to try a watch on before you make any purchases.
All watches are different and some may not sit on your wrist the way you would like. Likewise, all wrists are different, and so this watch simply won't be right for everybody. All the customers loved the look of this watch, and only a few were disappointed to find it wasn't comfortable on their wrist.
Overall, it has all the aesthetics of a retro Casio but the durability of a bigger shock-resistant watch. It's a reliable watch that will stand the test of time, so you won't need to purchase another for many years to come. The quality of this watch is outstanding, which is just one reason that customers come back to it time and time again.
Check Amazon To View Current Pricing & Availability
Casio Men's GA100-1A1 (Quartz)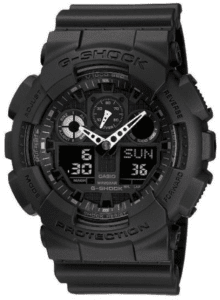 The Casio Men's GA100-1A1 is an expertly constructed watch for use in the great outdoors. It has ample features and quality, making it the complete watch for anyone who partakes in extensive camping trips or snorkeling excursions.
The simple coloring and design of this watch make it understated and stylish, as well as highly functioning. The durable outer shell of the watch allows it to withstand heavy shocks when you take off into the wilderness. It's an ideal watch for those who don't want to worry about their watch until they need it.
In the meantime, you can live life to the full. It's also water resistant for up to 200 meters, making it ideal for those who like to explore oceans, rivers, and lakes. It has numerous other features, such as a stopwatch, calendar, and alarm, making it the complete watch. The LED light and afterglow makes it really useful for camping trips, as you can still use it in the dark, unlike many other watches.
Check Amazon To View Current Pricing & Availability
What Are Customers Saying?
Customers love the durability of this watch. Many were surprised by the quality of the shock resistant outer shell. This means it will last you a lifetime, no matter what kind of lifestyle you're leading. Most were really happy with the outstanding performance against the elements that this watch provides.
Whether trekking through snow, camping under the stars or navigating through forestry, whatever the climate, this watch will withstand. Many were also delighted by the design and the stylish look of this watch, despite its rugged look.
There were some minor complaints from other customers however. As most people loved the look of this watch, they were disappointed at the price range. However, this is a watch for rugged use, and the design may be aesthetically pleasing, but its primary function is for the outdoors and durability.
The work that goes into making this watch so ideal for its function is the reason behind the slightly higher price tag. It's a watch adopted by the military for its many notable functions and its durability. If you're looking for a watch that looks good for a cheap price, look elsewhere. This is a watch for the great outdoors, not the streets.
Overall customers loved this watch. It's strong and reliable. It looks great too, but that's not the reason people buy this watch. It's a trusted brand that will stand up to the elements, wherever you are.
Check Amazon To View Current Pricing & Availability
G-Shock DW6900-1V Men's Black Resin Sport Watch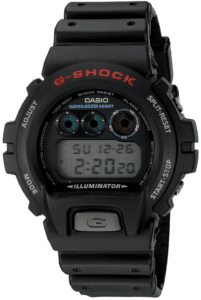 The Casio G-Shock DW6900-1V is the height of sophistication when it comes to durable, reliable watches, which so often lack any kind of class in favor of sturdiness and ruggedness.
It takes the vintage, understated look and coats it in a durable protective outer layer, meaning you can take this watch out on your excursions and not have to worry about ruining to great look, which compliments your casual attire when you're not hiking, climbing or swimming.
It has a tough exterior made from ABS plastic. This makes the watch totally shock resistant. It's also water resistant up to 200 meters, making it an ideal watch for divers and snorkelers, as well as habitual swimmers. The EL backlight with afterglow makes the watch visible in darkness, so it can be a useful tool to have on camping excursions in the great outdoors.
The multifunctional alarm and stopwatch make for useful additional features. These are great to have if you are training for a competition or keeping up with your general exercise and the progress you're making. It can display either 24 hour or 12-hour clocks, and the battery will last a staggering 2 years.
Check Amazon To View Current Pricing & Availability
What Are Customers Saying?
Customers have purchased this watch loved the simplicity or the design. Many watches of this caliber will be overloaded with features, many of which are useless to most users. This is a little frustrating for some, but thankfully the G-Shock Classic has a minimalist design, which compliments the classic look of this watch.
Others were really impressed by the durability of this watch. Whether trudging through mud, swimming in rivers or being cracked off of rock faces, the G-Shock DW6900-1V will withstand all kinds of impact and pressure. The long battery life was also a massive delight for many, as it means that, because of the durability, you probably won't need to alter this watch one iota for a number of years after putting it on for the first time.
Some customers, naturally, did have their grievances. Some customers found it difficult to read the time, claiming the numbers were too small. This is a common problem with all watches, and so customers should be advised to check for these sorts of things before purchasing.
Anyone with diminishing eyesight will struggle to make sense of a digital watch. Others claimed that the backlight was ineffective after a number of months. These same customers left the backlight on throughout the day, and so naturally it began to lose a lot of its strength. So make sure to use backlights only when necessary, such as the nighttime.
Overall, customers love the Casio G-Shock DW6900-1V for its minimalist, classic style, complemented excellently by the quality construction of this watch.
Check Amazon To View Current Pricing & Availability
Casio Men's G7900A-4 Rescue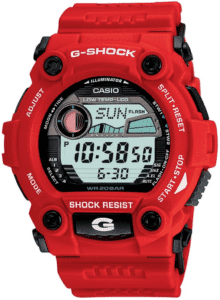 The Casio G7900A-4 Rescue is the all-action wristwatch for men. It has many features for all kinds of situations, as well as being strong, rugged and above all else, reliable. This outdoors watch is expertly designed to combine durability and style in one great watch.
The standout feature of the G7900A-4 Rescue is the moon and tide graphs. These are particularly useful for people who enjoy a life on the water. Surfers, sailors and fishermen alike will all benefit hugely from this feature.
As with all G-Shock watches, it's shock-resistant and waterproof up to 200 meters. It also has a low-temperature LCD automatic EL backlight, which will be useful for long camping trips or general use at nighttime.
The watch is made from highly durable Japanese quartz and gives a 24 or 12-hour display. The 50 mm resin case with a mineral dial window makes this a really sturdy watch with a screen that won't shatter like many others.
Check Amazon To View Current Pricing & Availability
What Are Customers Saying?
Customers are delighted by the moon and tide graph displays on this watch. It is quite a unique feature, and a highly useful one, that many have noted as the standout feature of this watch. What's more is that this feature actually works well. It is something that many watch manufacturers might claim but fail to deliver on.
The G-Shock G7900A-4 Rescue really delivers a great feature in these graphs. Naturally, as with any G-Shock watch, customers loved the durability and reliability of this watch. It is a reason that customers remain loyal to Casio G-Shock watches. As an investment, you simply won't need to replace them prematurely. Lastly, many customers noted the comfort of this watch. Despite its bulk and size, it sits very comfortably on most wrists.
Some, though very few, did have their grievances. One customer noted that the dividers between the clock and the graphs were raised, obscuring some of the clock faces. However, they did note that this was by no means a deal breaker, as it was an issue easily overcome with the tilting of the watch face. Some also noted that it is a chunky watch, and so it may not be suitable for all customers. This is something that everyone should acknowledge when buying a watch.
Overall, customers had almost exclusively good things to say about this watch. The design and durability make it one of Casio's finest offering, and the reviews from customers really back that up.
Check Amazon To View Current Pricing & Availability
G-Shock Rangeman Master Of G Series Stylish Watch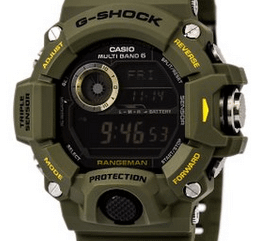 This watch is a favorite among military members, shooting enthusiasts and outdoor enthusiasts. The size is right, the fit is ideal and the watch performs as it should.
Specs
Solar battery
Barometer
Direction Readings
Triple Shock Resistant Sensor
Military-inspired color
Water resistant to 600 feet
Auto Led Backlight
What We Love
The design of this watch makes it super easy to use. The cylindrical buttons are easy to handle. The metal cover over the sensor ensures that dirt and grime stay clear of the sensor.
The auto backlight is a cool feature. Just tilt your wrist and the backlight comes on. Great feature when your hands are full, and you need to check on things. We also love the solar battery. It keeps time at about +/- 15 seconds per month.
Check Amazon To View Current Pricing & Availability
Casio Men's GA100SD-8A "G-Shock Military"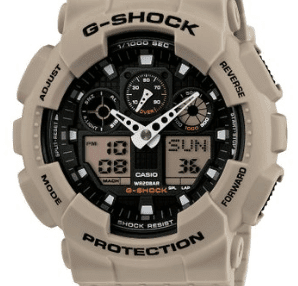 It is comfortable, lightweight and has a great appearance.
Specs
Auto back light
World time for 48 cities
Digital/Analog display
Water resistant to 660 feet
Four daily alarms
Solar battery
What We Love
We love the size. It is a large sized watch with a big face, but it fits comfortably on most wrist sizes. The double buckle closure is also a nice feature because it stays put.
It's rugged, looks great and is appropriate for a host of activities from diving, skydiving, shooting, hiking and everyday wear.
Check Amazon To View Current Pricing & Availability
Casio G-Shock Buyer's Guide
History and Origin
The Casio G-Shock watch was first created in 1983. The main goals were to achieve a 10-year battery life, withstand a 10-meter drop onto a hard surface, and be water resistant to 100 meters (10 bar).
The watch was a revolutionary idea at a time when watches were considered delicate and fragile. The G-Shock essentially created a new category, the rugged sports watch. The name G-Shock is short for Gravitational Shock, and Casio is very serious about the shock protection of the watches. The company created a series of 10 layers for maximum shock absorption to protect the inner workings of the watch.
The designers went through more than 200 prototypes while developing the watch. The watches were tested for toughness by dropping them from rooftops and high windows. The G-Shock line is still going strong 30 plus years later, with a wide variety of models designed to meet the demanding needs of many different intended uses. Later in this article, I will discuss the best G-Shock watches for various purposes.
Design & Structure
Casio G-Shock watches are some of the best-protected watches on the market. The protection starts with the unique case design. The bezel is designed to protect the case and buttons from hitting a flat surface when the watch is dropped from any angle.
Urethane resin in the G-Shock's band turns it into a shock absorber. The hardness of the resin is carefully designed to resist shocks while keeping the band comfortable to wear. Some G-Shock models have metal bands that are designed to be scratch resistant. The bands are structured to protect against shocks while maintaining their flexibility, with a range of movement of 150 degrees.
The G-Shock is designed with a hollow structure to further protect it from shocks. The watch mechanism essentially floats in the air within the case as a result. The hollow design keeps the size of the case from getting too large. The watches are crafted with shock-resistant features throughout the design. The bezel encloses the watch in all directions to protect the face and buttons.
The cushioning material protects the inner workings of the G-Shock, such as the crystal oscillator. This reduces the effects of impacts that could otherwise cause distortions and contact failures.
High-Tech Features
The G-Shock has a rechargeable solar battery, which stores energy from light absorbed by the watch, even fluorescent lighting. No matter where you are, indoors or out, the watch is always charging unless the environment is completely dark.
I love not having to worry about batteries. If the built-in battery ever runs out of juice, I can quickly get the watch going with a few minutes of light exposure. Tired of having to reset your watch? The G-Shock has a built-in radio receiver which picks up signals from the atomic clock in Colorado. It uses that data to adjust the time automatically for you, even as you move around the country.
If you're traveling overseas, the G-Shock's Multiband 6 technology can access time signals from stations in Europe and Asia, so you're covered almost anywhere you go. When the colony on the moon opens, the G-Shock will probably be able to adjust itself for lunar time, too.
Triple Sensor Technology
The G-Shock is much more than a timepiece. Its Triple Sensor feature gives you a temperature sensor and a barometer, which displays your elevation or altitude and lets you play amateur weatherperson.
The third sensor is a digital compass, which can come in handy when you're hiking, boating, or otherwise exploring the great outdoors. Even if you have a GPS device with you, it's reassuring to have a compass on your wrist.
Triple G Resistance
The Casio G-Shock is famous for its Triple G Resistance. The first element of that is the shock resistance that gives the watch its name. The case and bezel are specially shaped to protect the watch if it is dropped from any direction. The band works as a shock absorber.
Vibration resistance is the second aspect of Triple G. This feature protects the watch movement and helps keep your hand stable when you are experiencing strong vibrations.
The third piece of Triple G is gravity resistance. The watch can withstand 15 Gs of force, more than the human body can. This means the G-Shock is very rugged and will still work fine in extreme situations such as air racing.
Tough Movement and GPS
The Casio G-Shock is known for its Tough Movement technology, which includes the Multiband 6 and solar power technologies I mentioned above, plus auto hand home position correction and hybrid mount. The first of those helps correct the placement of watch hands in the presence of impact or strong magnetic fields. The hybrid mount is Casio's term for the shock resistant design.
Some G-Shock models offer GPS technology. This detects your current location and figures out which time zone you're in.
The G-Shock can even determine whether Daylight Saving Time is in effect where you are and adjust the watch accordingly. I love a watch that updates itself as I travel.