To outsiders it might seem like a detail, and yet the handguard you choose to build your AR-15 is important. You want to choose the type of handguard best suited for your purposes, not to mention that it'll have a big influence on the aesthetics of your AR-15.
A handguard's main goal is to insulate the shooter's hand from the heat emitted by the weapon's barrel when firing. But that's not all as a variety of accessories can be added onto handguards to enhance your shooting, including lights, lasers, forward grips, and angled back up iron sights.
In this article, we'll examine different types of handguards before reviewing the best ones on the market in 2021.
Types of Hanguards
Though there are many handguard designs available, we find two main categories of handguards: drop-in and free float. Let's see what they are like.
Drop-in Handguards
Drop-in handguards are the most popular type of handguard due to the benefits they offer. They are easy to set up, taking their name from how convenient they are to install, often cheap, and usually consist of lightweight polymer.
Drop-in handguards are composed of two pieces that are installed around the barrel. A handguard cap secures them towards the front and forend while a delta ring assembly ties them together towards the rear of the forend.
They come in many different lengths, so you should make sure to purchase a handguard that fits the size of your gas system.
The only potential downside of a drop-in handguard is that it can sometimes affect accuracy due to the contact between the handguard cap and the front of the barrel.
Free-float Handguards
Free-float handguards have a few differences compared to drop-in ones. They tend to be more expensive, consist of one solid piece, and are most often made of aluminum.
A free-float handguard is installed around the barrel and is usually attached with a nut. There are multiple options available to fit specific platforms, as it can come with or without a Picatinny rail, Keymode, or M-LOK System for instance.
The main advantage a free-float handguard has over a drop-in one is that they don't make contact with the forward position of the barrel, which means accuracy isn't affected at all.
Materials
Handguards are generally made of two main materials: either polymer or aluminum. Each has its own qualities. Aluminum tends to be stronger, but polymer emits less heat after a prolonged shooting session.
Polymer handguards often have a heat shield to separate the forend from the barrel. Both those materials are very durable.
Mounting Systems
The purpose of mounting systems is to allow the shooter to install various types of accessories such as sights, lasers, lights, forward grips, and bi-pods. The three most common types of mounting systems are Picatinny, Keymod, and M-LOK.
Picatinny
The picatinny rail system is most commonly found on free-float handguards and has been adopted by military and law enforcement.
However, Picatinny rails tend to be bigger and heavier than M-LOK and Keymod systems. They use dovetail angles and grooves rather than cut-outs, making them bulkier.
M-LOK
M-LOK, which stands for "Modular Lock", is an invention of the Magpul company. Manufacturers can obtain permission to build M-LOK systems as long as they provide the same degree of quality as the original design.
This system is built using small slits and T-shaped nuts. With it, it is possible to mount accessories to the front or rear ends of the slots, and the majority of Magpul accessories don't require a rail adaptor. Due to its design, the M-LOK system is a good fit with polymer handguards.
Keymod
The Keymod system derives its name from the shape of its slots – they look like keyholes. It's implemented by placing the lug in the keyhole and sliding it into the narrower end. This system is easy to use and a lot lighter than the Picatinny system.
On the flipside, Keymod systems don't tend to work as well with polymer handguards. It should also be noted that there are fewer accessories compatible with the Keymod system than the M-LOK as the biggest companies in the industry often favor the M-LOK.
The Best Handguards for AR-15s
Let's now review the best handguards available in 2020.
The Best Drop-In Handguards
Magpul MOE SL – Carbine Length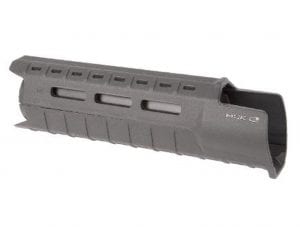 Magpul is the company that created the M-LOK mounting system and is the most important manufacturer of drop-in polymer handguards.
The MOE SL for carbine length gas systems is a top-notch inexpensive drop-in handguard. It has been lengthened under the front sight base compared to typical MOE handguards. It weighs 6.8 ounces for an overall length of 7.1 inches, with a height of 2.5 inches and a width of 2.2 inches.
Magpul MOE SL – Mid Length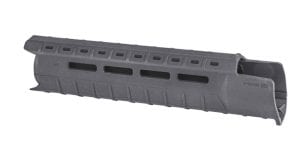 In addition to the carbine length design, Magpul also manufactures a mid-length MOE SL which features the same design.  It comes in black, OD, FDE, or gray finishes.
This handguard weighs 8.7 ounces, is 9.2 inches long, with a height of 2.5 inches and a width of 2.2 inches.
Leapers UTG Pro AR15 Super Slim M-LOK Drop-In Carbine Length
For shooters with a carbine length system, the LEAPERS UTG "Super Slim" M-LOK 15 inches drop-in handguard is an excellent fit. The two pieces can be installed around the front sight base, which provides additional mounting space.
On the flipside, this aluminum handguard is rather heavy at 14.1 ounces. It is also fairly costly.
The Best Free-Float Handguards
BCMGUNFIGHTER MCMR (M-LOK) Handguard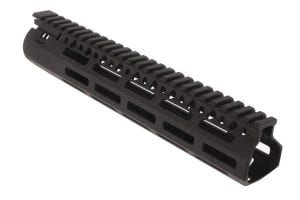 In recent years, the Bravo Company has established itself as a top dog in the rifle industry with quality offerings at reasonable prices. They've built an outstanding reputation for reliable products that will resist anything.
When it comes to handguards, BCM products tend to be slightly more expensive than the competition. For instance, their shorter handguards are pricier than their Aero Precision counterparts despite being very close in quality and made of the same material: 6061 (T6) aluminum. Although BCM's longer handguards give more value for money and tend to be closer in price to their rivals.
These handguards are top quality. In particular, they have a significant advantage compared to similar products, which is that they have mounting slots at more angles.
However, as is the case with a lot of handguards with full picatinny rails, there can be a slight issue where the top rail isn't a perfect fit with the rest of the handguard. The top rail is noticeable and can feel slightly awkward.
AR-15 ATLAS R-ONE M-LOK Handguard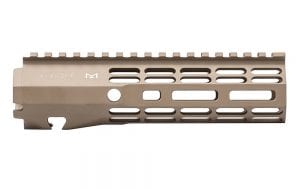 Aero Precision is another powerhouse when it comes to excellent, affordable AR-15 parts. Their receivers and handguards are all manufactured in house, and they have strict quality control routines. Their customer support is also very responsive and helpful.
Their free-float handguards are all made out of 6061 (T6) aluminum, which has generally been adopted as the standard across the industry. They offer both Keymod and M-LOK versions of their handguard designs.
The Atlas R-One is a clever modern free-float handguard. It features a picatinny rail across the top and M-LOK style slots on the sides and bottom. Additionally, sling mounts are present on both sides at the base of the handguard.
The R-One is offered in two different finishes: black or flat dark earth.
AR-15 ATLAS S-ONE M-LOK Handguard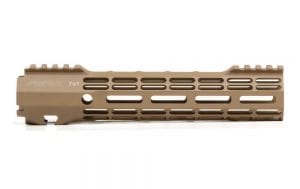 The Atlas S-One is a handguard variation that removes the majority of the picatinny rail, with only a small portion at the front and rear of the handguard remaining.
The main benefit of the S-One handguard is a reduced weight compared to the R-One. Furthermore, this handguard has a more comfortable rounded grip for C-Clamp type grips.
Even with the absence of the picatinny rail, a front sight can still be mounted to a flat, secure surface without any issues. Like the R-One, the Atlas S-One is also available in either black or FDE finish.
Faxon Streamline Carbon Handguard
Faxon is a manufacturer known for making extremely lightweight AR-15 parts. These quality handguards are perfect if you're looking to lighten up your AR-15.
The Streamline Carbon Handguards are made from carbon fiber which, according to Faxon, is 40% lighter than aluminum while being 10 times stronger. They definitely feel lighter than their aluminum counterparts and are very solid.
These handguards do not feature picatinny rails, replacing them with M-LOK slots all around. Some attachments such as backup sights might suffer slightly from it, however this design makes up for it with an exceedingly comfortable grip.
V Seven Hyper-Light M-LOK Handguard AR-15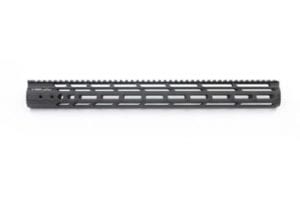 V Seven Weapon Systems has become a big name in the industry in recent years by specializing in lightweight parts. The handguards they offer are exceptionally lightweight and of a high quality.
V-Seven's Hyper-Light Handguards are made of a unique alloy of aluminum and magnesium. This lightweight material further reduces weight compared to 6061 aluminum while increasing strength. These handguards boast an even lighter weight than Faxon's products.
Additionally, unlike Faxon's handguards, the Hyper-Light handguards are equipped with picatinny rails on the top along with M-LOK slots slots at the 3, 6, and 9 o'clock positions. They also feature sling mounts on both sides.
Overall, these V Seven handguards have an ideal combination of features and light weight that place them among the best for tactical applications.