Being discreet can be one of the most important features of gun safes. If a thief doesn't find the safe, he can't try to break into it or take off with it.
And though many safes are made to be really solid nowadays, a lot of them are still far from being impenetrable when confronted with a determined trained thief.
In these cases, being out of sight can be the saving grace that prevents your guns and valuables from being stolen and wreaking havoc, either on your family or out into the world.
In this respect, having a gun safe you can keep under the bed is amazing. The safe remains hidden, in close proximity for any emergency situation if you're caught sleeping, and doesn't take any space in your house.
In this article, we've compiled a list of the 10 best under bed gun safes available in 2021.
1. Hornady RAPiD Safe 98190

Link to Amazon: https://www.amazon.com/Hornady-98190-RAPiD-Rifle-Gunlocker/dp/B06XG4YVH2/
Hornady has earned its reputation in the gun safe industry, and the 98190 is a shining example of that. Made with 16-gauge steel, the safe has four strong locking lugs that make it extremely difficult to brute force it.
The 98190 is certified child resistant and complies with ASTM international safety standards for child safety. This safe also features a 1500-lb rated cable that allows you to tie the safe to the bed frame. Furthermore, the safe comes with pre-drilled holes to be mounted, either vertically or horizontally.
The locking mechanism uses a keypad with a four to six digit code and two circular barrel keys as a complement. However, the real interest of this safe is the RFID locking mechanism. With a mere wristband, key fob, or decal (all included), you can access the content of the safe instantly. Up to five different RFID cards can be programmed to unlock the safe.
The safe is quite lightweight, and the interior features a foam padding to accommodate up to two rifles.
Overall, the Hornady 98190 is an excellent under bed gun safe with a multitude of options. The programmable RFID gives it an edge by being extremely quick, with interesting backup mechanisms. To boot, the safe can run either on AC or battery power.
2. Stealth Defense Vault DV652
Link to Amazon: https://www.amazon.com/Stealth-Defense-Vault-DV652-Under/dp/B00Y1CDFRI/
The Stealth Defense Vault DV652 was specifically designed to fit under a bed. This safe will keep your rifles and shotguns protected and in close proximity. Long guns can be perceived as better deterrent to burglars and thieves due to their more imposing presence.
The DV652 is only six inches tall, while being 52 inches long and 14 inches large. The safe is made of 14 gauge steel, and features an electronic lock with a backlit keypad, which is perfect for nighttime access in a pinch.
To store and access your rifles easily, the safe has a tray that slides out and will accommodate up to two guns. It's also padded to prevent any damage to your weapons. The safe even has a separate compartment that allows you to store a handgun. It comes with pre-drilled holes and a mounting kit to mount it easily.
The keys make noise when being pressed, however the sound can be disabled for more discretion. When the battery is running low, the safe also lets you know with a beep. Unfortunately, the keypad is rather low quality, which is the safe's main downside.
3. SnapSafe Under Bed Safe, Gun Storage and Security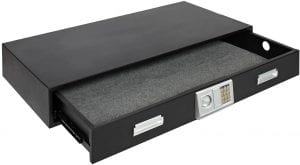 Link to Amazon: https://www.amazon.com/SnapSafe-Under-75400-Storage-Security/dp/B01CWXQ1WS/
This SnapSnafe entry was also built to fit perfectly under a bed, allowing you to keep a self-defense weapon close to you at all times when at home, in particular when you're sleeping and vulnerable.
The safe uses a digital lock with a backup key in case of electronic issues, and as such is completely child-proof. Additionally, it has an anti-pry feature, so opening it with sheer force isn't going to be easy. With the pre-drilled holes, the safe can easily be mounted under the bed to ensure it doesn't slide and becomes visible.
The five-foot security cable adds a layer of protection and gives the safe a great portability. If you decide to take it with you in your car, the cable can be used to anchor it and prevent anyone just running away with it.
The XXL version is large enough to store two rifles and a few handguns. The interior has a padded tray which is always great to prevent any scratches to your belongings. This safe isn't fireproof, so it might not be the best choice to keep important documents or valuables.
4. Secure It Gun Storage Fast Box Model 40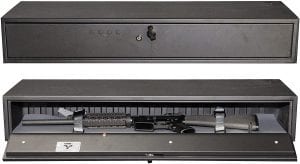 Link to Amazon: https://www.amazon.com/Secure-FAST-BOX-MODEL-40/dp/B01B4ZKXOC/
The Secure It Model 40 is an excellent choice for anyone who owns long guns and wants to keep them under the bed. This model was designed for discretion and practicality, and can even be used for traveling.
The safe's security mechanism relies on a three-point closing hardened steel rods. The locking system uses a touchpad, and is easy to operate with one hand, even in the dark.
The interior features neoprene (synthetic rubber) lining to keep the safe's content in good conditions. The build is made with heavy duty steel and has a stylish black powder paint finish.
5. SentrySafe QAP1BE Gun Safe with Biometric Lock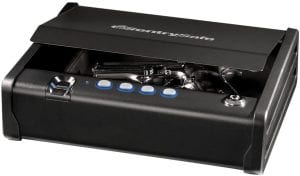 Link to Amazon: https://www.amazon.com/SentrySafe-QAP1BE-Biometric-Handgun-Capacity/dp/B00EXQW672/
While the SentrySafe QAP1BE was not specifically made to be stored under a bed, it's one of those safes that should fit under most beds. SentrySafe entries often tend to be interesting, durable, and of generally high quality.
This unit makes use for fingerprints of security with its biometric lock. With this state of the art technology, it's easy to sleep in peace knowing your gun is safe.
Thanks to the biometric system, the safe is extremely quick and effortless to open in the space of a second. It opens quietly to guarantee maximum discretion if you're trying to ward off an intruder, and the compression gas strut ensures that you'll only need one hand.
The QAP1BE is an ideal fit to store a single handgun with an ultra-small design of only 6.6 x 9.7 x 2.2 inches. The QAP2BEL is the two gun versions of this safe, with an added interior light for easier access.
The build is quality, made with 12-gauge steel, and the door made to be pry-resistant. In addition to the biometric lock, the safe features a keypad and override key
6. Awesafe Gun Safe with Fingerprint Identification and Biometric Lock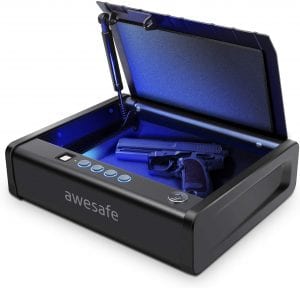 Link to Amazon: https://www.amazon.com/AWESAFE-Fingerprint-Identification-Biometric-Capacity/dp/B07TM45FRS/
This Awesafe gun safe is another unit that wasn't purposefully designed to be an under bed safe, however it is one by virtue of its small size. It's also the kind of safe that you can take anywhere with you and keep in a car, for instance.
This gun safe is ideal to keep a single handgun with ammo close to you at night, under the bed or by the nightstand. The kit comes with two heavy duty lag bolts to mount it without much hassle.
The safe uses the biometric identification system, with the ability to record up to 30 different fingerprints. It might seem like overkill, but biometric identification is the kind of thing where you want to record your finger from all possible angles to ensure a swift entry into the safe. Otherwise, the technology can at times prove a bit capricious.
Another thing with the biometric system is that when you first purchase the unit, it accepts any fingerprint. Don't be alarmed, the instruction manual gives all the directions to set up the lock so it only reads the fingerprints you program.
Additionally, there are backup mechanisms; you can unlock the safe using a four digit code or use the override key you get. That key could come in handy if the batteries ever run out at a bad moment.
The interior of the safe has a quality foam padding which keeps you gun from getting scratched. Lastly, there's also an interior light which stays lit for 30 seconds to prevent the batteries being overused. With this kind of attention to detail, this safe is a fine entry in this list.
7. GunVault MicroVault Portable Compact Gun Safe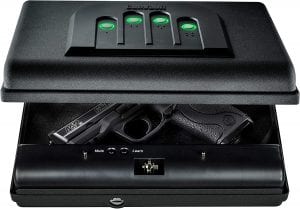 Link to Amazon: https://www.amazon.com/GunVault-MicroVault-Portable-Gun-Illuminated/dp/B07S95NH8D/
The GunVault MicroVault is a tiny handgun safe. With dimensions of 11.25 x 8.88 x 2.54 inches and a weight of 5.1 pounds, it's highly portable to carry with you anywhere you go, and of course, it's a great fit to keep under your bed while in the comfort of your home.
This diminutive safe is excellent to store a single pistol with some spare ammunition and a magazine. The body is constructed using 20-gauge steel and coated in a stylish black colored finish. When it comes to steel-gauging, a lower number indicates more thickness.
So 20-gauge steel isn't terribly thick, however you generally don't expect those small single-gun safes to be impenetrable. You want the safe to be reasonably strong, a deterrent to children, all the while knowing that a determined thief with some training could possibly get into it.
The advantage of the small size is that the safe can be kept in places out of sight, and that discretion plays to your benefit if you're ever facing an intruder. You always have the edge of knowing exactly where things are to turn the situation around and take the home invader by surprise.
That being said, the MicroVault has a solid build and is made to be pry-resistant. The safe is California DOJ approved. The particularity of this unit is the illuminated no eyes digital keypad, which is an ideal way to unlock the safe in the dark. The keypad is programmed using a personal code. Each button on the keypad is designed to fit a finger so that you can easily find your ways to the buttons with your eyes closed.
The safe comes with a security cable to secure the unit, whether under the bed or while traveling. It also has a tamper detection feature to prevent any illegal attempt at getting into the safe. The keypad gets locked after 24 incorrect codes are typed in. The safe then goes into sleep mode for a couple minutes, during which if any keypad button is pressed, a beep is emitted to warn the safe's owner.
As for the interior of the safe, it is lined with a protective foam cushion to avoid any damage due to the hard steel casing. The foam also keeps the gun in place while in transit. The safe has a silent mode that can be turned on if you're worried about anyone hearing you.
8. Barska AX11556 Biometric Fingerprint Top Opening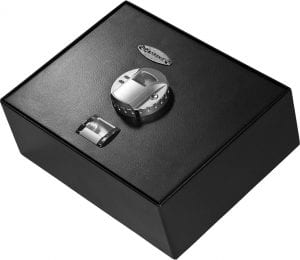 Link to Amazon: https://www.amazon.com/BARSKA-Opening-Drawer-Safe-Fingerprint/dp/B004FO37AC/
Barska is another reputable company when it comes to making secure safes. This particular unit, the AX11556, was made specially to be opened from the top. It's very practical while used in the dark, and ideal to keep in a drawer or under a bed. While slightly larger for an under bed safe, its dimensions of 11.42 x 14.76 x 5.04 inches still remain a good fit, quite light and compact.
With the pre-drilled anchor points, the safe can easily be secured to the floor, bed frame or a piece of furniture. The locking bolts, made of solid steel, are motorized. The biometric lock can remember up to 120 unique fingerprints, which is a lot but much better than not having enough possibilities.
The safe has a silent mode, which is very convenient for emergency situations, and a cool feature which beeps when it's left open too long. It's a detail, but it could avoid you accidentally leaving the safe open while there are children in the house.
The only possible downside of this safe is the use of AA batteries, which can tend to run out a bit quick. However, considering they are only used when the fingerprint reader is activated, it shouldn't be too much of a problem.
9. V-Line 31242-SA Quick Access Keyless Long Gun Safe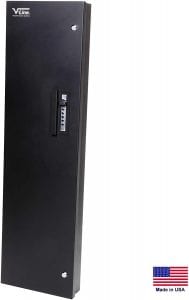 Link to Amazon: https://www.amazon.com/V-Line-31242-SA-Access-Keyless-42-Inch/dp/B000T2A6BW/
The V-Line 31242-SA naturally finds its place in a list of the best under bed gun safes. This elegant long gun safe will fit one to two long guns.
One of the most attractive features of this unit is its Simplex mechanical lock. Reliability, simplicity, and efficiency can all describe Simplex locks.
They don't rely on battery or electricity, which makes them more reliable than any electronic lock. A personal code can be programmed, and with the Simplex system, you can enter it in less than two seconds. This type of lock is just perfect for situations of emergency where you need instant access to your guns and don't have time to think about batteries, keys, or complicated combinations.
The safe is fitted with two tubular locks at the bottom and top of the case. They offer the possibility of added security, though when using them, you lose the advantage of lightning fast access of course.
The 31242-SA can be mounted to prevent anyone running away with it. The pre-drilled holes make the task easier, the safe will fit on a wall or under a bed without any hassle.  The body is made of sturdy 16-gauge steel, with a total weight of 32 pounds when empty.
Inside the safe, the foam lining protects your guns, and a Velcro strap is provided if you want to keep your rifles upright.
10. Vaultek VT10i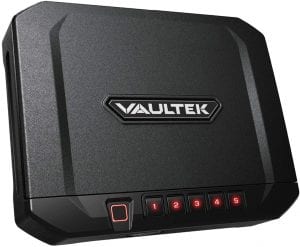 Link to Amazon: https://www.amazon.com/Vaultek-Lightweight-Biometric-Rechargeable-Compatible/dp/B01MUTTIOL/
The Vaultek VT10i is a quality pistol safe that will find a snugly spot under any bed. High tech is at the heart of the VT10i and will rejoice all amateurs of state of the art gadgets.
The VT10i is an impressive little safe which has visibly been crafted with great attention to detail. For instance, each button lights up when touched to give the user a quasi-futuristic experience.
The unit is very compact making it ideal for transport, under a car seat for example, or to keep at home in a bedside table drawer or under a bed. The safe still has plenty of room for a pistol with ammunition or an array of small valuables.
The body is made of 16-gauge steel, which makes it quite sturdy considering its small size. The safe can be unlocked several different ways with a biometric lock, keypad, key entry, and using a phone app. The fingerprint reader is easy to set up and can store up to 20 different fingerprints.
The keypad is efficient; the key entry is a nice touch as many safes don't have one anymore. The lock is well concealed so that someone not familiar with the safe would have trouble finding it. Lastly, the phone app works like a charm and will open the safe remotely without fail every time. The app also shows a variety of data such as the history access log, battery power levels, and any attempt to temper with it.
The audio of the safe can be turned on and off to activate the silent mode. The VT10i even has a feature that senses the polarity of the batteries you put in, meaning you can insert a battery either way and the safe will automatically adjust the polarity. The safe also comes with a four foot long security cable to attach the safe. The cable is very convenient while in transit to prevent someone just breaking in your car and running away with it, but even in your home to secure the safe to your bed.
Why Get an Under Bed Gun Safe?
Oddly enough, bigger gun safes can sometimes be more vulnerable to attacks from burglars. For starters, they are more visible and give off the impression that they contain more valuable items than smaller gun safes.
If you have a mid- or large-sized gun safe, it'd better be quite sturdy and pry-resistant. An under bed gun safe on the other hand doesn't necessarily need to be extremely solid. The safe is out of sight, small and inconspicuous, so the risk of it being targeted by criminals is a lot smaller.
Another thing to consider is accessibility. If you're ever in an emergency situation with one or several intruders invading your home, you really want to have your gun as close to you as possible. The ideal placement for your gun safe is then in the bedroom, as you can go out and confront the intruders with your gun in hand. An under bed gun safe is within immediate reach and secure.
These safes tend to be compact and either feature newer technologies or older reliable ones. Most biometric locks and mechanical locks such as Simplex ones can be opened in one or two seconds. Keypads will hardly take a few more seconds if you need to remember your code.
Under the bed is the ideal placement for a gun safe. The vast majority of burglaries take place at night. Those are really the situations where you can't afford to stumble around, still groggy from sleep but feeling panic, having to retrieve your firearm with robbers possibly in the way between you and your safe.
Consider that under bed gun safes can also be a way of keeping your guns a secret from your children. Kids are curious and like to test limits. If they don't know where the safe is, or even that there is a safe at all, the risk of a tragic accident entirely disappears. Finally, keeping a safe under the bed is an optimal use of the space in your house.
Getting a Good Under Bed Safe
There are some things to look out for when purchasing an under bed gun safe. First, the quality of the build, even if you know such a safe won't resist repeated assault you still want it to be sturdy enough and durable. Some safes are made to be pry-resistant and tamper-proof. A well-made safe is a lot more difficult to just pry or brute force open.
Another thing to consider is storage space. Some safes are meant for one or more handguns while other ones are large enough to keep rifles.
You also want the safe to have some internal padding, otherwise your weapons will get scratched due to repeatedly rubbing against the metal of the safe. The locking mechanism is an important parameter.
The lock has to open easily and quickly. If it's an electronic lock, you should have an override key or at least a way of monitoring battery levels to not get caught by surprise with dead batteries.
Keep the Peace With an Under Bed Safe
That's it for this list of the 10 best under bed gun safes in 2020. There are a variety of options, from pry-resistant rifles safes to high tech pistol safes. Under bed gun safes are perfect for ultimate discretion. When it comes to keeping your home secure, it's hard to get any better than this!
​