You wouldn't dare enter a gun competition without the proper firearms, gear, and training. But is your range bag up to the same standard you hold your shooting ability to?
Competition range bags allow for optimal organization that is hard to achieve with a regular duffel. It makes carrying your firearm and its components easier, while also ensuring that you're safely transporting your firearm as well.
Investing in quality gear that fits your needs can be an intricate and sometimes slow process. We've chosen six bags that are the best in their class. Read on for an in-depth comparison and see which one might work for you best.
1. MidwayUSA Competition Range Bag: $50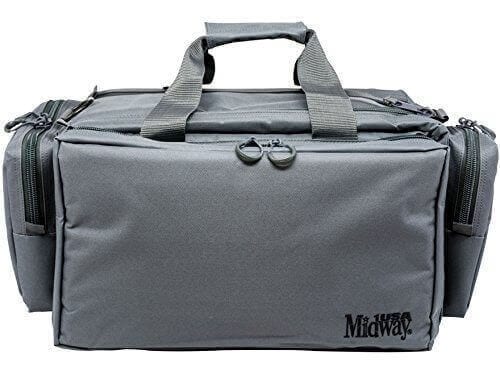 MidwayUSA touts this model as the "best range bag on the market." What does that mean exactly? Well to start, this version will efficiently fit the gear you need for an entire day.
This bag includes a huge main compartment, a removable stage bag/ammunition carrier, two removable pistol rugs and a removable fired brass or ammunition carrying bag.
Additionally, the reinforced stitching and heavy-duty zippers make this model long-lasting. The walls of each compartment are padded with closed cell foam, which protects its contents. This model has 14 magazine pouches and extra pockets, which can fit enough ammunition for an entire day.
Another key feature is the elastic bands located on the inside of the carryall that will hold cleaning brushes and other accessories. The removable stage bag is another key feature and six of the 14 mag pouches are on the bag itself.
This bag fits most pistols of small or large frame that have up to a 6" barrel. Lastly, a padded beverage holder will keep your drink of choice secure.
Whether you are a serious competitor or a weekend shooter, this model will quickly become your new favorite accessory.
2. Osage River Tactical Shooting Gun Range Bag: $50
Osage River offers a reasonably priced and spacious model of a range bag. This one has a roomy main compartment made to hold what you need for an entire day. Everything from your hearing protection to boxes of ammunition has a designated place.
There are also five other external pockets to organize additional gear.
The outside of this model is made of 600D ballistic nylon, which makes it durable and long-lasting. The appearance is subtle and won't draw a lot of attention.
Hang it on your shoulder or carry it by hand with the handles. There are ten external magazine pouches located on the back of the bag, providing even more storage. Lastly, there is one removable pistol pouch, lined and padded to keep your firearm in place. No pressure to make a decision – Osage River offers a full refund if you aren't 100% satisfied.
3. Gunmate 1919687 Range Bag: $26
This Gunmate model is a simple bag for simple needs. The main compartment allows for quick access with a durable zipper, which also locks for added security. On the side of the bag are external, zippered pockets that are very roomy. Additionally, a padded pistol rug is included as well.
Keep in mind, there are no stage or brass bags with this model. This is a no-frills, what-you-see-is-what-you-get type of bag. This bag would best suit someone who wants to store their ammunition, magazines, and other components somewhere that is affordable and durable.
According to the maker, Gunmate, this bag does include a padded pistol rug as well as main compartment dividers. Although it lacks the pizazz of others, for $25, this bag is hard to beat.
4. 5.11 Range Ready Bag: $100
5.11 has built up a solid reputation as a premier brand in the tactical gear industry and for good reason. 5.11's range bag holds a lot of gear. The 5.11 Range Ready includes compartments for multiple pistols, pockets for gear such as eye and hearing protection, a water bottle pocket, and eight magazine pouches.
For portability and function, it's equipped with a brass bag and a removable ammo tote. You can grab it from the handles or strap it around your shoulder. This weather-resistant model is made of 600D polyester material and available in sandstone or black.
This 5.11 bag is great for enthusiasts and competition-ready shooters. It's on the pricier side and is a bit bulkier than other models, but if you're in need of something that's functional and well-built, this is a great choice.
5. Bulldog Cases X-Large Deluxe Black Range Bag with Pistol Rug: $61
When it comes to firearm storage and security, Bulldog knows their stuff. They're known not only for their bags, but for cases, vaults, holsters, and locks.
This model has a large main compartment complete with an added element of security in the form of hidden pockets. Also, on the inside is a padded pistol rug.
For extra storage, the bag has three external pockets and also includes a shoulder strap and handles. Made from water-resistant, high-quality nylon this bag is subtle and comes in black.
This Bulldog model doesn't have a brass bag or stage bag. It may be on the simpler side, but is high quality and will make a great all-day bag.
6. NcStar Competition Range Bag (Digital Camo): $30
This competition range bag by NcStar is reminiscent of military issued duffel bags that are issued at the start of basic training. It comes in an Army digital camouflage print and will fit a lot of gear.
Heavy-duty, locking zippers wrap around the outside, making it very secure. There are two internal end pockets, a front-end pocket that's made to fit eight AR15 mags or 16 double stack mags. Storage and organization won't be an issue here. Lastly, there's a velcro block on the front to attach name tapes and patches for added customization.
It's not subtle by any means, but for $30 it has the space, durability, and features necessary for tournaments.
---
There are tons of range bag options on the market these days and buying tactical gear can be overwhelming. Choosing the right one for you will take research and perhaps a little trial and error.
Some will be best suited for those who are looking for something simple. Others might be looking for something with more organizational components to it. Each one on this list is durable, high-quality, and will keep your weapon and components secure.
Whatever you're looking for, there's a bag out there that fits your needs.
---
Related Reviews: