A battle belt makes it fast and simple to enter a "low-ready" level of defense. Within seconds, you have easy access to your pistol, a couple of spare magazines and whatever else you might need based on the situation.
As with anything tactical, there are a range of options on the market. Battle belts offer a variety of features, some more important than others. Some only work with particular gear, others are uncomfortable to wear, there's the quality, etc. We've put in hours of research to help guide you through your options and help you make an informed decision. We'll also list a few of our favorite models.
Now that we have an idea of what makes a good battle belt, let's check out some of the best ones on the market. Each of these meets the criteria we've just discussed, and then some.
BLACKHAWK! CQB/Rigger's Belt

The BLACKHAWK! battle belt is a fantastic option, offering a lot of features at a great price. This versatile and secure belt features parachute-grade buckles and adapters that reviews say are extremely tough. The webbing is 1.75" wide and has a 7000 lb tensile strength. Reviewers repeatedly say that this is a very tough built belt, and it will hold up to just about any kind of activity.
What about comfort? Many buyers have used this belt daily during active service for years with no problems. There are four different color options, and it's a certainty you'll find one that goes with your clothing choice. A few people have had problems with this belt when using it for concealed carry. It looks very tactical, and the sizing can be a problem if you plan to use it with an inside-the-waistband holster. However, if you consider the sizing and look of the product before you purchase it, that shouldn't be a problem. It will be difficult to find a belt made to such a high tactical standard without spending much, much more.
Condor Tactical Belt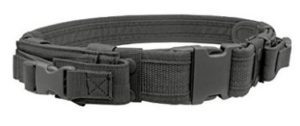 Although this belt is definitely on the cheaper end of the price range, the Condor is made by a reputable company and comes with fantastic reviews. This is a cheaper belt, but it doesn't wear out easily. Buyers, including those on active military duty, say this is a well-built belt that does what it is supposed to do without fuss. It distributes weight evenly and comfortably and, even with a drop-leg holster, is fast and simple to put on.
The only real complaints seem to come from sizing issues, and problems from those who have difficulty even with normal belts. Be sure, as with any purchase, to double-check the measurements before buying. It might be too wide to fit through some civilian pants' belt loops, but this is a bonus for most people. The large vertical size means that it holds your gear tighter in place, and will sit more comfortably on your waist.
Advantages of Using A Battle Belt
Battle belts have a wide range of uses. Like any tool belt, a battle belt can be adjusted for a variety of purposes. Because you can adjust which pouches you use, as well as what you put in them, the options are endless. While a battle belt will never fully replace a chest rig, it makes a perfect accompaniment to one, providing easier access to your firearm or anything else you need in a hurry.
The main advantage of a battle belt is that it provides a rapid way to have access to your essential emergency items in a flash. As far as home defense goes, nothing can beat a battle belt for speed, allowing you to investigate a bump in the night in mere moments. Spreading the weight across your waist can also prove to be much more comfortable, and won't hinder movement as much as other tactical gear.
What to look for?
Here are some critical features to consider when you are searching for an effective battle belt. Keep these in mind as you choose between the available brands and models.
Comfort
Comfort is one of the utmost considerations when buying a battle belt. While everybody is different, there are a few things that are universal. It's also important to ensure it's comfortable against naked skin, over pajamas, or with your camo gear for hunting. However you wear your belt, it needs to fit correctly and feel comfortable. Otherwise, you're not going to wear it, and a battle belt does you no good stuffed into the back of your closest. We dismissed any product with too many negative comments about the comfort or the fit.
Speed
Speed is vital. If your belt takes thirty seconds to put on, that might be thirty seconds less at the range. It might mean an extra thirty seconds of an intruder within your home. Neither of those are acceptable scenarios. In order to guarantee you're ready to go when you need to be, the locking clip should be very simple and easy to clasp shut, regardless of the circumstances.
Storage
The main reason for using a battle belt is to increase your "real estate." The more space you have to store items, the better your setup. Additionally, most people find it easier to access items held around the waist than those stored in a chest rig or a backpack.
An example of a common setup for a home defense situation includes a pistol, two spare clips, a flashlight, and a cellphone. If you're using a battle belt as an accessory to your current bug-out/emergency setup, you might change it to include a small blow-out kit. Whatever your purpose, it's important that your belt can hold all the essentials and a sufficient number of pouches. Moreover, it's critical that the pouches hold firmly and do not slide.
Top Pick
Battle belts offer a speedy way to go from sleeping to a ready state in a blink of an eye. They can be used to increase your storage space, or even to replace a chest rig. It's important to consider material, strength, and comfort alongside the price point. Because it excels in all those area, we'd recommend the BLACKHAWK! CQB/Rigger's Belt for a high-quality option that will last through years of service.