A boot knife has many qualities. It's an incredibly useful tool for hunters and can be used as a concealed weapon for self-protection. A boot knife is also useful when out on long camping trips in isolated places and can be easily carried.
Overview
A boot knife usually has a double edged blade, like a dagger, making it very easy to use. It is reliable in high intensity situations, which is just what a hunter needs. Boot knives are primarily hunting knives; they're often used to kill wounded animals or to skin a carcass. They're also used for field dressing. This means that they have to have a strong, sharp blade.
The problem is that there is a saturated market of boot knives and there are many faulty products out there. If you encounter a situation where you need to use a boot knife, you need to be able to rely on it. With a dud knife, you could encounter some real trouble.
This article will analyze some of the best boot knives on the market so that you can be assured when buying a boot knife that you're making all the right decisions.
After reviewing all the top boot knives available, we've selected our top 7 picks in the comparison table below. We're confident you'll find the perfect model for your needs.
Comparison Table
Buying a Boot Knife
When making the purchase of a boot knife, you need to consider a number of factors. Firstly, what are you buying it for? Is it self-protection, hunting or general camping use? Secondly, how much do you want to spend? If you are using it for hunting, you will need a really sharp, strong knife, which will cost more. For light camping trips, you don't need as high a quality knife, and can afford to overlook some features.
If making the purchase for self-defense, it can literally be a matter of life and death. You need a quality knife that is easily accessible, which is why a quality sheath is important. Hopefully you don't need to actually use it, but brandishing it will undoubtedly protect you, so a sheath that allows for quick access is necessary.
Boot Knife Design
Concealability is a key factor for anyone using a boot knife. This means a blade measure of about 3 to 4 inches. This means it is easy to conceal, but also long enough to penetrate a body and reach vital organs. Having a well concealed weapon is ideal as it limits what your attacker or opponent knows.
Blade design is another area of note. As mentioned already, most boot knives have a double edged blade with a spear point. Other designs will offer a single edged blade with a clip point. Both designs work well for slashing and piercing, but the double edged blade is designed primarily for stabbing, and the single edged blade is designed for slashing.
The tang is the weakest part of the knife, where blade meets handle. The construction of the tang is incredibly important. You should understand the different tang designs; full tangs and hidden tangs are best for boot knives. A full tang extends almost the full length of the handle, as well as the full width, making it the strongest type of tang. A hidden tang is narrower and weaker, and is not the full width of the handle. However, the handle can slide over the tang and be secured using pins.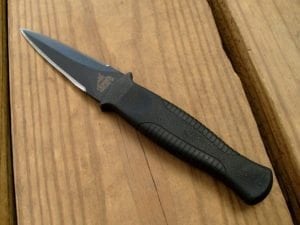 Boot knives are designed for combat so blade steel is also important. The blade needs to be able to hold an edge and be tough enough to withstand lateral forces that could break the blade. Stainless steel is known for its ability to hold an edge, but it is not particularly strong. Carbon steel is the opposite; it holds edge poorly but is much stronger. So a compromise is the best option when considering blade steel. High carbon tool steel is a good steel to settle on.
The handle design and material are important too. You need something that fits comfortably in your hand so that you have optimum grip. You need a strong tang, and the handle should have a quality ergonomic design with a grip to enable control over the edge and the tip of the blade. Boot knives with full tangs or hidden tangs are the best for their strength. Handle material should be durable and slip resistant. Some good materials are linen Micarta, canvas Micarta, G10, Zytel, Hypalon, and Krayton.
Benefits of Owning a Boot Knife
Boot knives are great tools to own. In a busy city, they provide great protection from potential attackers. It is comforting knowing you have a weapon concealed at your ankle when walking home late at night. Boot knives are also more discrete than carrying a gun for protection. And they are less dangerous to have in the house. With so many gun related accidents happening in the domestic sphere across America, a boot knife is a safer alternative for protection.
For someone in the police force, boot knives are a useful form of back up protection. If a gun goes missing from your grip, having a boot knife is the next best option you could hope for.
As a hunter, they are useful to have kept out of the way until needed. You're already carrying a lot of equipment as you track your prey, so once you've caught it, it's good to know your knife is tucked into your boot so you can bone or skin straight away, without having to go through your rucksack.
Top 5 Rated Products
Smith & Wesson SWHRT9B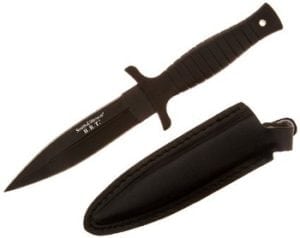 Smith & Wesson are normally lauded for their quality guns, but they also produce quality knives. The Smith & Wesson SWHRT9B Black HRT Boot Knife is quality tested for maximum durability. It has a coated 440c stainless steel and a double edged spear point blade with an aluminum handle, making it a very strong knife. It weighs just 7.7 ounces and comes with a leather sheath and pocket clip.
The full tang makes this an even stronger knife, suitable for the toughest users around. It's a knife used and trusted by many civilians as a means of self-defense. The black coating means it is more discreet than other knives used for self defense. What's more is that Smith & Wesson provide a lifetime guarantee on this knife. The only negative comments were that it was a stainless steel blade, as opposed to stainless steel carbon blade.
Check Amazon To View Current Pricing & Availability
MTech USA MX-8059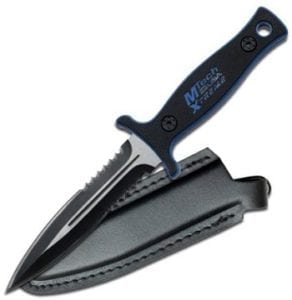 The MTech USA Xtreme MX-8059 Series Fixed Blade Tactical Knife is a really great boot knife. The blade is two-toned, with a half-serrated blade that will really do some damage. The blade is made from 440c stainless steel, which contains carbon to make for a really sturdy knife that won't break. The entire knife measures a massive 9 inches. The G10 handle offers a good grip even in wet conditions.
The full tang enhances the strength of the knife as well. It also has a lanyard clip for alternative attachment. It comes with a beautiful leather sheath for safe and easy carrying. Customers loved the quality for the price of this knife, but did comment on it rusting in salt water. Overall this is a quality knife, but a few customers were dissatisfied with the product.
Check Amazon To View Current Pricing & Availability
The Kershaw 4007
The Kershaw 4007 Secret Agent Fixed Blade Boot Knife is an understated but brilliant boot knife. The fixed blade is made from steel with a black oxide coating, making it a sturdy knife. The handle has a rubber coating to offer maximum grip in wet conditions, and has a lanyard hole for alternative carrying. The blade measures 4.4 inches, with the knife's overall measurement reaching 8.7 inches. It weighs just 3 ounces, meaning you won't notice it on your person, and making it light in your grip. It comes with an elegant leather molded dual-carry sheath.
Customers loved this knife for its durability and easy concealment. The only issue that arose was the lack of a strap to attach it to the ankle. Overall, it's a great knife for a good price.
Check Amazon To View Current Pricing & Availability
Zomb-War Black Boot Hunting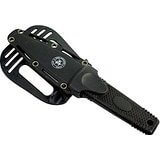 The Zomb-War boot knife is one of the most trusted boot knives around. Its blade measures 3.75 inches, with the overall measurement reaching 7.75 inches. The handle is rubber and perforated, giving you optimum grip and control, even in the worst of conditions. This is a really desirable quality in boot knives, as a slippery knife is almost useless, and can be quite dangerous. It comes with a hard plastic sheath for the boot, making it easily concealable. It has a sharp, stainless steel carbon blade that simply will not deteriorate.
Customers lauded the quality of this product and couldn't believe the price of it. Many claimed it to be the best form of concealed protection they had found. However, one complaint claimed the sheath was not great for the boot, but added that it sat well on the belt.
Check Amazon To View Current Pricing & Availability
Smith & Wesson SWHRT3 HRT
Smith & Wesson are back on the list with yet another quality product. The SWHRT3 HRT Military Boot Knife has a stainless steel blade that measures 3.5 inches, an ideal length for reaching vitals. The double edged spear point blade is incredibly sharp and durable. The blade sits on a full tang, rubber handle, making for a very sturdy knife indeed.
This knife also comes with a leather boot sheath to ensure it sits safely and comfortably concealed at your ankle. Customers claimed it to be a solid knife, with a nice balance in the hand. One commented that the blade is very fine and that, as a result, they were reluctant to throw it for fear of shattering. But generally speaking, customers loved the quality of this knife.
Check Amazon To View Current Pricing & Availability
Gerber 05803 Guardian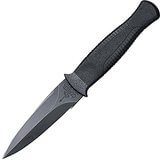 Gerber have produced quality knives for years now, and they're one of the most trusted manufacturers out there. The 05803 Guardian Back-Up Knife is a perfect alternative form of protection. It is a rugged and reliable knife, suited for military use, hunting, survival, self protection, tactical and all kinds of high intensity situations. All products from Gerber are field tested, meaning that you know you're getting a truly reliable product.
This award winning knife is sleek and comfortable in the hand. It has a patented sheath that allows the user to adjust the right amount of pressure to remove or insert the blade. It's very light, weighing just a pound. And the blade itself measures 3.4 inches, an ideal length for a boot knife. Customers loved the quality of this knife; the size and weight were two characteristics that stood out for them. Some found the adjustable sheath somewhat difficult to use initially, but the knife was a source of real satisfaction for almost all.
Check Amazon To View Current Pricing & Availability
Conclusion
As you can see, there are many benefits to owning a quality boot knife. As a form of protection, they are reliable and subtle, so you don't have to brandish your weapon as you go about your daily business. They make for a very useful tool for hunters who don't have the space to carry yet another piece of equipment. It's nice to know you have a valuable tool tucked into your boot, ready to use when you need it.
As noted, there are a number of considerations that you should think about before making your purchase. Knife and blade size are important characteristics. You should also think about what you would be using it for. For protection, it is good to have a smaller, easily concealed knife. Hunting might require a slightly larger knife.
The Smith & Wesson SWHRT9B Black HRT Boot Knife is the highest rated knife on this concise list of quality boot knives. The full tang, combined with a strong stainless steel blade and aluminum handle make it a reliable and durable tool for hunter and civilian alike. The double edged blade makes for an efficient incision and an easier job of skinning and boning for hunters. As a trusted brand who have protected Americans for decades, it is easy to recommend the Smith & Wesson boot knife.
Image credit via Flickr Creative Commons: James C
https://youtu.be/K6qqwxzfacs