In this article, we review the best survival hatchets available in 2020.
The quality of the blade materials will determine the price you pay for your ax (well, maybe about 75% of it). Don't forget that blade size, and handle length when making your decision.
A good hatchet can be your best friend when SHTF (shit hits the fan) because it can also be used as a weapon in close combat. It can consume a bit of time that most people do not have.
Of course, there are plenty of options out there as well and going through the decision-making process can be daunting.
Note that survival hatchets can be called "camp axes" "tactical tomahawks" or "hatchets". The names are interchangeable, and all are used to describe the same tool.
There are a couple of different types of handles to choose from like:
Hardwood (traditional)
Fiberglass
Top 3 Survival Hatchets
1. Gerber 31-002070 Bear Grylls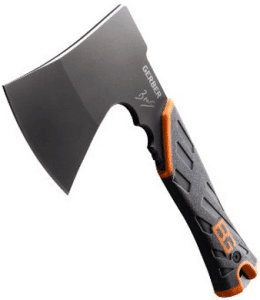 Specs:
9.45 inches long
Fiberglass handle
Full tang for safety/durability
The blade is 3 and ½ inches long
What others have to say:
The compact size makes it super easy to carry. The blade is sharp, and the handle is durable.
What we love:
We love the handle material but would have liked it to be just a couple of inches longer. We do love the full tang and are impressed by the edge on the blade. Overall, this hatchet comes fully recommended as a prime choice.
2. United Cutlery UC2765 M48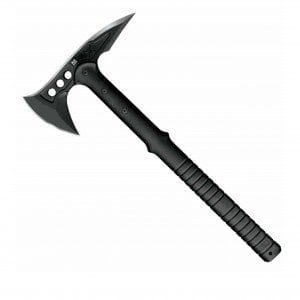 Specs:
15 inches long
Nylon Sheath
8-inch blade
Fiberglass handle that is nylon reinforced
What others have to say:
This is not a throwing tomahawk; it is not made for throwing, and instead is more suited for survival activities.
What we love:
The length is great. We love the fiberglass handle and the beefy sized blade. United Cutlery is a great brand that is well known for producing quality products. This is a great hatchet for survival activities.
3. Estwing Sportsman Axe 14 inch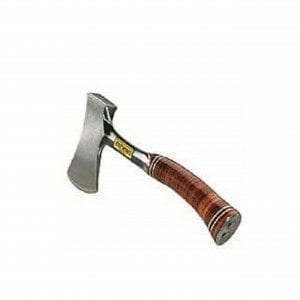 Specs:
Leather handle
Steelhead
Black powder coated
3 and ¼ inch head
What others have to say:
Estwing has a great reputation for producing great tools, and that's one of its best selling points.
What we love:
We love the quality construction but are not so crazy about the handle. Overall, this is a highly recommended survival hatchet.
Ax Size
There is a difference between a forest ax, a felling ax, and a hatchet. The largest difference between the three is the size. While the heads may all weigh close to the same weight (most forest ax heads are heavier), the shafts or handles will be different sizes. The handle is what gives the giddy-up to your swing so if you are using a forest ax that handle is going to be a lot longer than a hatchet handle. We determined that the ideal hatchet handle length for survival should be between 10 and 14 inches.
Handle Material
We like the fiberglass handles for longevity. Wood rots, it is just that simple over time no matter how a handle is treated if it is made of wood it will rot. Fiberglass does not rot. The best ones will have a fiberglass handle just to take that rot off the plate of things to worry about.
Camping Hatchets
You don't need to go all 19th Century when you go camping with a hatchet to clear as much growth as possible.
If you are averse to chopping at a live tree, a camping hatchet is a great tool to have when hewing and cutting down to size some of the deadwood you can find near a campsite. A hatchet can be used to trim down a log to avoid a fire with flaming branches and to make a few nice piles of different sized kindling.
If you are planning on some survival training, or there may be the possibility of getting lost and having to survive for real, then a hatchet can be invaluable when building a shelter. As sharp as a machete but with a little more weight behind it, hatchets are ideal for this purpose.
An axe may be great in your backyard when you have a lot of work to do but when you are going camping a lighter and more maneuverable hatchet is what you will really want. And in a pinch, it can be used for self-defense or hopefully just to scare away whatever may be threatening you, your family and friends.
Today we are going to look at some of the best hatchets on the market. Then we will let you decide which style is most suited to your needs and the environments you might encounter when you go camping.
Gerber Gator Combo Axe II
Starting off with something a little less traditional, the Gerber Gator Combo Axe II has some of the features of an ax.
It has a straight handle (hatchets usually have a curve) but it certainly does not have the size and weight of an ax. You can hack when required but also whittle later in the day when the hard work is done.
As a nice added extra, the glass-filled nylon handle houses a blunt nose saw that can help out if the hatchet is unable to get the job done in more confined areas.
Estwing E24A Sportsman's Hatchet
The Estwing E24A Sportsman's Hatchet is more along the lines of a hatchet that your grandfather would recognize.
With its classic lines and leather-wrapped handle, this is 'old school' hatchet style. It is no surprise to learn then that Estwing has been making hatchets since the twenties, so your grandfather may very well have swung one himself.
Made from a single piece of 1055 carbon steel and featuring a narrow head that will allow you to chop deep into any type of wood, the Estwing is a fine piece of kit.
The single-piece construction means that you won't have to worry about replacing a broken handle, but it does mean vibrations will be carried from the head directly to your hand so it's best to be wary of green branches. But hey, this isn't middle school now is it? A little shockwave never hurt anyone (too much).
Kershaw Camp Ax
Coming in at only eleven inches you are unlikely to be chopping down trees to build boats with this guy. It is however ideal for keeping on your belt and having at hand for all the bits and pieces that need to be cleaned up around camp.
The drop-forged method of production stretches and aligns the grain of the steel to give it extra strength and structural integrity. The not slip handle also feels very secure and should eliminate the dangers associated with a flying hatchet during vigorous use. This is a great little hatchet that keeps a sharp edge very well.
Columbia River Knife & Tool 2725 Kangee T-Hawk
If you want something with a little more aggressive styling, for saving lives or combat situations, then the Columbia River Knife and Tool 2725 Kangee T-Hawk is the tool for you. With a spiked rear that can be used for prying, puncturing or digging, this military-grade hatchet pulls no punches.
Made from a single piece of 1080 steel, measuring more than fourteen inches long but coming in at less than two pounds, this guy fights well above its weight. Super sturdy and guaranteed to give years of service, the Columbia is a quality tool ideal for many different situations.
Conclusion
We found that the Gerber 31-002070 Bear Grylls Survival Hatchet with Nylon Sheath is the best survival hatchet on the market.
It met all of our requirements and is highly regarded by those that own it. The Gerber name holds a lot of weight in the survival communities because they offer well-made products that are affordable for most. This hatchet is a great choice for anyone that needs one.