One of the best things about the popular 1911 pistols is the ability to replace the grip panels with various 1911 grips of your choice. 1911 grips provide a perfect way to make one of the world's most popular and versatile pistols even better. The design of this classic firearm is efficient and quite timeless, but there are ways to make it a better fit for you and your personal preferences and needs.
The best 1911 grips can provide a significant improvement to your aim, comfort, and overall shooting experience. They can make your gun more ergonomic, improve handling in a number of ways, and add useful new features. You can also make your gun look more stylish and personal with a decorative grip. It's important to find the one that really suits you. With the right 1911 grips, the pistol should feel like it was designed just for you.
There are a few different types of grips for 1911 guns. Understanding their traits and differences will help you pick the best 1911 grip. These are the grip types you'll encounter:
Rubber Grips
The biggest advantages of this type of 1911 grip is the comfort and ease of use, and the strong grip this achieves. Rubber 1911 grips are a top choice for those who seek optimal performance. They're also very durable. Rubber has a nice amount of friction and elasticity, reducing the risk of your hand slipping on the grip even in heavy rain and humid, sweaty conditions. They don't tend to have any bells and whistles, unlike other 1911 grip types, they're all about functionality. They're affordable, effective, and they last for a long time. This makes them ideal for frequent shooters and preppers.
Wood Grips
The old-school but timeless wooden 1911 grip is a great option for those who prefer conventional military detail on their guns. The thinner, harder grip may feel better to you than the softer modern materials if you're used to tools and weapons with a hard gripping surface. The slimmer design is also great for people with smaller hands.
The classic, stylish look of wood on your weapon is another popular reason for choosing a 1911 grip made of wood. From the classic diamond pattern and various inlays to custom engraved or etched designs, there are many designs to choose. If you're good with wood working and pyrography, you can even customize both the look and feel of your 1911 grips.
Plastic and Composite Grips
Grips made of reinforced plastic materials are similar to the wooden ones, but they're harder and has a different look and feel. One special example is imitation ivory grips. These tend to be expensive, but the quality is worth it. They're very durable and they provide that sought-after ivory look without any real ivory, which is very expensive and illegal in many places.
You'll also find all sorts of unique designs and imitation materials among synthetic grips. These synthetic materials are the ideal option for a blued gun. And they won't warp or wear down much, unlike wood, so they're great if you intend to use your 1911 pistol for a long time.
Tactical 1911 Grips
You're reading the tactical guru, so of course the tactical 1911 grips have a special place here. These grips come in a wide range of prices and the design can vary a lot, but most are made from special synthetic materials. They can be really simple designs to improve stealth and speed drawing. Or they can be a bit more elaborate. using special composite materials, different parts, and custom textures.
They may also offer rail sections, improved trigger guards, knife holders, and other special features that turn your 1911 pistol into a proper tactical firearm.
Decorative 1911 Grips
Although purely decorative 1911 grips won't be featured on this list, they're worth mentioning. And many of the proper functionality-improving grips offer decorative designs as well. These designs come in a variety of materials and styles, and they're a nice feature for a gun you like to bring to the range or carry every day.
The 7 Best 1911 Grips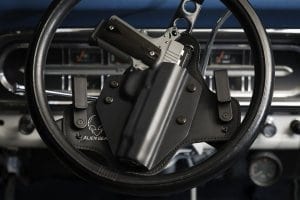 Hogue Laser Enhanced Grips
With 50 years in the business, industry leader Hogue Inc. produces some of the best 1911 grips around, and there's something for every type of shooter. Just like their knives and various weapon accessories, their grips are made with great attention to detail. The designs are excellent, offering great function, performance, and handling. Hogue grips are popular among law enforcement agencies, but you'll also see them often at shooting competitions.
The Laser Enhanced grip is one of their most popular designs, and it's ideal for tactical use. The built-in laser will make aiming and firing so much easier and faster, just point the red dot and pull the trigger. The confidence boost alone could make you a better shooter, but this tactical enhancement can really make the difference between life and death in a tactical scenario.
Hogue LE grips are very beginner-friendly due to the excellent comfort, handling capacity, and overall performance. The standard version is a rubber grip with wide finger grooves, making it very comfortable and steady. If you're not a fan of rubber grips, there are also G10 and wood composite options. They all have the typical Hogue cobblestone pattern.
The Laser
Let's get back to the signature feature, the red laser. It's built into the top of the grip on the right side and you switch it on or off with a pressure switch located by your middle finger. This makes it very useful and effective, especially for tactical purposes where quick and easy toggling may prove crucial for stealth and survival. Adjusting the laser with the elevation and windage screws is also quick and easy.
This laser also has a programmable micro-processor that lets you adjust the brightness and mode of the laser. The two special modes are flashing and stealth target. Stealth target mode makes the laser flash in short bursts with regular intervals, keeping the laser off most of the time for optimal stealth. This is amazing for those really dangerous tactical scenarios.
Pros
Built-in laser with stealth mode and brightness control
Excellent comfort
Very firm grip, doesn't slip
Popular among professionals
Cons
The laser button is a bit stiff
On certain guns, it may not fit right
With its excellent performance and comfort, the Laser-Enhanced Government is one of the absolute best 1911 grips on the market.
Pachmayr American Legend Grips
Founded in 1929, Pachmayr has a long-standing reputation as a respected manufacturer of handgun grips and other firearm accessories. They're the first choice for many law enforcement agencies, gun smiths, and weapon manufacturers. And they pride themselves on being America's most trusted brand of recoil reduction products and other tools and accessories for guns. Their rubber grips for handguns revolutionized the market back in the '60s, and they're still leading the way with innovative designs.
The American Legend 1911 grips are among their finest creations, and they're very popular among shooting enthusiasts throughout the nation. Their sleek, simple design makes them very approachable and versatile. The combination of wood and rubber provide a very nice feel and it's also really stylish. It's available in different versions with Rosewood, Heritage Walnut, Charcoal Silvertone, and Evergreen Camo laminate. The differences are only aesthetic.
When it comes to performance, it's easy to see why American Legend 1911 grips are so popular. The rubbery front end with its deep finger grooves improve the comfort and handling capacity a lot, far beyond what ordinary wood grips could offer. You won't feel any slipping or twisting with these grips, the level of control is excellent, and they won't rub your palm raw.
Another great thing about American Legend grips is that they're designed to fit left-handed shooters just as well as right-handed ones. There are cutouts for mainspring housing and safeties on either side to improve the ease of use.
The downside is that this ambidextrous fit still won't always be a perfect fit on every 1911 gun. However, making the small modifications needed to make it perfect is easy. If you're used to normal wood grips, please note that the rubber may dissolve if you clean with solvents.
Pros
Excellent overall design and quality
Ambidextrous
Good comfort and handling
Multiple stylish design options
Cons
Rubber may wear out somewhat fast
Grips may need modification to fit perfectly
These classic grips are quite affordable, available, and easy to install. They'll improve the handling of your gun and make it look fantastic regardless of finish.
Alumagrips Deluxe Tactical Checkered
Alumagrips has been around since 1986 and was the first company to use CNC technology for pistol grips. This modern, innovative technology enables new designs for 1911 grips with great durability, grip, and aesthetics. Alumagrips offers a variety of grips for the 1911 and other guns, and several different 1911 grips as well. The deluxe checkered line is most popular, and the Tactical Guru favorite is the Deluxe Tactical model.
What makes the tactical version special is the smooth section toward the back of the grip panels. This design provides excellent purchase together with a quick firing grip for your speed drawing needs. Other than that, they're the same as the rest of the deluxe checkered grips.
You can get them in compact or full size, with or without magwell cutouts, ambidextrous or standard. They make them out of high-grade T6 aluminum, and their special CNC method produces an excellent finish. The end result is a very durable grip that fits perfectly in the hand and stays firmly in place while firing.
The surface has a checkered texture which is pretty coarse but still feels gentle and prevents slippage really well. You almost wouldn't believe it's made of metal, until you grab it and feel that it's cold to the touch, that is.
The metal construction means you won't have to worry about cracking or warping like you would with grips made of wood or rubber. And the slip reduction is effective regardless of how hot or wet your shooting conditions are. The form should be a comfortable fit for most hands, with the possible exception of small ones.
Fit and Style
These grips come in three different colors: black, olive gray, and clear aluminum. You can get even more stylish varieties if you choose different models such as the Silver Swooping Eagle or Desert Digital Camo instead of Tactical. The difference in feel and functionality is minimal, although the Tactical model is a bit cheaper. All Alumagrips 1911 grips are anodized and will remain in pristine condition for a very long time.
Installing these grips is easy. Thanks to their flat design, they won't need any filling and there won't be any space between the grip panels and the frame. The high build quality and good selection of different fits mean there are no extra steps to fitting these grips on your 1911 gun of choice.
Pros
Incredible durability and consistency
Fits all 1911 guns
Easy to install
Comes in three different colors
Cons
May be a bit wide for smaller hands
The simple, effective CNC aluminum construction of these 1911 grips provides excellent performance and durability. While they are somewhat pricey, they're well worth the price.
Recover Tactical 1911 Grip & Rail System
Recover Tactical is one of the most important brands of tactical weapons and other tactical equipment. Tamir Porat, the designer behind it all, has more than 15 years of defense industry experience and he's famous for his innovative designs and excellent quality and performance. Perhaps most of all for the Tavor rifle, now in use by the Israeli Defense Forces and various other militaries. They also make vehicles and riot gear and, of course, 1911 grips.
One of their best-selling products is the CC3 line of grip and rail systems. These 1911 grips are known for their great quality and optimal performance. You may have seen these grips and thought they were perhaps little more than an impractical gimmick, but that is far from the truth. The grip and rail system adds a whole new dimension to your 1911 gun and makes it much more versatile and powerful for tactical purposes. It's strong and comfortable and doesn't get in the way. It's the kind of grip it takes to make your 1911 into a viable go-to tactical handgun in a potential crisis situation.
Flashlights, sights, lasers, and many other improvements are easy to install once you have this grip and rail system in place. And they will take your gun to a whole new level. The whole thing is made of quality lightweight reinforced polymer. This makes it durable and prevents it from harming your gun in any way. It's not much thicker or heavier than the factory 1911 grips, so you won't have to adapt to a different feel or handling. While it's not the most aggressive textured grip, it does help to reduce slippage as well.
Easy Installation
It doesn't take much effort to install this great upgrade to your 1911 gun. The side pieces screw on fine with your factory screws and there's no other modification required, despite the radical improvement you achieve. And if you want to remove the custom grip, that's just as easy. You secure the grip system further with simple cross-bolts and nuts to make sure everything stays in place. The end result is very strong, reliable, and long-lasting. In fact, it comes with a lifetime warranty.
Some shooters have reported a particular issue with these 1911 grips. Like many polymer products, some of the grips have a bit of excess material on the seams and edges. In certain cases, this may affect the fit or comfort and need adjustment. This is an easy fix, however, all you need is a knife or a file.
Pros
Lets you add useful attachments with ease
Comfortable, lightweight grips
Easy to install
Great overall design
Cons
Only for full-size 1911 guns
The finish could be better
If you want a quick and easy way to add a laser or other tactical enhancements to your 1911, the CC3s are some of the best 1911 grips on the market.
VZ Grips Operator III
The Florida-based VZ Grips is among the top producers of grips for the Colt 1911 and many other guns. One big part of the company's success is that the owner is a big shooting enthusiast and knows what makes a good tactical 1911 grip. The VZ Grips Operator III is a great example of designing the grips from the shooter's perspective. It's all about the actual shooting experience and practicality, rather than technical concepts and ideas of what should be good.
Out of their 25 or so different 1911 grip designs, the Operator III is the one that's best for tactical purposes. It's a standard full size or compact size 1911 grip with great functionality and versatility, built in the U.S.A. The big enhancement over the previous version is the combination of the newer stippled texture with the classic slanted one. That makes the grips well-suited for a wider variety of uses, from everyday concealed carry to tactical or competitive use.
Firm, Comfortable Grip
Where the Operator II used a golf ball texture toward the front strap, the Operator III instead has an aggressive stippled surface. This increases your ease of handling in intense, stressful situations where you need to act fast without sacrificing safety and precision. The grips are made out of G10, which is a very durable material made from fiber glass and epoxy. Unlike rubber grips, it won't wear down when you use it in high temperature environments. It's also better at preventing slippage. There is a carbon fiber version as well, in case you prefer it over G10.
Overall, The Operator III grips have an effective, simple design with a thumb groove for easier magazine release. They will improve your handling and comfort, although you might need some time to adjust if you're used to soft rubber grips. These grips come in a variety of colors.
Pros
Very durable build
Simple, versatile design
Firm grip that minimizes slippage
Available in different sizes and colors
Cons
Some may find the texture a bit too harsh
The screws may need regular tightening
In summary, it's a high-end, durable tactical grip that offers excellent handling without sliding in any situation. Perfect if you're the type of shooter who loves the feel of rubber 1911 grips.
Magpul Industries MOE 1911 TSP
For almost 20 years, Magpul Industries have been producing innovative, affordable firearm accessories. Their biggest selling points are the simple, intuitive designs that provide an efficient improvement to your shooting comfort and performance. Installing and using their products is always easy and straightforward, and the low prices make them a very approachable brand with really good value products.
Their MOE 1911 grips showcase this efficient simplicity very well. Two simple grip panels, a strong polymer construction, a big cutout for the magazine release, and that's it. The unique diamond-shaped form makes them comfortable and steady to hold and ensures that they won't twist in your hands.
The original MOE (Magpul Original Equipment) grips were a result of rigorous testing and design adjustments by Magpul and their training division. The goal was to produce 1911 grips with better handling, clever design features that improve general performance, and compliance with Magpul value standards. Their TSP version improves upon this design by implementing a more aggressive texture. TSP is short for Trapezoidal Surface Projections, a grip texture that increases your level of control in all environments. This makes it more suitable for tactical purposes than the standard edition.
Strong, Clever Construction
Made from reinforced polymer, the grips are very light yet very sturdy. The aggressive texture and diamond cross-section improve your grip a lot without being too rough on bare hands. It's a clever balance of handling and comfort. Another benefit of this design is that it will fit right even if you have large hands. What makes these grips really good, however, is the deep cutout for the magazine release. A feature that will please most shooters, and help out in tactical situations in particular. Reloading is quicker and easier than with most other similar grips.
These 1911 grips fit full-size frame guns with standard screw bushings. They're compatible with ambidextrous safeties as well. It's worth noting that the grips don't come with screws, so you'll have to use your gun's factory screws.
Pros
Strong, reinforced polymer construction
Generous mag release cutout
Great form and texture prevent slippage
Pretty cheap
Cons
You may prefer a softer texture
Comes without grip screws
I you love simple, efficient, basic grips, the MOE 1911 TSP is one of the best 1911 grips for you.
Pearce Grip PG-1911-1
Another company that makes great replacement grips for various guns is Pearce Grip. The PG-1911-1 is more of a grip enhancement. It's not a set of side panels, it's a wraparound that goes between the handle and the panels. Although it can be used without the panels if you have smaller hands. You can also get the PG-1911-2 rubber panels if you want the feel of a classic rubber grip. The purpose of the PG-1911-1 is to be a cheap and effective improvement for more or less any set of 1911 grip panels.
It's made from rubber and it has finger grooves for better handling and comfort. The rubber is really thin, just about one millimeter, so it doesn't change the circumference of your grip much. This fact makes it ideal for what it's meant to do. That is, to provide finger grooves to your favorite set of grip panels as well as increase overall comfort and performance. The flexibility and tiny change in grip size will help keep your weapon firm in your hand.
The design of these 1911 grips make them a very great compact solution and ideal for everyday concealed carry. It's a great way to ensure a good grip while keeping the bulk to a minimum. The rubber has a slight bumpy texture and it's thick enough where it matters, so it sits right in your hand and stays on without screw bushings.
When it comes to downsides, they're the same issues you come across with other cheap rubber grips. They may get slippery or sticky after cleaning with certain products or after use in hot conditions. You may also need to trim them to get a perfect fit, especially if you're getting it for a 1911 with ambidextrous features.
Pros
Works together with any side panel set of your choice
Really cheap
Finger grooves improve handling and comfort
Cons
Not the greatest 1911 grip on its own
May not be a perfect fit for all 1911s
The general design is really clever and effective. A cheap and easy way to add finger grooves to your favorite set of plain 1911 grips.
Final Thoughts on Choosing the Best 1911 Grips
Now you know what makes a great 1911 grip and you don't have to wade through the vast market of gimmicks and cheap knockoffs. Before you make your final decision, if you haven't already, give some more thought to what you need most out of your 1911 grips. The feel and handling of rubber grips is quite different compared to harder materials, so this is an important decision to make. How do you feel about finger grooves? How much will a laser or other special feature help you?
If you're getting the Alumagrips, Magpul, or Operator grips, we also recommend getting the Pearce Grip PG-1911-1 for extra stability and comfort. And it's such a cheap addition that it's worth trying even if you're not sure you'll use it that much.