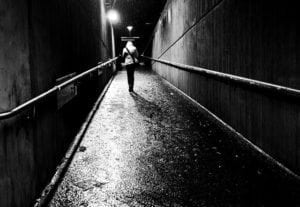 In this post, we're on a mission to help you find the highest rated self defense weapons designed for women. All of us, women included, should be vigilant about our personal safety. While we hope we never find ourselves in a situation where we need to use it, many of us choose to carry a personal defense weapon.
Besides firearms, there are thousands of women's self defense tools available in three main categories: knives and other impact weapons, pepper sprays, and electricity-based weapons. The prices, models, and different options can be overwhelming.
Here are some suggestions to get you thinking about which self defense option is right for you, or the woman in your life.
Why Should I Own One?
Like any insurance policy, none of us want to find ourselves in a situation where we have to use it. If you are threatened, however, you'll be grateful you have one. While it is important to be careful and aware of our surroundings, we can never completely eliminate risk.
No women's self defense weapon is 100%, but your chances of getting out of a bad situation unharmed are much greater if you can catch your aggressor by surprise. There are many non-lethal options available that can incapacitate an attacker, giving you time to get away.
Many women say they feel much safer and more confident when they are carrying a self defense weapon!
Types of self defense weapons
The most important thing is that you feel comfortable carrying this weapon. If you aren't comfortable with it, chances are you won't carry it. Even the best personal carry weapon is worthless for self defense if it isn't readily available.
Ideally, the weapon should be small and discreet, but still pack a punch when needed. The choice between a range weapon or a melee weapon is rather personal, but both men and women usually prefer keeping a distance between themselves and an attacker.
Keep in mind, however, that in some circumstances (such as within an enclosed space) a range weapon may not be usable. No matter which tool you choose to defend yourself, always have a backup plan.
Best Electrical Option
Stun guns are a popular self defense weapon for women. They are very intimidating and, if placed on bare skin, can quickly incapacitate an attacker.
The VIPERTEK VTS-880 is a fantastic 25,000,000 Volt stun gun. It's available in a wide variety of colors and comes in a compact size that fits neatly in the palm of your hand, a pocket, or a purse. This stun gun is easy to hold and to use thanks to the rubberized grip and safety switch. Additionally, the included LED flashlight makes it ideal for evening jogs.
Vipertek has a good reputation for its products and this model is no exception. Most reviewers who have tested this product on a person have said that it really hurts! Keep in mind, however, that stun guns can be ineffective against some people (especially if they're under the influence). One reviewer said it brought a 300lb man to his knees with just a short zap, but results may vary.
Check Amazon To View Current Pricing & Availability
Best Impact Weapon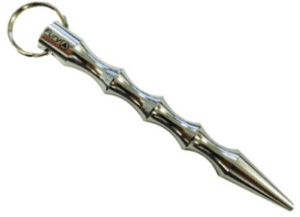 FURY Tactical SDK is one of the original and best quality self defense key chains on the market. This top selling force multiplier is lightweight and features finger grooves that make it easy to grip. Reviewers say the pressure tip hurts even with light blows, especially over bone and other sensitive areas of the body. When held within your fist, this simple tool provides around 1 ¾ inch of protrusion that focuses all the energy of your attack into just a tiny point. It doesn't take much pressure to be effective.
The downside of any impact weapon is that it requires you to be up close and personal with your attacker, and to have the mindset to aim your blows as effectively as possible. However, this is a small and lightweight option that will always be on your person. That makes it a perfect little self defense tool for any last resort situation.
Check Amazon To View Current Pricing & Availability
Best Pepper Spray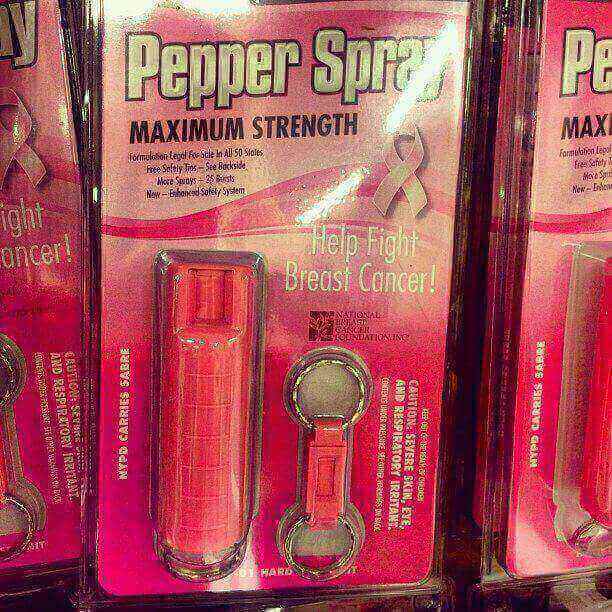 SABRE is a renowned brand for their range of red pepper sprays. The best model we found for women is this police-strength option in pink. Plus, proceeds from the sale of this weapon go to the Breast Cancer Foundation. Awesome!
Buyers say that the quick release key ring makes this much easier to use than other sprays, allowing you to quickly separate your weapon from your keys. Testers have confirmed the 10 foot range and large capacity (suitable for 25 bursts). Moreover, the accuracy is reportedly better than other brands.
Pepper spray is easy to use, is a distance weapon, and is very effective at incapacitating any threat, be it human or animal. This is one of the best quality pepper sprays, with a few fantastic extra features.
Check Amazon To View Current Pricing & Availability
Don't be vulnerable!
You need to be prepared in the event of an emergency. In a bad situation, a self defense tool ideal for a woman can help increase your personal security. It should be simple and effective to use, stopping an attacker through pain or incapacitation.
We think the best option for most women is the SABRE pepper spray. Its long range and stopping power makes it a great choice when it comes to self protection.
Image credit via Flickr Creative Commons: Transformer18 and Coral Springs Talk.
Additional Resources