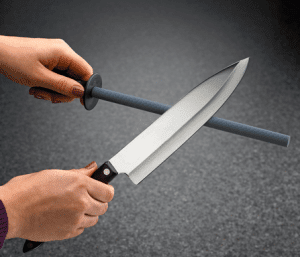 Before setting out to sharpen your knife, you need to understand why it is important for you to keep it sharp. One reason is precision. A sharp knife goes right through the material it is supposed to cut at the right places. It is particularly useful as it ensures the safety when holding one. A sharp knife is also time-saving as it gets the work done easier.
So now you have seen the need to have your knife sharpened. The next question is deciding on whether to do it yourself or let someone do the work for you. If you choose to do it alone, we will take you through the different ways. If you also decide to get assistance, there are certain measures to bear in mind.
Are you looking to buy are tactical knife? If so, check out our top reviews.
DIY Sharpening
The most important aspect, when it comes to this, is finding out what type of knife you own. It helps define what kind of angle your knife is in order to sharpen it right. If you also do not know, don't fret, most of them range between 10 and 30 degrees. Ensure you sharpen at this level.
There are several kinds of knives depending on the use. There are kitchen knives, paring ones, boning knives, chef's knives, carving and slicing knives, bread knives, utility knives and others which include the santoku kind.
The edge of the blade also matters. Is is serrated or flat? Most warranties do not cover the serrated one, unfortunately, so you'll have to learn how to go about sharpening on your own.
Sharpening involves two steps: grinding and honing. The former reduces the steel while the latter buffs the outcome and levels it out. There is an additional step you can do without, but works wonders when you go through it: the stripping stage. Barbers commonly do it. Ever seen them pass the blades up and down a leather belt? It produces the best results of sharpness following the two stages. It clears the burrs from the knife's edge.
The dullness of the knife determines the method of sharpening. If it is very dull, a rough tool is required first. The much sharper ones require less work as a fine tool just increases their blades sharpness. There are several stages involved with each technique.
Using A Wet Stone
It is the most common type of sharpening done as it is the one boy scouts employ. It is called a wet stone because one uses spit, oil or water on the knife to remove the small metal chippings without causing damage.
In order to get the right angle when sharpening, use a sharpie to mark the edge. If, after sharpening, the mark is gone, you got the angle right, if it is still visible, you need to adjust the angle as it is either too high or too low.
Count the number of strokes you make on each side of the blade so that you do the same on the other one. The typical number to aim at achieving is 20 strokes. You do not want a blade with different levels of blade sharpened. It will make it brittle and weak.
Diamond Stone
The most common type is the Spyderco sharpener. The advantage of using this tool is that it can sharpen, serrated blades, fish-hooks and awls.
Learning how to use it is a skill. It requires consistency and patience. The machine automatically cuts at 15-20 degrees so you can rest assured that you have that bit sorted. It comes in an assorted set of two ceramic stones of varying grits.
You need to hold the knife facing downwards and push it slightly into the stones as you pull it in your direction. Always begin with the clean stones and the rougher grits.
Sand Paper and a Mouse Pad
A sand paper can be adhered to an old mouse pad and used for this. The spongy nature of the mouse pad produces good results when the sharpening is done facing and stroked away from you. Both coarse and fine sharpening can be done by adjusting the sand paper accordingly to 800 and 1200 respectively. It can be useful for fine "touch-ups" following the use of a diamond stone.
Pull-through Sharpeners
These sharpeners can be bought at convenience stores and come in handy for kitchen and outdoor blades and knives. They are convenient to use but are frowned upon because they produce inconsistent results. They are reported to leave burrs and cleaning out the steel can be quite a task.
Do It For Me
A simple way out would be to carry them with you to the store. At such places, they employ the use of belt sanders or grinding wheels for fast sharpening. While it's an advantage, is also a disadvantage because there will be lots of burrs.
Before you set out to return your knife to the company, you should ask around for services that are offered. Some lucky people have had their knives sharpened at local butcheries for no cost at all. They also seem quite satisfied by the work done.
If you are not as lucky, ensure your knife came with a warranty. Package the knife safely into the box and label it with the address of the company and your personal address. You may enclose the money in the package or pay via other means.