A tactical wallet is one of the best EDC items you can have.
But most guys only choose a wallet to hold their cash, credit cards, and photo ID.
For the guy interested in multi-tools or RFID-blocking, there are a variety of tactical wallets on the market built to serve a variety of different functions. Some are even built to be super slim, making them perfect for moving around, no matter what your mission may be.
$89.00
in stock
2 new from $89.00
$94.99
$99.69
in stock
2 new from $94.99
Last updated on December 3, 2023 2:50 pm
Read our in-depth reviews below
---
Dango Tactical EDC Wallet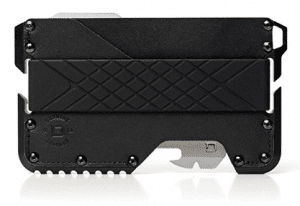 Made in the USA, the Dango is loaded with useful tools. Made from genuine top-grain leather, this wallet also features RFID-blocking technology to protect you from identity theft.
It also includes a multi-tool made from high carbon stainless steel. The tool has a knife, saw, paracord tensioner, 10/15mm hex, smartphone stand, nail pryer, and ruler. You can store multi-tool inside or remove if to create a slimmer profile.
The Dango Tactical EDC Wallet our top pick for a multi-tool wallet. It won't meet every single need, and you still may want to carry a tactical knife, but it does a whole lot more than your basic billfold or card case.
This wallet has received 4.3 out of 5 stars on Amazon, with one reviewer writing
"Will you ever need the things this wallet features? It depends on your lifestyle, but I feel better having them than not. If I was ever in a bind, this is definitely good quality and will serve its purpose."
---
LOOKISS Aluminum RFID Blocking Minimalist Wallet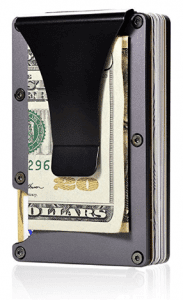 Ditch your bulky wallet and reduce the strain on your back by carrying the LOOKISS Aluminum RFID Blocking. It's our top pick for a minimalist wallet, and it includes a variety of features in a premium aircraft-grade aluminum and 304 stainless steel case.
This wallet boasts a high-strength body that can hold up to 12 cards, including credit cards and photo IDs. If you don't have 12 cards to fill it, an elastic webbing strap ensures that fewer cards will stay safe and secure.
A money clip on the outside provides added function and lets you access cash with ease when you're on the go. It's slim, lightweight, and strong. So it looks cool and performs well.
---
Ranger Minimalist RFID Blocking Wallet & multi-tool by Rugged Material
With 4.7 stars out of 5 ratings on Amazon, the Ranger Minimalist includes 12 impressive built-in tools.
It is basically a combination of the previous two wallets listed above. This Rugged Material design is slim like the LOOKISS but detailed with a multi-tool like the Dango model. The Ranger wallet doesn't have as many functions as the Dango, but it is a bit more accessible and a bit easier to use.
It includes a bottle opener, a 1/4 tool driver, SAE wrenches, metric wrenches, and a flathead screwdriver. It's American made and comes with a lifetime guarantee. And with the bottle opener, it's ideal for the guy who always wants to be ready to crack open a bottle of beer.
One happy Amazon reviewer writes they…
"…have tried other minimalist wallets and I have to say that without a doubt, this is the best one. Forgetting all of the built-in tool options, just as a functional wallet without bulk, it is amazing."
---
Trayvax Element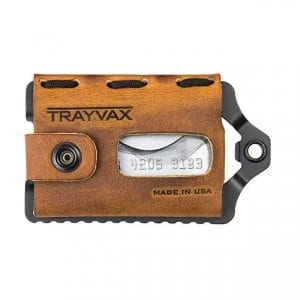 With a multi-tool and RFID protection, the Trayvax Element boasts an impressive 4.7 stars out of 5. Made in the USA from oil-tanned leather wrapped around a stainless steel frame.
It lacks a bit of the functionality of the Dango wallet listed above, but the genuine leather adds a nice touch. It fits 10 cards, holds 5 bills with an integrated money clip, and includes a bottle opener for beer lovers.
The leather only gets better with age, so it's our top pick as the best looking EDC wallet you can find.
Check out the reviews and you'll find hundreds of people giving this wallet 5 stars. One reviewer writes
"This thing is made exceptionally well. Awesome craftsmanship and quality. Very pleased with this wallet and highly recommend it to anyone who's looking to add a lifelong quality accessory to their every day carry!"
---
Calti Front Pocket Credit Card Holder With Money Clip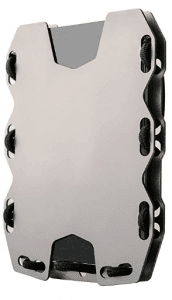 If you like a wallet with a money clip, the Calti Front Pocket Credit Card Holder With Money Clip is a great EDC option. We love the titanium look and simple design—two pieces of titanium held together by a durable cord.
It's definitely durable, and the cord is replaceable so you can customize it with your own paracord in your preferred color.
Weighing less than 60 grams, this wallet is so lightweight, you won't even realize you're carrying it. Aside from its sleek look and slim design, it comes with a lifetime warranty and a 100% satisfaction guarantee.
---
Calti Minimalist Slim Wallet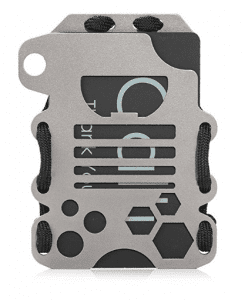 Unlike the previous Calti wallet, the Calti Titanium Minimalist Slim wallet has a cool futuristic look. It boasts the same design with two pieces of titanium tied together with cord, but in this case, the titanium adds to the wallet's functionality.
This slim design includes a money clip for cash, a wrench, and a bottle opener so you can pop open beer bottles with ease. The cuts in the titanium make it super lightweight, and you can switch out the paracord to different colors. By changing the paracord you can make this wallet as slim or as thick as you need.
---
Trayvax OG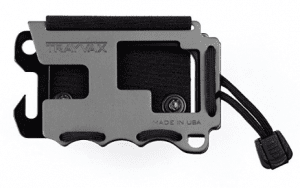 The Trayvax original wallet can carry up to 14 cards (more than any EDC wallet on this list). It is well-crafted from anodized aircraft-grade aluminum and cold-rolled steel for RFID-blocking function. Blackened metal grommets, Type III 550 paracord, and heat-resistant elastic make it one of the most rugged wallets you can buy.
With a bottle opener for added function, this wallet boasts an ultra-comfortable design. Made in the United States and backed by a lifetime warranty, you can be sure it's designed for long-lasting use.
This Trayvax model is our top pick if you have a lot of cards to carry but don't need a ton of extra tools.
---
Before you buy an EDC wallet, figure out what you need it for.
If you need lots of functionality, consider the Dango model with its multi-tool. If you want a super-slim look, we recommend the LOOKISS. If you have lots of cards to carry, opt for the Trayvax Original. Want something that looks great and functions well? Go for the Trayvax Element.