Last Updated [last-modified]
In this article, we're on a mission to find the best tactical vest for 2020. After hours of researching, we're confident in our top picks below.
A tactical vest is an essential piece of gear for any sort of firearm enthusiast. Tactical vests make it easy to carry and access extra ammunition in the middle of an engagement. Whether it be a serious military engagement or a round of airsoft with friends, a heavy duty tactical vest or chest rig will make sure you have what you need, when you need it.
The higher quality tactical vests are going to fit and breathe better when compared to some budget options. Also, the number of compartments you require is an important factor to consider. We also took a look to make sure the shoulder straps were made of durable, high-quality materials. This is very important because you need to be able to depend on your rig.
Our top picks below offer a tactical vest for everyone. We're confident you'll find the right vest.
Tactical Vest Comparison Chart
Mobile Device Users: For best results, turn your phone landscape (wide view) to see the entire comparison chart.
| Product | Wallet Score | Our Rating |
| --- | --- | --- |
| UTG 547 Law Enforcement (our top pick) | $$$$ | 94 |
| | $$$ | 92 |
| | $$ | 86 |
| | $$ | 88 |
| | $$$$$ | 90 |
| | $$$ | 90 |
| | $$$ | 92 |
| | $$$$ | 78 |
Top 4 – Best Tactical Vests
UTG 547 Law Enforcement Tactical Vest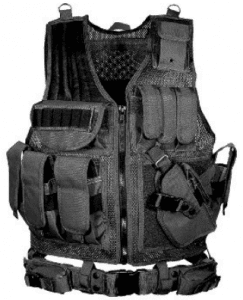 Specs
Fully adjustable in girth and length – one size fits most.
4 deluxe adjustable rifle mag pouches (1 right, 3 left) – universal design, each holding 1 – 2 most popular mags.
Features hook-and-loop closure, drain holes and elastic to hold mags tight.
1 deluxe universal cross-draw holster – adjustable position, extra hook-and-loop attachable modular double-mag pouches to interchange with holster, both with belt loop ready for belt carry.
Heavy duty back loop system – to carry additional gear/tools, 2 large internal zippered map/document pouches.
Durable rescue handle with maximum strength for most dependable field operations.
Signature mesh ventilation system helps release moisture and heat.
High quality zippers.
What Owners Are Saying
The vest is backed with a ton of rave reviews, over 1,000 and counting last time we checked. Owners say the shoulder straps are fully adjustable to accommodate many different body styles. It offers all the options you could want in a tactical vest.
What We Love
It is well designed and very versatile vest. We love that this vest has no shortage of useful features including the rescue handle and cross-draw holster.
Check Amazon To View Current Pricing & Availability
Tactical Crossdraw Vest w/Pistol Belt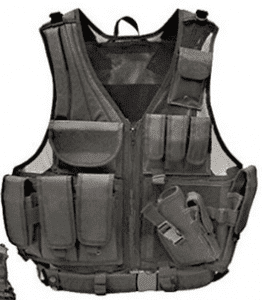 Specs
Adult sizes from s-1X for a more custom fit
Weather-resistant material –military grade
Pistol holster for small or large handguns
Two removable mag pouches with web pistol belt
Zip front closure
Zip up pockets for documents
What Owners Are Saying
People love the value and features packed into this vest. It is perfect for 3 gun competition and the rifle mag pouches fit all kinds of mags, including AK or AR15 mages. The shotgun shell pockets are well placed and the pistol mag pouches are easy to open and close.
What We Love
We love that this vest is stocked and loaded right out of the plastic. It has plenty of sturdy loops to hang gear from, tons of pockets that you can easily stock with everything that you need, and it looks great.
Check Amazon To View Current Pricing & Availability
MetalTac Tactical Vest Cross Draw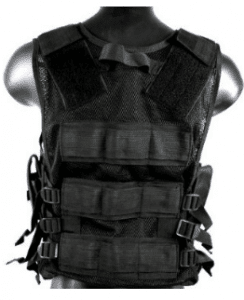 Specs
9 total utility pouches
Pistol holster
Radio pocket
Include belt strap
What Owners Are Saying
Customers report that the MetaTac Tactical vest is extremely comfortable and can fit a large range of body types due to it's large number adjustment straps.
What We Love
We love the Tac vest because it is perfect for airsoft guns. This vest is the perfect lightweight solution to keep you extremely mobile and agile. This is a vest that will match the needs for most enthusiasts. But if you are looking for something that can carry a heavy load, we would recommend a different vest on this list.
Check Amazon To View Current Pricing & Availability
Leapers Men's Law Enforcement Tactical SWAT Vest – PVC-V548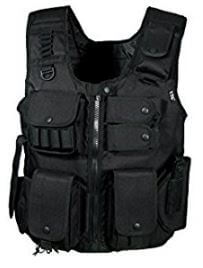 Specs
Quilted comfort on the inside, and heavy-duty nylon on the exterior.
Numerous front pockets and an oversized back pocket help keep your magazines and other accessories in order.
Fully adjustable through the shoulder and waist for a custom fit.
Thumb break holster
Pistol and rifle magazine pouches
Elastic loops for shotgun shells
Radio pocket.
3.5 pounds
23 inches long, with an adjustable, 40-to-54-inch torso.
What Owners Are Saying
People praise of the position and various sizes of the pouches that can fit anything from a multi-tool to rife magazine pouches. The reviews are mixed on the stationary pistol holsters. Some people love the added durability, but others wish it could be adjusted.
What We Love
This one-size-fits-all tactical vest is a very decent and durable, yet affordable, option. The PVC-V548 features a shotgun shell holder for five shells, but many users say they've removed this and attached something else. There are two standard magazine pouches and three pistol pouches available.
Two features reviewers found particularly useful are the flashlight pouch and the large pouch on the rear of the vest. Users say it's well-made and, although perhaps a little difficult to adjust, is suitable for any body shape and size. Buyers love its simplicity and its lightweight compared to similar products.
The biggest drawback is that the included sidearm holster can be difficult to use. The release is a button clip, but it's not easy to operate single-handedly. Unless you are in an actual battle, however, this probably isn't a deal breaker. You also can easily change out the holster out if it bothers you.
Check Amazon To View Current Pricing & Availability
Benefits Of Owning a Tactical Vest
Tactical vests are not just for survivalists and doomsday preppers, although they are incredibly well-suited for that sort of role. Tactical vests are also useful for sports (such as airsoft), hunting, and fishing. Instead of a carrying a heavy bag that can interfere with movement, why not carry the most important equipment on your person?
Just look at law-enforcement, Army, and SWAT team officers. There is a reason why every single one of them wears a tactical vest when going into combat.
When you use a tactical vest, all your gear is within easy reach. You can access your spare ammunition, radio, first aid kit, or water pouch in seconds. If you carry a sidearm, a tactical vest allows you to store it in front of you, where you can get to it quickly.
A good vest setup makes it easy to manage your tactical gear. With the right setup and carry, you'll be prepared for any situation as soon as you put it on.
Tactical Vest Confusion
The biggest impasse it seems for consumers when it comes to purchasing a tactical vest is the lack of knowledge. Before you purchase an assault vest or tactical vest, you will want to know:
What makes a good tactical vest?
How much should I be paying for one?
The uncertainty as to whether it will be used is also a big factor
To address consumer concerns we came up with a list in response to those concerns to help alleviate any hesitation in purchasing the best.
Versatility
The best one will offer you plenty of versatility. It will have a component system available that will go with the vest so that you can choose the pieces that will serve you best. It will have areas for ammunition, loops and plenty of Molle to make it as versatile as possible.
Will You Use It
Survivalists will tell you that if you have a tactical vest, you will use it. You do not need to be in law enforcement or the military to appreciate the use that you will get out of one. If you have it, you'll use it. If you take being prepared seriously than once you have it, you will wonder how you ever went without it.
Must Haves
We suggest a LBV (load bearing vest) because anything else is likely to fall when things go crazy. Load bearing vests are durable enough to carry heavy loads (think multiple pistols and magazines of all sizes), but also comfortable enough to make carry that load a little easier.
Also, you want plenty of pockets. This means you are looking for some type of molle system or a vest with every pocket already built in. Durability and weight should also be considered. It is tough to find something that is durable and light, so you will have to balance your needs. So we are going to look at those that meet these requirements:
Load bearing
Affordability
Versatility
Durability
Weight
Conclusion
UTG 547 Law Enforcement Tactical Vest is the best on the market for a full range of activities. Whether it is shooting, hunting or you just want to be able to be ready for anything this vest can make sure you are prepared. It's a great buy and comes highly recommended.
More Articles
Go back to see our top choices for tactical backpacks.