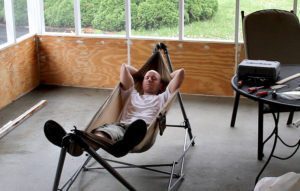 A portable hammock is a wonderful option to have when you're feeling a little dozy on a hot summer afternoon. It's the purest symbol of a chilled existence. In Mérida, Mexico, you'll find hundreds of chilled out Mexicans and tourists alike swinging in the gentle breeze, often sipping lazily on a Margarita as they watch the world go by.
Portable hammocks are also great for camping. If you're in a part of the world where it seldom rains, you can save yourself the effort of carrying a tent to your site. Instead, just tie your hammock up on a couple of trees, star gaze and philosophize about the cosmos and life.
When making your purchase, you'll need to look through many varieties. This can be a bit of a nuisance. You may also purchase a faulty one, leaving you at risk of embarrassing yourself by falling from your snug cocoon onto the hard ground, potentially hurting your bum.
This article will clarify your many portable hammock-purchasing uncertainties and point you in the right direction. It will educate you to your heart's content, so you can go to the hammock store with a cocky smirk on your face and buy exactly the right portable hammock for you.
Considerations
Before you settle on the portable hammock with pretty Mayan designs or your favorite Disney character, you need to make some tough decisions and consider a few things.
Firstly, as a portable hammock, you'll have to think about where you're taking it, and for what purpose, other than sleeping. Will it be for long camping excursions? Or will it be for a place to sleep when you stay at a friend's house? Both are valid questions.
For camping trips, you should think about the weather you'll be facing. If it's likely to rain, there are plenty of great hammocks that can shelter you through the night. If you're camping under clear skies, you might still need protection from mosquitos and other insects.
You will also need to consider the weight that this portable hammock will have to hold. If you're a large, overweight and heavy person, you'll need a stronger hammock. If you buy onek that's not suited to your weight, you'll break it and ultimately be without a hammock for the night, leaving you to sleep on the floor.
You also want to make sure it's long enough for you. You should leave a good 3 or 4 feet extra than your own length to allow for a bit of a droop in the portable hammock when you're in it. Equally as important is to make sure you don't leave too many extra feet, as you will droop too much and it will be an uncomfortable night's sleep. Repetitive use of a portable hammock like this will also do damage to your back.
You need to think about how many people will sleep in this hammock. There are models large enough to sleep 3 or 4 people comfortably. You may also want extra space for yourself. A large portable hammock for one person makes for a really comfortable place to sleep. The downside to larger hammocks is that they're a little heavy, which could be an issue if travelling longer distances on foot.
Lastly, you need to think about the straps. Plain and simple, your portable hammock is only as good as its straps. With poor straps, your hammock can't be tied up properly. Straps need to be exceptionally strong to hold the weight. You need straps that can tie to whatever you need to hang your hammock from. That could be trees, poles or anything else you might find that gives you two firm points to hang from.
Portable Hammock Reviews
Pinty Cotton Portable Hammock
This is a really useful hammock because it eliminates one of the major concerns about straps and binding them to a suitable post. It comes with a sturdy stand that the it can swing from. You can also strap it to a tree or whatever you please, but having the option to sleep anywhere you please is a real advantage.
It sleeps two adults comfortably, with a weight capacity of up to 450lbs. The hammock is made from 100% cotton and all weather resistant, meaning it's very durable and comfortable. It comes with a portable carrying bag for easy mobility. Customers loved that they could set up as and where they please. They said it's extremely comfortable as well. The one drawback was that some found it difficult to construct. However, a flick through the instructions should solve this problem.
Check Amazon To View Current Pricing & Availability
Hennessy Hammock Expedition Series
For a more advanced hammock for real outdoors expeditions, the Hennessy hammock is perfect. It's a tent hammock, which means you don't need to bring your tent on a camping trip, or any kind of shelter for that matter. It will hold up to 250lbs of weight and fits anyone up to 6 feet tall, though sleeping diagonally you could fit someone over that height easily. The fabric is Oxford nylon, making it rainproof and durable. The straps are webbed to protect it from tearing on tree bark, so you won't find any awful tears in the morning.
Customers loved the quality of this product. Hennessy have a great reputation for hammocks and outdoors equipment, and this is one of their best products. It exceeded most people's expectations, though there was a complaint that someone wasn't able to sleep on their side. This is a valid complaint but in general you sleep on your back in a hammock, as a hammock base is not firm enough to sleep on your side.
Check Amazon To View Current Pricing & Availability
Conclusion
Portable hammocks are a great way to sleep beneath the stars. They're even better when they're portable and capable of going on camping trips. With a good portable hammock, you can save yourself the effort of carrying a tent and all that it entails on your camping trip. They're much more comfortable than sleeping bags on the ground, that's for sure.
Remember to measure it and check that it has quality straps before you hand over any money. It should be strong and be able to hold your entire weight.
The Hennessy is a great portable hammock for camping trips. It offers all the protection and shelter of a tent, while giving you the comfort of being suspended in the air.
Image credit via Flickr Creative Commons: Dave O
Additional Resources