Owning a gun comes with responsibilities. One of them is to store your firearms safely, out of the reach of children, potential intruders, or any snooper that would come into your home. Thankfully, this is just what gun safes are for.
Your handgun safe should allow you to keep your handguns away from the wrong hands while still being easy enough to access for you. Most likely, and hopefully, you'll only ever need your gun for recreation or practice, but if someone ever breaks into your home, quick access to your handguns may prove crucial. Beyond that, it's down to your personal preferences and budget.
In this article, we've included a selection of the best handgun safes with picks for all budgets. Some have mechanical locking systems, which are very straightforward and reliable as they don't require power to work. Others use electronic locking systems. Those can be more elaborate and fancy, with state of the art technology and added features such as internal lighting.
Without further ado, let's dive into our top picks for handgun safes.
Fort Knox FTK-PB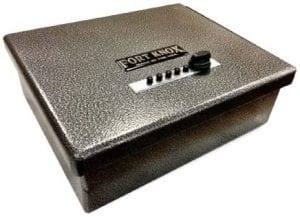 This Fort Knox safe is great for any handgun owner. Not only is it secure, it's also quite spacious, convenient, and easy to use.
This safe has a Simplex lock, which is simple, reliable, and guarantees fast access to your handguns. This mechanical locking system uses buttons and can be opened in less than two seconds thanks to the gas strut on the door. Additionally, it's compact enough to keep in a drawer, but has enough space to fit a couple of handguns with a spare clip or two.
As for the build, it's sturdy. With its wrap-around style door and hidden hinge, this safe is particularly difficult to break into. With the four pre-drilled holes, you won't have any issues mounting this safe for additional security. What's more, it comes with a lifetime warranty from the manufacturer, to show you how much Fort Knox trusts their products.
The Fort Knox FTK-PB is an overall awesome safe and sure bet if you must buy a handgun safe. The only downsides would be the price, $270, which makes it fairly expensive for a handgun safe, and the fact that "only" 1,081 combinations are available to lock it. If you have a determined child, they could eventually guess the right one. In which case, it might be time to have a talk about gun safety.
SentrySafe QAP2BEL
The SentrySafe QAP2BEL is another awesome pick to keep your handguns secure. It has room enough to fit two standard handguns or one large pistol and its ammunition.
Unlike the Fort Knox FTK-PB, this safe uses an electronic locking system, with two override keys if the electronics should fail. You can program up to four fingers to open it, which means other family members or trusted friends can have access to it if you register them. Thanks to the biometric identification, the safe only takes about a second to open.
There is an interior light to let you see the content of the safe if you need to access it in the dark – a convenient feature for emergency situations. It might be a detail, but the safe also has a very pleasing, slick, modern design. That's a plus if you're going to keep it where you'll have to look at it regularly.
This SentrySafe can be bolted down, which should be an essential feature if you're going to keep your safe at home. It comes with the mounting screws, so no headaches there. And if you mount it on the wall, you can add gun magnets to prevent the content of the safe from falling.
On the cons list once again is the price. Just like the Fort Knox FTK-PB, this safe is a bit of an investment at $307. There's also the fact that you need batteries for the safe to work. Don't get cheap ones, they have to be high quality batteries, otherwise you run the risk of them running out fairly quickly.
GunVault SV500
While we're on the topic of higher end picks, the GunVault SV500 is another great option. This quality handgun safe will set you back $258. Oh well, guns are expensive, and a couple hundred bucks isn't too high a price to ensure your family's safety. Especially when you consider that cheaper products tend to break down more quickly, therefore needing replacing.
The GunVault SV500 puts the emphasis on stealth and ease of access. This unit is clearly meant to be mounted, and it comes with all the necessary hardware. Its design makes it ideal to mount under a table or desk, or between your bedside table and bed. It's the perfect safe if you want discretion and instant access to your gun, which you will be able to grab by merely reaching with one hand. The option to turn off the key entry sound guarantees maximum stealth.
This safe will fit a large handgun with two magazines. It locks with an electronic keypad, so again you'll need batteries to keep the mechanism working. It comes with an override key if the mechanism fails. The keypad is very intuitive, even in the dark, so you'll get your gun in a flash no matter the situation. There is an interior light to let you see what's going on if you need it.
In addition to the price, the downsides are that the instructions for mounting aren't great, which might cause some reasonable frustration if you're not the handy type, and the fact that you can only set one combination code.
Awesafe Gun Safe Box
This Awesafe gun safe is more affordable than our previous picks, costing only $159, but the quality is there nonetheless.
This safe uses an electronic system and can be opened three different ways. First, you have the possibility of registering 30 different fingerprints for biometric identification. Convenient if you want to give access to the safe to a few people. Don't be surprised if, when you purchase the safe, it accepts any fingerprint. The instruction manual lets you know how to register fingerprints very easily, so that only verified fingerprints can open it. Otherwise, you can also set a password, and of course, there's an override key if all else fails.
This Awesafe unit comes with an interior light for nighttime use. Furthermore, the compression gas strut automatically opens the lid, making it swift and easy to grab your gun single-handedly if you're ever in an emergency situation. Not to mention that the safe is entirely silent, so stealth is on your side.
The safe has a relatively small size, which means you won't be able to store more than one gun with its ammunition in there, but it makes it a good fit for transportation. Overall, this gun safe is a solid pick.
AmazonBasics Steel, Security Safe Lock Box
Amazon may seem like an odd choice for a gun safe, but their Lock Box has a few upsides that can make it a great option for many people.
First of all, this Security Safe Lock Box comes in different sizes, which are all quite affordable. The 0.5 cubic feet is the smallest option and costs $60 without batteries, $68.48 with the pack of 20 batteries. Even the smaller versions, 0.5 or 0.7 cubic feet, will allow you to store a couple of guns with their ammunition, along with other valuables.
The bigger options are 1 and 1.2 cubic feet, the latter costing $90.52 – still quite reasonable for this fairly big safe. Those will let you store multiple handguns and other precious items you want to keep safe.
The Amazon lock box opens with an electronic keypad. Again, four AA batteries are required to make it work, and you'll have two emergency override keys in case of malfunction. There are bolts included to let you mount the safe into your home.
The interior of the safe can be reorganized for your maximum convenience thanks to the presence of a removable panel that gives you extra storage space.
All in all, this safe offers you great value for the money by being very affordable and roomy.
Hornady Lockbox for Guns and Valuables
This Hornady Lockbox is the cheapest pick of the bunch. Even if you winced at the price of our previous selections, there are no excuses not to get a gun safe with this Hornady unit. It comes in two format, large or Alpha Elite. This section will review the Alpha Elite version, priced at a mere $35.15. And thankfully, cheap doesn't always mean low quality.
This lock box may be on the affordable side, but it is very sturdy and secure. The safe is well made, and you'll find it slightly larger and heavier than the cheapest options out there, though it can still fit under a car seat. This one is actually reliable, durable, and functions properly.
This safe comes with a 3-foot steel cable meant to be attached to a good mount point. It uses a simple barrel key lock mechanism, so no need to worry about batteries with this Hornady lock box. It'll fit a handgun with a spare magazine without issue. Additionally, you'll pass TSA security checks without any trouble.
Barska AX11620 Biometric Safe
With dimensions of 7.8 x 11.8 x 7.8 inches, Barska's AX11620 Biometric Safe is a tiny safe. Compactness is at the forefront of this safe, but it'll still let you store up to two handguns or one full-size pistol with ammunition.
Unfortunately, this unit lacks an adjustable shelf, which can waste some storage space in its upper part. To make full use of the interior of the safe, being a DIYer is handy as you can install your own shelf. It also comes without an interior light.
The biometric scanner accepts up to 30 different fingerprints in its database, and comes with two override keys in case of malfunction. Furthermore, the safe has a silent mode if you need to be really discreet.
Overall, this safe's lack of shelf and interior lighting is a shame, but it remains an excellent pick for the price due to its quality build.
Why Get a Handgun Safe?
If you're considering purchasing a gun safe but are still not sure you really need one, there are a few reasons why getting a safe for your handguns is a must.
First of all, if you have any children, purchasing a gun safe isn't even a debate. Children are curious by nature and you can be sure that a gun will catch their attention if it's out in the open. Even if you don't have children, a gun safe is a way of keeping your pistol away from guests.
You may trust your friends, but you probably occasionally have guests that you don't know very well, or that you know to be unreliable. Not to mention that anybody breaking into your home will have direct access to your guns if you don't place them in a gun safe. In short, having a handgun safe is essential for peace of mind and security.
A gun safe is also great for accessibility. You'll know where your handguns are at all times, especially if you've mounted your safe. Guns are special enough that they deserve their own designated storage space. And with most gun safes, you can have your gun in hand in a few seconds.
Additionally, a gun safe may give you better rates with your insurance company. Many insurance companies actually reduce their prices for owners of gun safes, so a gun safe could save you money in the long run.
Lastly, a handgun safe can also allow you to store anything valuable to you, whether it be jewelry, passport, or other important documents.
Don't Wait to Get a Handgun Safe
This list should provide you with some great list to get the perfect gun safe for you needs. Whether you have children or not, leaving guns lying around isn't a good idea. They are powerful devices that should be treated with respect, and getting a handgun safe is a step in that direction. Gun safes also have great practical value to store personal belongings and give you quick access to your weapons.
We wish you good luck in your handgun safe quest. Stay safe!