Your guns may protect you, but you also need to protect them in return. Or, to be more precise, you need to ensure your firearms don't fall into the wrong hands, which could have disastrous consequences for yourself or your loved ones.
Guns are powerful, and while a gun could save your life in a bad situation, it could also destroy it if you don't take the proper safety measures. Gun safety should always be at the top of the priority list of any self-respecting gun owner. If you're too careless, your weapons could end up in the hands of an overly curious child or an ill-intentioned intruder. Taking unwarranted risks just isn't an option.
Gun safes are there to help you sleep easy knowing your firearms won't be misused. You'll know where they are at all times, and you'll be able to decide exactly who has access to them or not. In many places, preventing free access to your guns is actually required by law.
There are so many options out there though that choosing a gun cabinet may prove difficult if you don't know what to look out for. This essential 2020 gun safe buyer's guide will tell you what to consider when purchasing a gun safe, and review the 8 best gun cabinets on the market.
How to Choose Your Gun Safe?
Not all gun safes are created equal. There are different features and characteristics that determine the quality of a gun safe and if it will suit your needs.
For starters, you'll want to consider your safe's size.  How many guns do you want to store in it? Are you planning on purchasing more in the future? And where does it fit in your home? You don't want to buy a gun safe only to find out it won't fit in your chosen spot. You have to consider that, in case of a home invasion, you'll need to have access to your guns before confronting the intruder. Pick a safe that's a good size to hold your guns and prized possessions that you can keep in a strategic location.
Next, you'll want to look at the locking mechanism. If you're worried about burglars, you should make ease of access your priority. If you don't tend to be very organized, key locks and combination locks might not be your best options. You can easily misplace a key or forget a code. In that case, you can opt for a gun safe with biometric scanning that'll require your fingerprint to open. Nowadays, some locks even use Bluetooth and RFID signals. However, keep in mind that electronic locks work with batteries that you'll need to replace.
Another parameter to consider is the steel gauging, or in other words, the thickness of your safe. The higher it is, the more difficult it is to drill into. If you stay above an 8-gauge, your safe will be virtually impenetrable. Although, keep in mind that a smaller number means thicker when it comes to steel gauging. So 8-gauge would be thicker than 10-gauge.
Then, there's the thickness of your safe's door. A thicker door makes it harder to break or pry open. If you really want to make sure your safe's door won't be broken into, get one with pieces of steel as they are extremely strong.
The bolts can also factor in your safe's security. The bolts are what connect the door to the body of the safe. So if your bolts are too few and of poor quality, they could potentially present a security risk. Some safes come with only one or two bolts, while others can have up to 10 steel bolts.
Furthermore, if an intruder can just pick up your safe and walk away with it, you might be deprived of your guns no matter how thick it is. While it most likely won't happen with a bigger gun safe, it could be a risk with a smaller handgun safe. The way to counteract this is by getting a safe that you can mount or bolt down.
Some safes also come with alarms that'll blare when someone enters a wrong combination multiple times, or when it gets picked up. That can be an extra layer of security if you're worried about someone trying to break into or steal your safe.
Ultimately, it all comes down to getting a safe that provides you with adequate protection and allows you peace of mind, knowing no one will touch your guns without your permission. Watch out for the quality of the material used, the thickness, and access mechanisms. Higher quality safes will even protect your guns and valuables in the event of a fire or flood.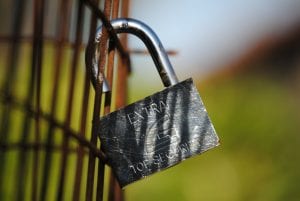 The 4 Best Handgun Safes
Now that we know how to get a great safe, let's review some of the best gun safes, starting with handgun safes.
1. Fort Knox FTK-PB
At $240, the Fort Knox FTK-PB is a pricey option, but it is an excellent handgun safe. What's more, it comes with a lifetime warranty.
It can hold about two or three pistols along with some magazines at a time, and is meant to be bolted. The four pre-drilled holes make mounting a piece of cake. The Fort Knox FTK-PB is quite heavy at 20 lbs, which is explained by its thick 3/16″ steel door and 10-gauge steel body. Additionally, its corners and sides are folded, making prying it open a lot more difficult.
One of the things that make this gun safe great is its ease of access. It doesn't use any electronic system, so no batteries to replace or malfunction at a crucial moment. Instead, it features a mechanical design with buttons allowing you to open it in less than a couple seconds – very convenient if you need instant access to ward off an intruder in the middle of the night.
The only potential downsides are that it's susceptible to water damage, and the limited number of combinations – 1,081. But those can easily be defeated. Place your safe away from water sources, and if you have prying children that would try to guess the combination, it's time to have a talk with them on the importance of gun safety, which should probably be done anyway.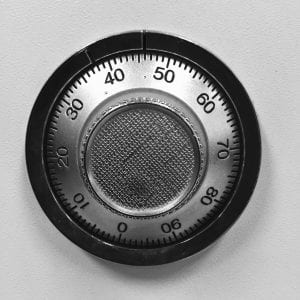 2. SentrySafe QAP2BEL
The SentrySafe QAP2BEL is another option on the more expensive side at more than $300, but it's a great way to keep your pistols locked. It'll hold two standard guns, or one larger pistol with its ammunition.
The QAP2BEL offers a great design with the use of modern technology. It locks with biometric identification, which means it opens by applying your fingerprints. Alternatively, you can lock it using the keypad if fingerprints aren't your thing. This safe is also meant to be bolted down for added security. The interior light is a nice feature in case you need to open it in the middle of the night.
Its only downside is the use of batteries. You'll require four AA batteries to keep your safe working. The safe is also not very discreet when you open it, so if stealth is a priority for you, this might not be your best pick.
3. AmazonBasics Steel, Security Safe Lock Box
It's hard to avoid Amazon these days, but you have to hand it to them, their security safe has quality on its side. Priced at $65.99, it's a lot more affordable option than our two previous picks.
The 0.5-cubic-foot capacity will let you store up to four handguns and their ammunition. The removable panel inside is a convenient feature for extra storage space. The safe can also easily be mounted to a wall, floor, or shelf. It uses an electronic keypad to open, which requires four AA batteries, but it has two override keys if your batteries should run out at a critical moment.
This Amazon safe is generally very good when it comes to keeping your guns and valuables away from your children or some small-time burglar. But for the price, you can expect that a determined intruder could break into it with some skills and tools.
4. GunVault SV500
The GunVault SV500 is another excellent option to keep your guns out of sight. It'll fit a full-sized pistol with two magazines.
Stealth is at the forefront of this safe as its design makes it ideal to mount under a table or desk. It allows you to get your gun with a simple reaching motion. What's more, it has an option to turn off the key entry sound for maximum discretion.
The GunVault SV500 locks with an electronic keypad, but also features an override key in case of emergency. With this safe, it'll only take you couple of seconds to get your gun out and be ready to face anything that comes your way.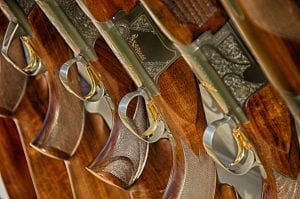 The 4 Best Long Gun Safes
Handguns are nice, but it's time to get serious and bring out the big gun (safes).
1. Stack-On 18-Gun Cabinet
As indicated, this Stack-On gun cabinet will hold up to 18 guns, but that's if you stack them all on top of each other. You can generally count on it holding fewer guns if you have any equipment at all such as scopes. Realistically, you'll store 10 rifles in there, along with a mix of equipment and handguns, thanks to storage spaces specifically designed for this purpose.
The nice thing about this cabinet is that the shelves can be adjusted by increments of 4'' to suit your firearms' heights. These shelves can be used either on the left or on the right.  Additionally, the partitions are removable to get the perfect fit for your weapons. There are also standoffs for your scoped guns as well as gun barrel rests.
2. FCH Electronic 5
The FCH Electronic 5 is big enough to store up to five rifles or shotguns. To boot, it has a lockbox on the top of the safe that gives you room to put away up to four additional handguns.
This safe uses a keypad which lets you set up your own code, but you'll have the option of using two spare keys as a back-up if the batteries die unexpectedly. You'll also get two keys for the interior lockbox.
The FCH Electronic 5 can be mounted to the floor or a wall to be extra safe, as four bolts are included with the purchase to make the process easy. What's more, it'll come preassembled, so you don't need to worry about setting it up.
Overall, the FCH Electronic 5 is a very solid pick to secure your long guns.
3. SecureIt Agile 52
The SecureIt Agile 52 is an excellent portable alternative to a gun safe. Not everyone can afford the luxury of getting a 500 pound full-sized safe, but this option can still fulfill your needs without the hassle of a huge gun safe.
The setup is easy enough, and with its 100 pounds, it's still quite sturdy. Plus, you can bolt it on for added security. Security isn't sacrificed for mobility here, as the heavy-duty gauge steel guarantees it won't be easily damaged.
This safe is decently roomy and can easily fit six long guns along with several handguns and accessories. The interior is extremely adjustable, giving the safe an awesome versatility to accommodate any gear you have.
Overall, the SecureIt Agile 52 offers a great compromise between mobility and security.
4. Amsec BF7240 Gun Safe
The Amsec BF7240 is a very pricey option at $6,030, but it is a great piece of technology. If you can afford it, you can rest easy knowing your guns are safe.
With its ½" steel plate door and 10 deadbolts, it's hard to imagine how it could be any safer. What's more, this safe is fireproof and can withstand extreme temperatures for over 90 minutes.
The interior has a soft fabric lining that'll protect your guns from scratches. Needless to say, there's plenty of room in there to store all your guns and then some: the total capacity mounts up to 38 guns. The interior is extremely modular and will let you do anything you want when it comes to organizing your rifles, handguns, and accessories.
All in all, the Amsec BF7240 is amazing on every level, the only downsides being its hefty price tag and bulkiness.
Keep Your Guns Safe
There you have it, the 8 best gun safes to buy in 2020. When it comes to picking the very best, there's no right or wrong answer, it's a matter of picking the best gun safe for you. Variables such as the number of guns you own, your budget, and what your home's like will determine your best option.
When choosing a gun safe, keep the criteria we gave you in mind, and favor buying from reputable companies with good reviews.  All the safes presented in this review are solid choices that will serve you well.