In this Glock 43 review, we will take a closer look at this much-anticipated new gun and see just how good it is. The Glock 43 is an ultra-concealable single stack 9-millimeter pistol.
The manufacturer claims great accuracy and ease of use no matter how big or small your hands are, thanks to the beaver tail design and the gritty texture which allow for a nice and tight grip.
Do you struggle with classic Glocks due to their bulky design, and with subcompact pistols because of the compromises they make? Those are the issues that Glock aim to solve with the G43, by combining the better features of both categories while eliminating the worst. This Glock 43 review will help you see whether it keeps that promise.
The G43 has the power, toughness, and reliability of a regular Glock, more or less. It's just smaller. In essence, it's designed as a happy middle ground between the classic 9mm G26 "Baby Glock" and the ultra-concealable .308 ACP Glock 42. In most regards, it's like the G42 but with a higher caliber. It's a little bit bigger, but still significantly smaller than the double stack Glock 26.
History
The concept of subcompact 9mm guns has been around for a while. Glock is actually pretty late to the party. However, that's never stopped the Austrian giant before. When their polymer-frame, striker-fired guns hit the market around three decades ago, the handgun market was already saturated, yet Glock changed how we think about handguns. Their new type of pistol became the new standard that others tried to replicate. Seeing the Glock name on a gun's slide is enough to convince most shooters that they're looking at a great gun. This Glock 43 review will show you why.
Significant Traits
Right now, the market for ultra-concealable 9mm guns is still young, and many guns struggle to make a successful compromise between a tiny size and reliable stopping power. So you may wonder if the brand name is still an indicator of reliability. And the answer is yes, but let's take a closer look at this gun and its features.
[su_row][su_column size="1/2″ center="no" class=""][su_box title="Specs:"]
Magazine Capacity: 6 + 1
Caliber: 9×19
Trigger Pull: ~5.5 lbs / ~2.5 kg
Trigger Travel: ~12.5 mm / ~0.49 in.
Barrel Rifling: right hand, polygonal
Length of Twist: 250 mm / 9.84 in.
[/su_box][/su_column][su_column size="1/2″ center="no" class=""][su_box title="Size:"]
Length: 159 mm / 6.26 in
Width: 26 mm / 1.02 in
Height: 108 mm / 4.25 in.
Weight: 509 g / 17.95 oz. unloaded, 634g / 22.46 oz.. loaded
Length Between Sights: 132 mm / 5.20 in
Barrel Length: 86 mm / 3.39 in.
[/su_box][/su_column][/su_row]
Glock 43 Review
What about carrying the Glock 43? Since "ultra-concealable" is an emphasized aspect of this gun, a good look at this aspect is a crucial part of a Glock 43 review.
With its tiny size and lightweight, the G43 pistol is very easy to conceal and carry. You don't need to think much about what kind of garments and holsters to use. It's just that concealable and comfortable to carry. You can fit it in an ordinary jacket pocket and it won't show through unless the fabric is really fine. So it's ideal for women, whose clothing is rarely very forgiving when it comes to concealed carry. Even for those who prefer to carry their guns in their purses, the small size and light weight are very convenient qualities.
The gun is too small to hinder your movement, almost no matter where you carry it. This makes it a very good tactical sidearm.
Build Quality and Features
In case you were wondering, this gun is a polymer-frame semi-automatic, true to the classic Glock formula. The dimensions are just a lot smaller. It weighs in at just below 18 ounces with an empty flat-base magazine. It's a mere 4.25 inches high, from the top of the rear sight to the base of the flat-base magazine. While the stated width is 1.02 inches, that only applies to the slide lock.
The rest of the gun is even slimmer, around 0.9" for the frame and slide. It's the same square, matte black gas-nitrided slide design as your typical Glock, but not as wide. It's got the classic square nose, as opposed to the beveled front of many newer Glocks. But it does have the slightly serrated finish toward the back that help with racking the slide.
Despite the tiny size, there's as much room between the trigger and trigger guard as on a regular double stack model. The trigger stroke is the same as well, with its distinct break, smooth takeup, and short reset. So if you're used to shooting Glocks, it'll feel normal.
Build Quality
If you're not familiar with Glock pistols, and for the sake of a more thorough Glock 43 review, let's tackle the overall build quality. It's solid, as expected. It's definitely built to last. Everything is firm and the moving parts move with just the right amount of pressure.
The barrel of the Glock 43 is 3.39 inches long with hexagonal rifling. So you don't want to load it with unjacketed lead bullets. The shape of the extractor helps to show you the loaded status of the chamber. It features the signature Safe-Action trigger, striker ignition system, and short recoil locked-breech barrel featured in other Glock firearms. The firing pin safety plunger is enlarged and has an irregular surface. The Glock 43 also utilizes the Gen4 dual recoil spring assembly with polymer guide rods and clever steel supports in select spots.
As for the sights, they're the usual Glock white dot sights. There's a white dot unit at the front and a polymer white outline notch toward the back. It's drift-adjustable and made of polymer. It's a clever design and you know for sure whether you're on target.
Glock took a step back from their Gen4 formula with the disassembly and reload mechanisms. The traditional magazine release, slide lock, and take down lever are in the same spots as on older Glocks. You can also reverse the release if you're left-handed. The ridged slide catch design solves the problem of accidental slide locking that could sometimes occur with the G42 during recoil.
Wielding the Glock 43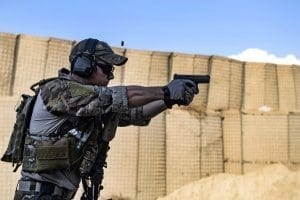 Let's begin with how it feels to hold the gun. Compared to the usual thick Glock grip, the G43 is very small. It's comfortable and easy to hold and reach everything. Now, it's definitely a better fit for smaller hands, but it's not bad for those of us with bigger ones. With the pinky extension on the magazine, you'll find a comfortable grip even if you have big hands. Otherwise, your grip may feel a little bit off.
Comfortable Grip
Another factor that makes it less dependent on a specific hand size is the lack of finger grooves on the front strap. So, no more trying to force your fingers into the grooves if your hands are bigger or smaller than average. There's a fixed lower arch in the backstrap, and all sides of the gripping surface have a bumpy texture. The G43 is designed for a firm grip with the web of your hand in a high position on the back strap. The downward-curving beavertail design keeps your hand safe from the slide. It's easy to find the right, steady, comfortable grip in a very short time, which makes effective drawing easier.
Easy Handling
The small, single stack design makes it very easy to handle even if your hands are really small. It's nice to be able to reach the slide release and magazine release with your thumb so you can use the gun one-handed with ease. The small size of the G43 makes it really easy unless you have very small hands. You can reach all the controls without compromising your grip or taking your trigger finger out of its ready position. You shouldn't have to strain to move your finger between the trigger and the frame, and with the G43 it's a smooth, effortless motion.
The trigger itself is a classic Glock trigger with a comfortable weight to it.
Shooting the Glock 43
Time for the most important part of this Glock 43 review. What's it like to shoot with it?
Small, ultra-concealable 9mm guns like this tend to have a lot of recoil, but the Glock 43 doesn't jump that much. The recoil is manageable and you can focus on your target again in an instant if you know how to counter the muzzle rise. It really handles like a bigger and heavier gun, which is a really nice quality. Instead of bouncing all over the place like the typical small carry gun, it shoots almost as if it has some mystery mass weighing it down against the laws of physics. So even an inexperienced shooter should be able to rein it in and achieve a relatively steady aim after just a few rounds.
Standard Sights
If you're experienced with Glocks, you may even land the first few shots right where you want them. Once you get used to the size, it's just like your average Glock pistol. The sights are the classic standard, and so is the trigger. With its 5.5 lbs trigger pull, it's firm without putting up a tug of war when you want to fire.
Smooth to Use
It moves smoothly without too much force, even if you don't have the strongest of hands, although it may be pretty stiff if you're used to other types of pistols. It's worth noting that this is only an issue when the gun is brand new, it will smooth out after a bit of use. It can make it a bit harder to aim and shoot in a fast sequence if you don't have much grip strength, but that's normal for guns this small.
Aiming works the same as with other Glock pistols. The sights are great because you just know when you're on target.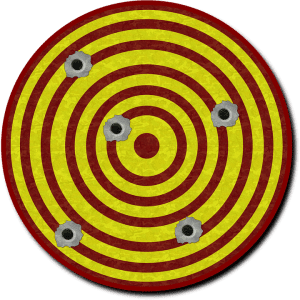 Reloading is quick and easy as well. The mag release button is easy to reach and push, but not to the point where you could release it on accident. Just like the trigger, the slide release can seem a bit too stiff at first, but it will ease up after a couple of magazines. Once the gun is broken in, both firing and reloading is easy.
Beginner Friendly
Racking the slide is smooth and easy even if you don't have very strong hands or perfect technique. This makes it a great gun for beginners. The gun comes standard with two magazines with a capacity of 6 + 1. This means the magazine holds six rounds, but if you load one into the chamber you can add one more. One of the two mags has a pinky extension, but it doesn't allow an additional round. However, it does a good job at providing a more stable grip.
Loading Mags
The magazines load really well into the large magazine catch, and in case you're not used to reloading fast the G43 pistol comes with a speed loader. The gun seems able to handle almost any 9mm round without malfunction. While other ultra-concealable guns tend to be picky about factory loads and makes, this one doesn't mind mixing it up. And, as is typical of Glock pistols, the G43 can take a lot of general abuse before something goes wrong.
Glock 43 VS Glock 42
To give more context to this Glock 43 review, let's take a look at how the Glock 43 compares to the Glock 42.
The most important difference is the caliber. The G42 pistol uses .308 ACP ammo, which is alright for a defensive firearm, but the 9mm Glock 43 has more stopping power.
When it comes to size, they're not very different. The G42 is the smallest Glock pistol, and the Glock 43 is just a little bit bigger. Roughly 1/4 inch longer and about four ounces heavier. This means the Glock 42 has a slight edge when it comes to concealability. I'd still say the G43 comes out clearly on top due to better handling and more stopping power. It just feels more "like a real gun" compared to other compact guns, rather than something that's just as small as possible.
Glock 43 VS Glock 26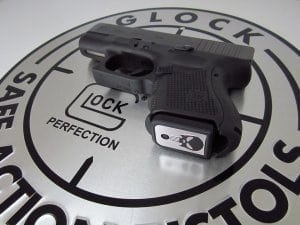 A more important comparison for this Glock 43 review would be against the Glock 26. The original 9mm "Baby Glock." It was, for a long time, the only subcompact Glock with a 9mm caliber. And while it's a great gun, it wasn't really all that stealthy. It was just too thick and heavy for concealment in most clothing.
Discreet
The Glock 42 presented a more convenient option to this, at the expense of power and control. The G43 takes a step backward toward a happy medium made possible by advancements in technology. While these tiny guns aren't invisible in your clothes, people won't see the bulge and know it's a gun. Especially if you use a decent holster. It'll look like a wallet, cell phone or another ordinary pocket item. That's not quite the case with the G26.
Grip Specifications
While the flat design of the G43 makes it more discreet, it also limits the firepower and makes the grip a bit less comfortable. On the other hand, the flat grip makes the grip less dependent on the size of your hand and may grant a bit more control if you shoot with one hand. The real downside here is magazine capacity. Glock 26 pistols use double-stack mags that hold 10 rounds.
When shooting, the G26 doesn't kick as hard. Both because it's bigger and heavier and because of the thicker, wider backstrap that absorbs more of the shock. So, comparing them at the range, you'll find that the G26 offers a bit more control and comfort. But that's not what the G43 is designed to surpass. The great thing about the Glock 43 is that you can always carry it with you. The same can NOT be said for the Glock 26.
Who's the Ideal Glock 43 User?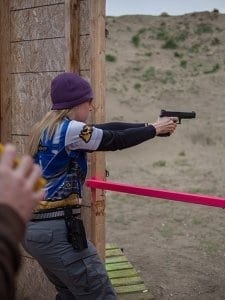 If you need the reliability of a Glock in a smaller format, this is the gun for you. In addition to concealability, the lightweight and small frame make the Glock 43 an ideal firearm for women and anyone with smaller or weaker hands. It makes a great sidearm for female law enforcement officers and a perfect self-defense weapon for women in general. Especially since its slim, flat design makes it easier to conceal in women's clothing than most other similar pistols.
The combination of the small size, ease of use, reliability, and firepower is hard to match. It's an ideal gun for those who want to arm and prepare their family for a crisis situation.
Final Thoughts
There aren't many tiny semi-automatic 9mm guns that meet our modern expectations of deep concealment without sacrificing handling and firepower or vice versa. The much-anticipated Glock 43 is one of the few guns out there that do it well. They took their time and made a grand entrance. It really is the tough and reliable design we've come to expect from Glock but in a tiny format. There aren't any major tradeoffs, other than the increased recoil and reduced ammo capacity. But that's worth it for the advantage of being able to carry the pistol in deep concealment in almost any situation.
Glock fans will find that it's almost the same as what they're used to. And if you're new to Glock, the G43 is a good place to start. It's balanced, convenient, and very beginner-friendly.