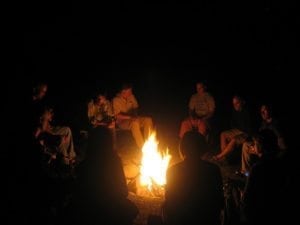 In this blog post, we're going to explain how you can build your own fire pit seating, DIY style! There is something truly special and primal about sitting around a campfire. We have been doing it as a species ever since early man learned to harness the power of fire. If you are lucky enough to have a fire pit in your garden, you should take full advantage of it by making it a comfortable hangout place for you, your family and your friends.
It doesn't matter whether you plan to cook on it or just sit around it to have a few beers after a grill. A fire pit is a perfect way to finish off a great evening's entertainment. And you never know, someone may just top it off by pulling out a guitar and starting a bit of a sing song.
DIY Fire Pits
There are as many different styles of fire pits as there are types of wood to burn upon them. However, things are a little simpler for seating. Most folks will want to have a circular or semicircular configuration for seating as this will allow everyone to easily converse with each other. The seating should also be close enough to get some heat from the fire, but with enough distance to avoid injury. Basically, the seating should be just right and the DIY method adds a sense of achievement.
Why DIY Fire Pit Seating?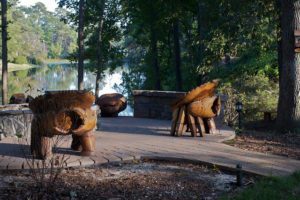 There are several advantages to the DIY fire pit seating method. It can be cheaper and you can take total control of the project so the results will be just as you want it. It can also be a great way to get the kids involved in a project or enlist the help of friends. Most people will chip in a few hours at the weekend and will be more than happy to be paid in a few steaks and some cold beer. Everyone likes to be a bit of an expert and many eyes can spot problems that you may miss if you are on your own. Remember, DIY should be fun and as satisfying to complete as it is to use.
We are going to stick to a few of the simpler designs today. Once you get going and do your own research you will no doubt end up with new ideas and finishing touches that will make the end product your own. Whether you want to do a full 'outdoor room' or just keep it as simple as possible, you will no doubt love the final product. It can be used all throughout the summer and deep into the winter if you live in an area where the temperatures don't take such a drastic seasonal plunge.
Surveying what you already have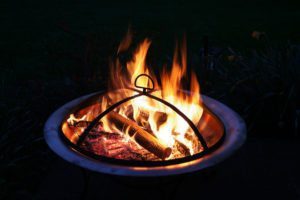 The main thing to consider of course is the fire pit itself. If you are planning a big project it is surely best to remove the existing fire pit and start from scratch. This will give you the best control over the project.
A good base for the fire area is essential. You can measure out the area you wish to use then dig out twelve inches or so of topsoil and fill with gravel. If you have some experience you could make a concrete slab or a nice brick design. These give a great finish and make things easier to clean the next day. It will also stand up to the elements better and if you stick with earth you will inevitably end up bringing mud and ash back into the house when you are using the area in the spring or fall.
Seating design
Simple wooden pallet chairs can be a good economical option and they can be moved around to accommodate different numbers of people at your get together. They can also be moved closer to the fire as it burns a little lower, or back if you have just added more fuel to the fire and things start to heat up. Using tree stumps as extra stools or for kids seating is another cost efficient technique. When they are sanded, stained and varnished they will not just look great but will last for many years.
When it comes to doing your own permanent seating the only real limit is your own imagination. A semi circular design is most popular when is comes to permanent seating, but there is nothing to stop you from mixing it up with more than one entry and exit point.
So think about what best design will work for your space. Then pull on a pair of boots and a plaid shirt and you will be sipping a cold one, enjoying the fruits of your labor in no time at all. Good luck and be safe.
Image credit via Flickr Creative Commons: Alan L, Eugene K and Scott R
Additional Resources
More Articles