How can laser sights help you? Becoming an accurate shooter could mean the difference between life and death when you're in a survivalist situation. This means you better work on your aim.
Just over two decades ago, using a laser optic on your personal firearm seemed like a radical idea. People even saw laser sights as unnecessary additions. But since then, the perception of these useful units has changed, leading more firearm owners to add laser sights to their guns.
It's now common knowledge that all modern rifles need quality optics, but what about your personal protection pistol? All protection handguns should come with a quality laser sighting system.
Laser sights can give you immediate protection as they increase your chances of surviving in conditions with low light. In addition, they can help de-escalate potentially fatal encounters by deterring threats.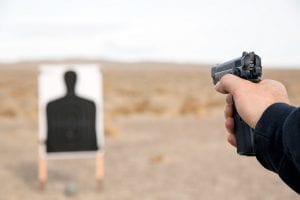 Image via Gunbelts.com
Shooting accuracy can be improved immediately using a laser sight as it helps shooters to keep their target even in an awkward position. It can also help you fight through stress-induced eye issues like tunnel vision. Laser sights can help shooters perfect basic shooting fundamentals like trigger control and sight alignment.
These tools are useful for both instructors and students as they increase the visibility of the target and help you develop dry fire drill skills. Whether you're a first-timer or an advanced marksman, your confidence can be increased with a laser sight as they help you find and stay on your target. Let's look at some of the best items available on the market.
Pinty Red Laser Sight and Flashlight
This versatile and durable Pinty Red Laser Sight is perfect for professionals and recreational shooters with solid ABS construction. Not only does it work as a laser sight but it can be used as a LED flashlight, as well.
Powerful and compact, the unit comes with separate switches for the laser and torch along with a master switch. It has 200 Lumens, making it extra bright and an included mount to easily attach to your guns.
The upgraded version has additional screws included so you can fix it perfectly to your pistol. It stays scratch-free with its black polymer casing and the gun sight is easy to install and use.
It also includes a wrench to make installation that much easier. The light transmission is unsurpassed while the clarity and mechanical performance are uncompromised.
LaserLyte Laser Trainer 9MM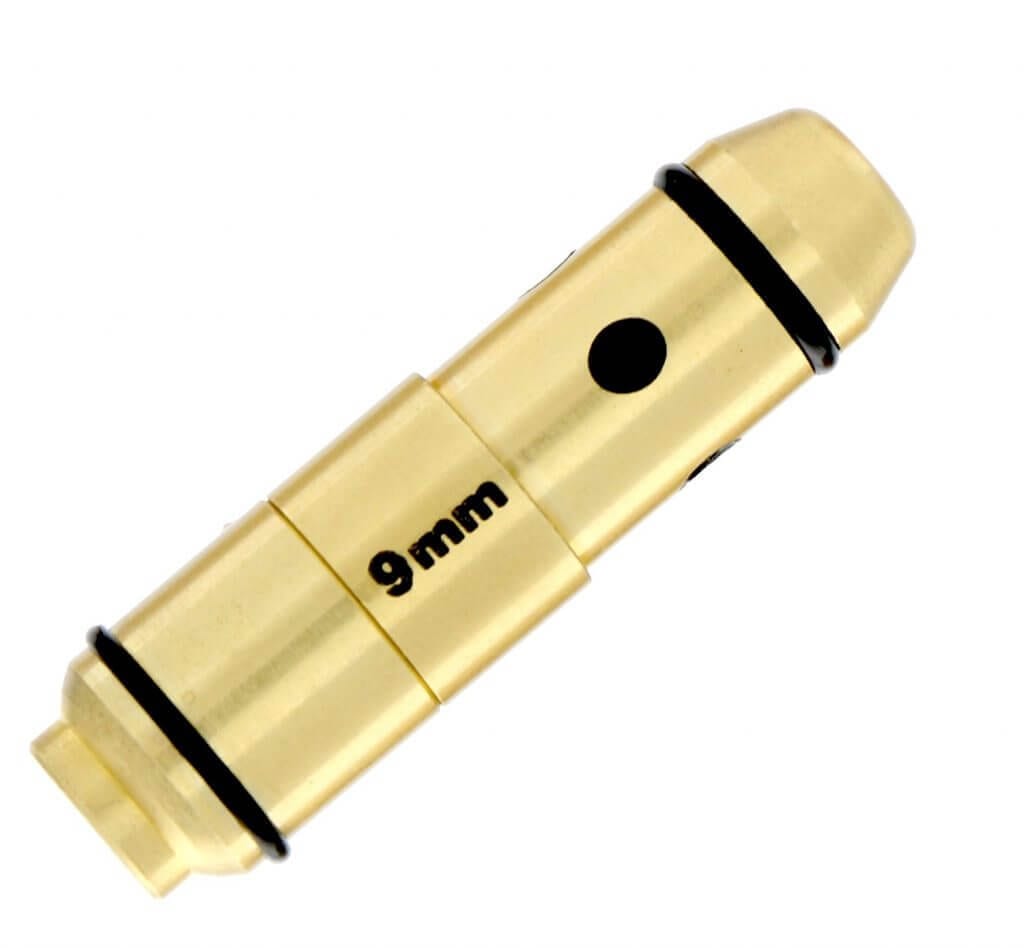 This is a nice tool for holster drawing and dry fire exercises. Just drop the LaserLyte Laser Trainer in the chamber and it will let you know how accurate your shooting is and what needs work.
The laser trainer cartridge is caliber-specific, easily inserts into your chamber and will be ready to go within a few moments. There are dual O-rings included for keeping the light accurate and centered, while the rubber snap cap built in will protect the firing pin.
It helps you make your technique better while saving cash on extra ammunition. The virtual ammunition won't run out and you just have to change the laser sight's batteries every so often to keep it working smoothly.
TACTICON Laser Sight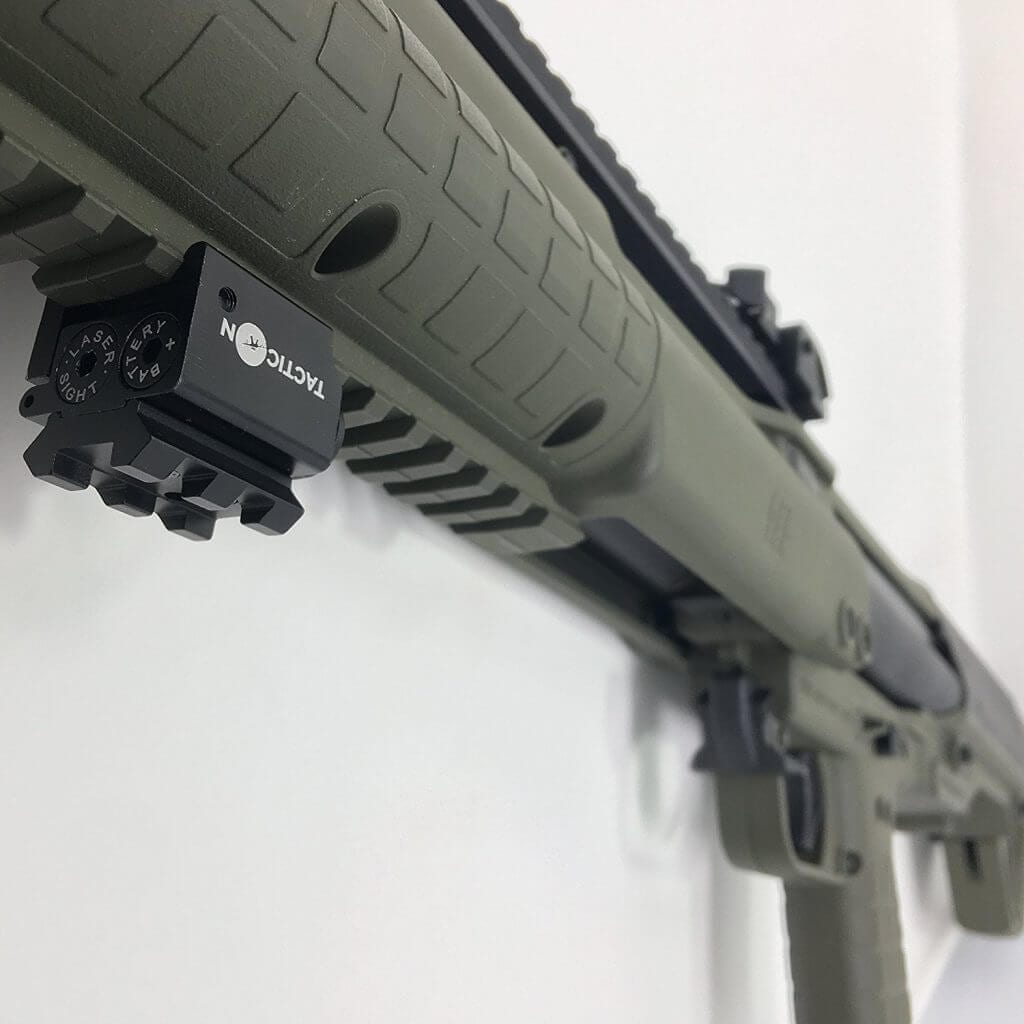 This product comes with a lifetime warranty, extra set of batteries making 6 total, and a full refund available if you aren't satisfied. This company is owned by combat veterans and sells products and laser sights that are suitable for actual soldiers.
The TACTICON Laser Bore Sight can be used with a handgun, shotgun, or rifle and mounted to any gun that has a Weaver or Pica tinny rail.
It offers amazing accuracy. As with any other optic or sight, this laser can be zeroed-in and adjusted as needed with the wrenches included. On top of that, the laser is highly visible and very powerful. You can see it from 100 yards away with your naked eye.
Ade Advanced Optics HG54G
Image via Iloveguns.store
This product has the brightest green beam the law will allow on laser sights. It's a non-handheld laser product in class 3R with the power output of SMw. It's also compact and super lightweight at just 85 inches high, 1.06 inches wide, and 1.79 inches long.
The HG54G will fit rail-equipped shotguns, rifles, and pistols. As long as your firearm has a modern Waver-style or Pica tinny rail, it will fit.
The mounting design of this laser bore sight has two spring-loaded rail slots for very solid aim and zero movement as you practice. The product comes with batteries included and weighs 1.13oz. The unit can be easily and quickly installed and moved from gun to gun.
Crimson Trace CMR-206
This universal laser sight is powerful, compact, and suited for rail-equipped shotguns, rifles, and pistols. The Crimson Trace CMR-206 has control tabs that are ambidextrous, letting the user deactivate or activate the laser immediately.
Since our eyes process green better than other colors, this Crimson Trace laser sight has the brightest laser available in this color. This unit boasts two hours of use on just one 1/3N Lithium battery and also comes with an automatic shut-off function to conserve power.
The product has three operation modes; Constant-On, Strobe, and Momentary so you can choose what fits your practice needs best. The Crimson Trace CMR-206 is installed easily and quickly.
Green Laser Sight by Ozark Armament
This gun sight is all-aluminum and crafted to be as simple as possible. Ready for immediate action, this laser sight has all that you need without any extra bells and whistles. It's also ready to last through harsh environments and even tough abuse.
There are dual axis adjustments included with the unit so you can sight the laser easily on any gun. The Ozark Armament Green Laser Sight comes with a battery included and locks right into place on your gun.
It comes with concise and clear instructions and is very affordable for what you get with the purchase. The laser is super bright, providing a highly visible first point of impact close up. If you're right-handed, the on/off switch can be easily reached with your trigger finger.
Feyachi Laser Sight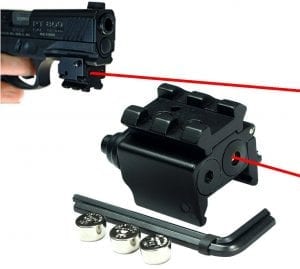 Image via Amazon.com
Suitable for handguns, shotguns or rifles, this laser sight is mountable to any firearm that has a Weaver rail or Pica tinny. The Feyachi Laser Sight includes a lifetime warranty that allows you to trade it in or get a refund if you aren't satisfied.
The company is owned by combat veterans who only produce what they would use themselves as soldiers. The gun sight offers amazing accuracy that can be adjusted like other optics. The beam is powerful and visible even from a great distance.
The unit itself is compact but has a solid red dot for accurate aiming and practice. It might require a little time and adjustment to get to zero. But just use the wrench included and it will stay in place.
Waterproof Military-Grade Pinty Laser
This Pinty Red Laser Red Dot Sight is military-grade and built to be waterproof. It comes with a rail mount and is low profile. It's compact (1 by 1 by 1.2 inches in size) but very powerful. The elevation of this gun sight can be adjusted as you see fit.
It has a black matte finish and aluminum alloy construction. The unit comes with Pica tinny rails that you can detach as needed and is ideal for professionals and amateur shooters who are just learning.
RUNACC Mini Red Dot
If you're on a budget, this is an affordable laser sight made from high-quality materials. It's durable and sturdy, made of premium aluminum alloy. The RUNACC Mini Red Dot can be easily applied to the rails on firearms 0.4 inches and 0.9 inches and serves an easy dual purpose.
You can use it without worries as it offers stability with a special base and 2 screws you can fasten. Just adjust it to the right angle until you find what works for you. The range of fire with this gun sight is about 984 feet and has a maximum power output under 5mw.
After you adjust the unit, it stays stable and trustworthy. It comes with two wrenches for both adjustment and installation, which are simple and straightforward. The on and off button is on the back of the laser sight and it takes three small batteries.
Vokul Tactical Red Dot Laser Sight
Image via Amazon.com
This 20mm gun sight can be used both during the day and during the night. Since survivalist situations will call for being prepared in every situation, this type of practice is invaluable and could save your life later.
As with the other laser sights mentioned on our list, the Vokul Tactical Red Dot Laser Sight can be mounted to either a Weaver or Pica tinny rail. This laser bore sight ships from the USA and is made with quality craftsmanship.
The outer shell on the laser bore sight is crafted from high-quality aluminum and treated with an anti-corrosive material to keep it intact. The unit is shock-resistant, fog-proof, and anti-vibration.
One of the Best Laser Sights- Lasercross L101G
This compact unit comes with a green laser dot and offers armed professionals and civilians a perfect aiming solution for various situations. The Lasercross L101G also has basic installation choices suitable for a range of different applications.
The green dot will stay parallel to your firearm, regardless of your viewing angle and is brighter than red lasers in the daytime. That makes this product suitable for both nighttime and daytime conditions.
You can activate the on/off switch when you wish to save the laser sight's power and help the battery last longer, and use the laser for up to 70 minutes before the battery runs low. Once it runs out, just charge it back up. It comes with a USB charger when you purchase it.
Although it's low-profile, it's also powerful and versatile, fitting most modern shotguns, rifles, handguns, and semi-automatic pistols.
Tips for the Best Laser Sight Results
Laser sights aren't very complicated to install, particularly since modern pistols often come with rail systems. But making sure your handgun laser is correctly zeroed is a different matter.
Whether you choose a Lasermax, or one of the items on our list, this is important. Although it's not hard to sight and mount with a laser, it may lead to issues if it isn't done right. Below are a few simple guidelines you can follow to ensure you get the best results in your shooting practice.
Correct Installation:
This might sound obvious, but not installing laser sights correctly is the most common reason for issues or malfunctions. Most lasers will fit onto your gun's rail with an adapter plate, providing stability with a mounting platform. Sometimes, shooters will be too hasty mounting the laser and don't ensure it's solid, leading to awful accuracy.
You might think you have a malfunctioning laser, but instead, check that you've installed it properly. Check that the side screws have been secured and are tight enough to prevent movement.
Also check that you're using the right plate that will offer a stable mount for your laser. Operator error can cause accuracy problems, so always make sure you've done this right before assuming you have a faulty unit.
Using a Fixed Rest:
You'll save ammunition and stress if you zero the laser using a fixed rest instead of using the board and occasionally adjusting the point-of-impact on your laser. Actually, you must be able to adjust your laser quickly and still be close to the target without having to fire any shots.
Using a Longer Range:
Many shooters are tempted to use their laser sights in the range they expect to shoot in, especially with defensive guns. Although this does seem to make sense, it's not the best way to do it.
Instead of sighting in at 10 feet, go for 25 feet. This will mean your laser bore point has more of a gradual shift in the point of impact. Even when you shoot at a closer range, you won't be very far off target.
Conclusion
If you test it out and find that your gun laser sight passes inspection and works reliably for at least a few hundred firing rounds, you can probably assume it's reliable. If you have already fired the necessary amount of rounds to check that your unit is trustworthy, you're already on your way to developing accuracy in muscle memory and skill.