Military watches vary widely in price and features. If you're looking for a top-notch model it's possible to spend between $200-$300 (even more in some cases). That said, there are some awesome tactical watches under $100.
It's important to know exactly what you want in your military watch before making a purchase. The comparison chart below makes it easy to sort through the different watches out there.
Without further ado, here's our best military watches.
Comparison Chart
Mobile Device Users: For best results, turn your phone landscape (wide view) to see the entire comparison chart.
Top 5 Picks – Reviewed
Not every watch is going to appeal to every person. Some people will want altimeters; some will want dive meters. Some will want one that looks good, but isn't durable, while others just want one that keeps good time and won't break. If you are looking for a watch that just has great features, you don't need to grab the most durable model on the market.
1. Casio Men's GA100SD-8A "G-Shock Military" Watch
The Casio Men's GA100SD-8A "G-Shock Military" has several displays, an array of useful features and a shock resistant design. It's built with a quartz movement from Japan – so you know it's going to be accurate – and has a crystal window for extra durability.
Other features include a speed indicator, 200m water resistance and four daily alarms. The GA100SD-8A even comes with a world time function that can be set to 49 different time zones. In short, the GA100SD-8A provides a stunning amount of features; great value here.
The GA100SD-8A is an extremely popular model. A few folks have mentioned that it's surprisingly light for such a full-featured model, and that the numbers are easy to read in any situation.
A downside to the GA100SD-8A watches is that it doesn't come with an easy-to-understand manual. This is a strange oversight from Casio – especially as the product has so many different options and settings. Fortunately, other buyers have stepped into the breach, and there are videos on YouTube describing how to use almost every feature in great depth.
Many others have reported that the product is whiter than it looks in pictures. This isn't a major problem – the difference is marginal – but might be an issue if you're looking for a less-noticeable product.
Check Amazon To View Current Pricing & Availability
2. Night Vision INFANTRY Mens Military Army Sport
The Night Vision INFANTRY is a durable tactical watch with a range of useful functions. One of the great things about the product is that it has both analog and digital displays, so you won't have trouble seeing the exact time.
Other features include a date display, stopwatch and backlight. The glass also has anti-scratch properties – so you'll never struggle to see the time through marked glass. The movement is made from dual-precision Japanese Quartz. This ensures that the watch is highly accurate and reliable.
The INFANTRY has received strong praise from buyers. One of the best aspects is its rugged appearance, as well as the fair price tag.
As you'd expect from its appearance, the INFANTRY is a heavy product. This is a double-edged sword – the heavy weight indicates genuine quality and durability, but also means that it might feel uncomfortable if you're used to wearing a lighter watch.
Check Amazon To View Current Pricing & Availability
3. Casio Men's GW-9400-1CR "Master of G" Stainless Steel Solar Watch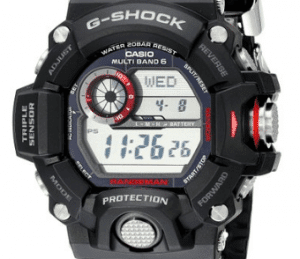 Specs
Mineral crystal window
Digital compass
Barometer, Thermometer
Atomic time
Buckle closure
Auto LED
Solar powered
Sunrise/Sunset
Time stamp
Calendar
Water resistant
What Buyers Are Saying
It gets high marks from its owners. People are loving all the sensors; no real complaints to report for this model.
What We Love
It's solar powered (has solar powered battery) has all the features that we love and that you will love too. It is a great value because it is Casio G-Shock series which is a tried and tested brand. It is rugged and large, but fits on small wrist sizes, so it is great for everyone.
Check Amazon To View Current Pricing & Availability
4. Casio Men's PAG240-1CR "Pathfinder" Triple Sensor Multi-Function
Specs
Solar rechargeable battery
Low-temperature resistant to 14f
Water resistant
31-time zones with 48 cities
Altimeter with memory
Power saver function
Digital compass
Barometer/Thermometer
What Buyers Are Saying
It lives up to its hype according to most consumers. The size is equal to the bottom of a soda can, the weight is about 11 quarters stacked up. Most consumers found that the fit was perfect, and they did not feel that it was overly large or uncomfortable to wear. Many have mentioned that they like the timer. Overall, most folks are happy with all the features (and that they are easy to learn from the manual).
What We Love
We love that Casio made a watch that has all the best features and made it affordable for everyone. It is a great value; it looks great and it works well. It will serve anyone well that needs one that can stand up to extreme conditions where other models fail.
Check Amazon To View Current Pricing & Availability
5. Casio Men's PRW-3000-1ACR "Protrek"
Specs
Solar Powered
Multi-Band Atomic Timekeeping
Water resistant
Low temp resistant
Altimeter, barometer
Negative display
Sunrise/sunset display
Digital compass
What Buyers Are Saying
Most people that purchased this model had already owned a model from the Casio G-Shock series and were either replacing their old one or just adding to their collection.
Consumers were happy with their purchase of this product. The biggest selling points being the sleeker scaled down styling and the solar powered battery.
What We Love
Everything about it is just easier on the eye and easier to wear. It does not have that chunky, rugged utilitarian look, but it is very rugged, and the features are very useful.
Check Amazon To View Current Pricing & Availability
Tactical Watches – Buyer's Guide
If you are using your it for hiking, being outdoors, running, or anything along those lines, then you need a durable one that can also keep you abreast of changing weather conditions. It is especially true if you are out of range with your smartphone.
The most important factor when searching for the best tactical watch is your budget. You need to decide what you want from it, and what features matter most for you.
Military watches for men have a wide price range. The cheapest start around $25 and go well over $5,000. Majority of them will likely be in the $75-$400 range.
Lastly, you will need to choose between an automatic or quartz. An automatic is one that winds itself. It is great because you don't have to wind it, nor worry about forgetting. Automatic versions will wind themselves using your kinetic energy.
Quartz are great because they don't need winding, and they can run for three to ten years on one battery. They typically are accurate to one minute a month.
It doesn't matter whether you're in the military or just spend a lot of time outside – if you need a watch you can rely on, a military watch is the best choice. Military watches prioritize function over style. That doesn't mean they don't look great – but they are built to be strong, easy to read and able to withstand the toughest conditions.
Military watches also need to be accurate. When knowing the exact time can be the difference between life and death, it's vital that a watch is 100% reliable. For this reason, most military watches are made with highly accurate quartz movements.
It's important to choose a watch that matches your requirements. If you just need to reliably know the time when in the field, a simple watch without advanced features is probably the best choice. More advanced products often have extra features such as barometers and temperature gauges. These can be expensive, so you need to be certain you'll use them.
Considerations For Military Watches Under $200
Disclaimer: All the watches met our price criteria at the time of writing (or during our last edit). While we make update this article on a regular basis, we cannot promise all the watches reviewed below are currently priced under $200.
Finding a top rated military watch under $200 is no easy feat. There are plenty of solid ones out there; as a matter of fact there may be too many options out there for under $200.
It is frustrating when you try to narrow down the thousands of choices without having to spend months in the process just to get a decent military one. If you need one that can withstand some seriously bad conditions but you do not want to spend a small fortune (and believe it you can) there are some great choices.
The Differences
Whether you are a tactical fan or not some of the differences that you are considering may be subtle and may not initially catch your eye. The only difference is one has a solar battery, and one does not you may miss that fact. Most consumers just do not have the time to weed through the massive amounts of watches out there and pick up the subtle differences that make one better than the other.
Buying Considerations
Great features that you will use
Well made by a brand that is familiar
Finding the best value
We decided that reading reviews and doing a little investigation could easily isolate the top models under $200 that would me all the standards above. We embarked on the search keeping in mind that the subtle differences are what makes some stand above the rest.
Taking the center stage of the search was the price point but not at the cost of sacrificing features, quality or great value.
History of The Military Watch
It is believed to have earned its name thanks to a Germany military request for a soldier who was stationed in a guard tower. The story relates that the German soldier wanted to know what time it was, but was unable to pull out their pocket watch because both hands were busy operating a machine. There is another story that Kaiser Wilhelm I placed an order at a Berlin trade show, and the first watches were issued in the Boer War.
It began to gain steam during the First World War in a rudimentary form. They were small and kept in the pocket, with metal logs so that a fabric strap would hold them. There was no cover, crystal for most, but some had a metal cover. Soldiers would often cut out pieces of the cover so they could see the time without opening the cover.
As time went on, it became more advanced and more vital to military operations throughout the planet.
Features of A Military Watch
They come in many different styles, with many different features. Overall, majority of the options will be considered rugged watches.
The best ones are designed to be tough.
Some of these below features will be on one but not another.
1. Inverse LCD screen: The background of the screen is black, and the digits are a lighter color, so they don't show up in the dark at certain angles.
2. Titanium casing: Cases are made to be light but durable, with titanium being the most common casing. The titanium ensures you're getting the most durable model for your money.
3. Water resistant: Nearly all models are resistant to 100 metres of water. Adventure models are meant to be taken deep underwater.
4. Solar powered: Changing batteries in the field is not a good idea, which is why most are solar powered.
5. Depth meter: divers often use military watches, and many feature dive meters, so the diver knows who deep they are. Once again, anything water related means you getting a rugged product; it'll be durable under tough conditions.
6. 24-Hour format: Along with countdown timers and a flashing alarm mode, most will obviously run in the 24-hour format.
Other common featuress include a compass, barometric monitoring, an altimeter, storm alerts, temperature sensor and a tide phase prediction setting.
Types of Tactical Watches
How do you know which one is the best one for you? Again, this will come down to you and your budget. There are many different types of military watches including, but not limited to:
1. Field: Also called a general service watch. Ground units use this and it is designed to be cheap but durable. They are low-maintenance, but keep excellent time.
2. Navigator: Often used by pilots as well, these will have features with more accurate movements, an altimeter, chronograph and a highly legible dial for easily readability.
3. Dive: These are used by divers and as such, need to be easily read under water, feature a dive meter and be water resistant to a deep depth.
Conclusion
Tough situations require a watch you can rely on. When you urgently need to know the time, you can't afford a weak or inaccurate watch. The best military watches provide the ultimate rugged durability and reliable performance. They are strong, clear and come with a range of useful features. Plus, they also look great!
Before you start searching for a military watch, make sure you know exactly which features you need. There is a range of features and settings available, including multiple alarms, compasses, altimeters, barometers, anti-reflective coating and even calendars. The best watch should meet all of your requirements – without exceeding your budget.
If you can't decide which watch to buy, we recommend the Casio Men's GA100SD-8A "G-Shock Military." It provides outstanding value for money and has received excellent praise. Whether you're looking for a clear and water-proof watch for scuba diving, or need a tough model for dangerous situations, the GA100SD-8A is a great choice.
While any one of these three will fit the bill nicely the Casio Men's GW-9400-1CR "Master of G" Stainless Steel Solar is the best value. It offers state of the art features and it as a consumer favorite.
Other Great Articles
Additional Resources