In this article, we're on a mission to find the best folding knife available in 2017. The right knife (check out our top tactical knives) can be your best friend. It is a great tool that comes in handy on many occasions. Many people need a great folding knife for work purposes.
Many people just like to have them on hand in case they need to use them for a task. Being prepared means you are ready for anything, and owning a top rated EDC folding knife will help.
There are hundreds of reasons why you would need one. There are some barriers which prevent people from buying one. In some places the length of the blade can take it from a tool that you keep handy to a violation of the law.
Comparison Chart
Mobile Device Users: For best results, turn your phone landscape (wide view) to see the entire comparison chart.
| Product | Wallet Score | Our Rating |
| --- | --- | --- |
| | $$$ | 92 |
| | $$$ | 94 |
| | $$$$ | 92 |
| | $$ | 96 |
| | $$$$ | 94 |
| | $$$ | 92 |
| | $$ | 94 |
| | $$ | 76 |
Buying Considerations
In many places, a folding knife can only have a blade that is just so long, or it is considered a concealed weapon. This "fear" of choosing a blade that is too long and somehow being found out that you are carrying one with potential legal repercussions has prevented people from considering the purchase of this must have tool.
There are other barriers in place like:
The overwhelming number of choices
Not sure how much to spend
Not sure about the blade length
We Whittled the Choices Down
What we did to come up with the best option was to do a little elimination. We looked at quality, overall positive reviews and cost. By choosing an EDC folding knife that would be affordable to most and using consumer reviews to guide us we were able to eliminate a large chunk of choices.
We like extras as well, so we are going to look at foldable knives that offer a little more bang for the buck than just a simple model. We want to find the best foldable knife that will offer you the best service and think that many times the best service comes from a tool that can multi-task.
The Blade Length
We did a little research and learned that in most places there are laws regulating blade length. We decided to consider EDC folding knives that had blades 4 inches or smaller. 4 inches is plenty of lengths to get most jobs done comfortably and keep you from having any issues with your friendly local police officer.
A word about expectations. They are also not very good personal protection equipment. They are tools and they will help you to get out of tight spots when you need this type of tool.
Top 3 – Best EDC Knife
1. Grizzly Survival Tactical Pocket Knife
Specs:
Aluminum and steel housing
Multi-tools
Serrated edge
3-inch blade
What others have to say:
This is a bit more than an EDC folding knife. It has a mini flashlight, a glass breaking tool, a seat belt cutting tool and other tactical features.
What we love:
We love the size, which is about five inches closed, and about eight inches fully engaged. We love all the extra tools that are incorporated; it even has a fire starting stick. It's a well designed knife, and the added tools are a real bonus.
Check Amazon To View Current Pricing & Availability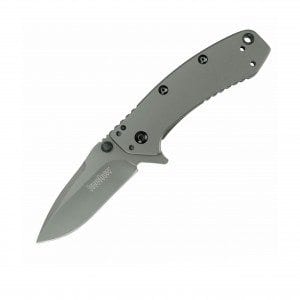 2. Kershaw Cryo Knife
Specs:
2.25 blade length
3.25 inches overall length
Pocket clip that works tip up or tip down
Speed safe operating system
Steel construction with titanium cover
What others have to say:
The overall length (when opened) is about 6 inches, which is the ideal size for most jobs. It may be the best folding blade within this budget range.
What we love:
We love the blade length and the shape. It feels good in your hand because it is not too lightweight, but it travels easily because it is not too heavy.
Check Amazon To View Current Pricing & Availability
3. BlizeTec Survival Knife
Specs:
3.5-inch blade
Firestarter
Seat belt cutter
5 inches long total length
Magnetic LED Light
What others have to say:
This is a five in one knife that is perfect for everyday carry. The extra tools make it a handy tool to have whether you are in the woods or at home. We like the high-quality tools.
What we loved:
We like the multi-tool features. We like that the blade is just the right length and that the tool is light; you do not feel like you are carrying something that is cumbersome, like some other foldable knives feel.
Check Amazon To View Current Pricing & Availability
Conclusion
Okay so maybe we went a little overboard and did not stay purely with just the "knife" feature. The bottom line is why pay for just a foldable blade or EDC when you can get a great tactical tool for the same money.
If you are not giving up any function or quality, it would stand to reason that a top rated folding kinfe will give you tremendous value. We think that the Grizzly Survival fits the bill nicely. It is a reliable EDC knife, and it offers you a nice set of tools as well. It is well made and is built to last.
More Articles