A great tactical jacket will look nice, keep you warm, and still prepare you for hiking, camping, survivalist expeditions, hunting, or even combat. Average people now have access to military-quality jacket materials, thanks to the internet. This means you have no shortage of options and that the hardest part can be choosing between the sea of products out there.
Let's go over 15 of the best tactical jackets on the market today. Although most of the items on the list state that they are men's jackets, they could also work for women, just check the size.
1. Rothco Special Ops Soft Shell Jacket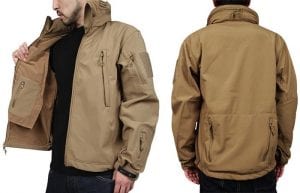 Image via Jebiga.com
These soft shell tactical jackets by Rothco are made with the moisture-wicking material, built to be breathable, and come with a waterproof shell made of polyester. This triple-layer construction helps you retain body heat, wicks moisture away, and deflects wind.
Built for professionals in the field, the jacket is suitable for the slopes, the streets, and works well for embroidery. Rothco is among the top suppliers of tactical, military, survival, and outdoor gear.
2. MFH Men's US Tactical Soft Shell Jacket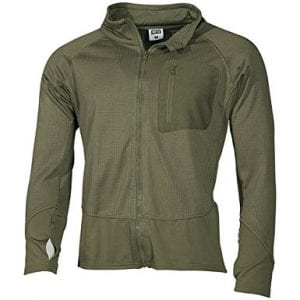 Image via Amazon
Ideal for airsoft, paintball, hunting, hiking, or just to wear as a reliable base layer, this MPH US Tactical Jacket is breathable, fast-drying, and moisture-regulating. It's great for cold weather and has a stand-up collar to protect against wind. The front zip comes with a chin guard and you'll find a zippered chest pocket for storage, with a hanging loop and Velcro patch at the neck. It's made from 100 percent Polyester material.
3. MAGCOMSEN Men's Tactical Jacket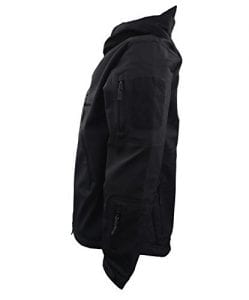 Image via Shoparmystuff.com
This soft shell, Shark Skin jacket is thermal, breathable, windproof, and waterproof. The MAGCOMSEN tactical jacket will keep you warm with inner fleece and features a drawstring hood and waist. This helps with comfort and wind protection.
Ideal for hunting or other outdoor activities, the jacket comes with two back pockets with zippers for storing gloves and maps. The two high chest pockets on the coat are also large enough to store such items, while the included sleeve pockets will fit your mp3 player or cell phone.
4. Camo Coll Men's Outdoor Jacket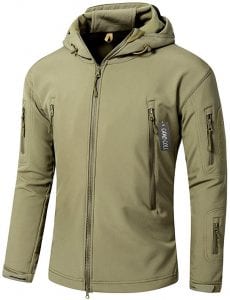 Image via Amazon
If you need a sturdy tactical jacket, consider this Camo Coll Outdoor coat. It's made from nice fabric with convenient pockets. If you're wearing a tactical vest, the side pockets on the upper area will still fit your hands perfectly. The inner lining of these pockets is soft, warm, and nice.
The hood comes with Velcro so you can roll and tie it down. The hood itself has a similar structure to Northface jackets. You can choose between a few different colors, including coffee.
5. ReFire Gear Men's Hoodie Jacket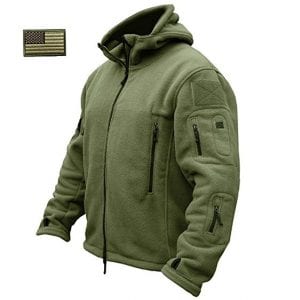 Image via Amazon
If you want a jacket that's suitable for outdoor sports or Military training, the ReFire Gear Fleece Hoodie will work well. It's comfortable in the cold, with soft fleece to keep the wearer warm. It has more pockets than an ordinary jacket making it perfect for fishing, climbing, or hiking in addition to other survivalist activities. Keep your credit card, phone, and EDC items in the plentiful spaces provided.
6. Condor Men's Alpha Tactical Fleece Jacket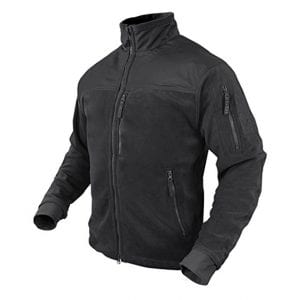 Image via Amazon
This choice is great for what you pay. The Condor Alpha has extra pockets and reinforced forearms which make it good for shooting. It also comes with a mesh lining that helps it breathe easier to prevent overheating. There are thumb holes and sleeve extensions in case you have longer arms or need to keep the sleeves down over your wrists in cold weather. This tactical jacket is built well enough to handle outdoor wear and tear over time. It comes in a variety of colors, too.
7. FREE SOLDIER Outdoor Military Tactical Jacket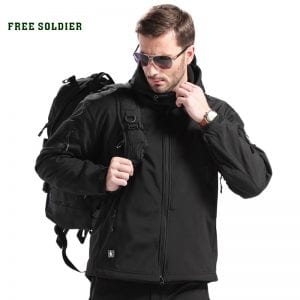 Image via AliExpress.com
This coat has warm, soft inside material while still offering functionality for outdoor use. The hood folds up completely, making a padded collar for comfort and convenience. This FREE SOLDIER product may run a little small, so you might want to order the next size up from what you normally pick.
8. TACVASEN Men's Military Tactical Jacket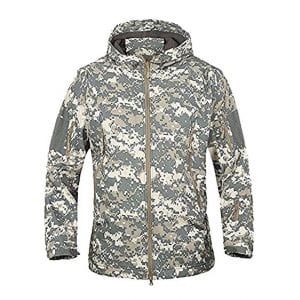 Image via Amazon
Another functional jacket on our list, the TACVASEN Men's Hooded Coat is breathable and windproof. There are functional pockets with zippers throughout the coat, perfect for EDC equipment like a flashlight, wallet, pen, and tactical knife.
This coat is built with quality materials and warm fleece on the inside for cold days and is lightweight for comfort. You can wear it hunting, fishing, camping, or combat shooting. This coat is best for an outer layer since it isn't as waterproof as some other choices on the list.
9. Maelstrom TAC PRO Soft Shell Tactical Jacket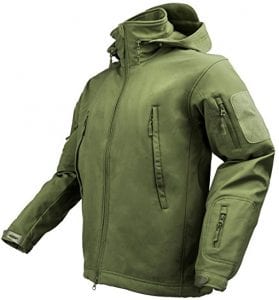 Image via Amazon
If you need a tactical jacket that will wick away moisture, help you retain body heat, and keep out wind and water, the Maelstrom TAC PRO can work for the job. It comes with multiple pockets (with zippers) and a drawstring hood and waist. This gives it a professional look and functional feel.
10. Men's Army Tactical Hooded Hunting Jacket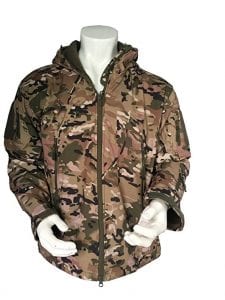 Image via Amazon
If utility is as important to you as comfort, this Men's Army Hunting Jacket could be a good choice. It's made from 94 percent Polyester, has internal fleece, and a windproof and waterproof design. The roll-out hood doubles as a collar, just fold it out. The adjustable wrist cuff allows for a custom fit.
11. Chouyatou Men's Full Zip Jacket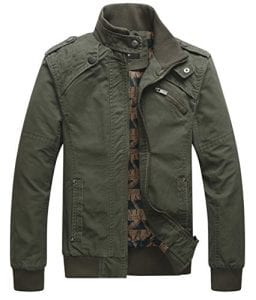 Image via Demo.emarthub.net
If you want a tactical jacket that comes with shoulder straps, the Chouyatou Full Zip Jacket is worth looking at. The fabric is 100 percent cotton while the lining is made from 100 percent Polyester. It's machine washable and comes in army colors.
12. DLP Tactical Stalker Fleece Hooded Jacket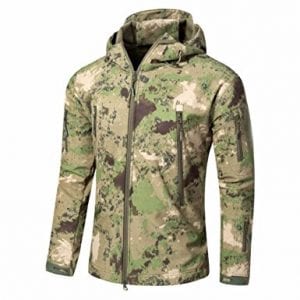 Image via Amazon
A stylish and performance-ready jacket, this DLP Tactical Stalker product is comfortable, breathable, and easy to care for. It repels stains, dirt, and water on the surface due to the 4-way Polyester stretch material. You'll stay insulated and warm but won't overheat due to its breathability. The drawstring waist offers a custom fit and the front has double zippers with large pockets for important items. Under the arms, there are zippered vents so you can let the heat out when you're feeling warm.
13. Special Ops Outwear Hunting Jacket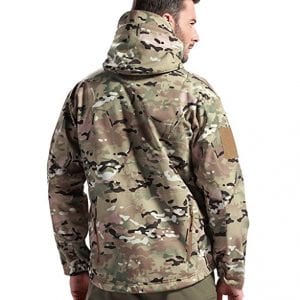 Image via Amazon
For outdoor adventurers who plan to encounter lots of rain, this Special Ops Hunting Jacket is ideal. It has a collar that offers wind protection. The coat won't shrink and keeps you warm without producing static. The chest pocket is multi-functional and has a hanging ring included for keys or headphones.
14. TRU-SPEC Men's 24-7 Tactical Softshell Jacket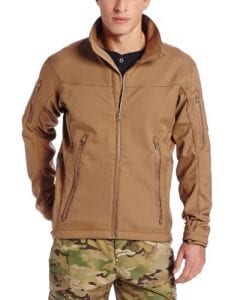 Image via Pinterest.com
From one of the top suppliers of personal equipment and uniforms to law enforcement and military, this TRU-SPEC 24-7 jacket is trusted by professionals every day. It's 90 percent Nylon, imported, and comes with pockets on the arms and torso for important EDC items. If you want to wear what the pros wear, this is a good choice.
15. Men's SCOTTeVEST Jacket – 25 Pockets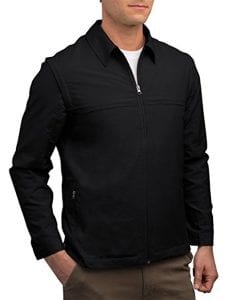 Image via Amazon
If you need to carry a heavy load in your pockets in an outdoors environment, this SCOTTeVEST jacket offers 25 pockets. Its weight management function helps you balance weight across the jacket to prevent pain in your back and neck. Weight distribution is key to health, especially when you'll be traveling long distances in your tactical jacket. Although its convenience can't be denied, this jacket may not be as durable as some of the others on the choice, so it's better for practice situations.
Tips for Staying Dry in your Tactical Gear
A survivalist situation might mean hours and hours out in the rain. While rain gear is important to have, it's not the last consideration you should make. In addition to your tactical jacket, you'll want to take extra measures to stay dry.
Bring a Hat
A hood is great for keeping your head dry, but if you want to take it a step further, you should wear a cap, too. This will create a ledge that protects your eyes from rain and also prevents water from trickling down your neck off your face. Try to find a synthetic cap that doesn't absorb water and dries fast for optimal results and add it to your bug out bag.
Cuff your Hems
If your sleeves or pant cuffs are longer than your rain gear, they're going to get wet and it's going to be uncomfortable. This could also lead to chafing. By rolling up your sleeves and pant cuffs slightly, you can prevent this unfortunate occurrence and stay dry easier.
Use Wrist Straps
If you're wearing a raincoat over your jacket, make sure you use the wrist straps if they're included. Your tactical jacket might also come with these, so don't forget to make the most of them. If your sleeves can't ride up, your wrists will stay dry.
These simple tips can help you stay dry even in the wettest of seasons. Depending on how waterproof your coat is, and how rainy of an area you live in, you may want to get an extra outer layer to protect you from unneeded moisture.