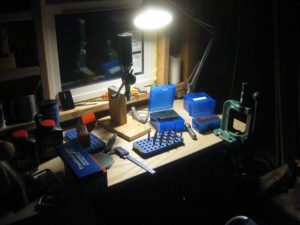 Are you looking for the best reloading supplies designed to help beginners? With more people buying guns now than ever, ammunition is becoming increasingly expensive. Reloading your own cartridges can be a very entertaining hobby—one which saves you money and can increase your shooting performance! For many who are just starting out, however, handloading might seem a difficult field to break into. There's a lot to know, and it's important to get it right.
Don't waste time or money on untested or poor-quality reloading equipment. We've already done the research! Here are our recommendations on what to look for when buying the best reloading supplies for beginners. We also have a few recommendations so that you can hit the ground running.
Reloading supplies buying frustrations
Price is important to everyone, but when dealing with potentially dangerous materials, you can't afford to be cheap. Producing safe, usable ammo means using quality equipment and materials from reputable manufacturers. Like with any tool, the longer your reloading gear lasts, the better. Unfortunately, it can be difficult to source quality products.
If you're a beginner, you might not know exactly what to buy. You'll need a good number of specialized tools, and it's frustrating to purchase them all separately. Fortunately, there are quite a few reloading kits on the market that come with all, or nearly all, the components you need to handload cartridges.
Benefits of owning your own reloading equipment
There are many benefits to reloading your own ammo. It's much more expensive to buy factory-loaded cartridges than to reload ammunition. Over time, your handloading equipment will pay for itself. Reloading is also a great way of converting used brass into savings.
By reloading your own ammo, you can develop and create custom rounds, optimized for your gun and shooting style. Competitive shooters can create ammo designed for greater accuracy and distance. If you own an antique pistol or rifle, you'll be able to make obscure calibers you can't find elsewhere.
The greatest advantage to reloading ammo, however, is that it's just fun. Reloading is a relaxing and enjoyable hobby, perfect for those days you can't get out hunting or to the range. Nothing is quite like the feeling of accomplishment you get when you fire off a round you made yourself.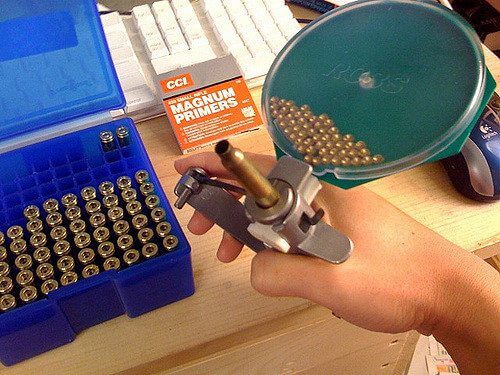 Top Products
If you're just starting out with reloading, overcoming that first hurdle of sourcing reliable reloading equipment is a challenge. The three top options we're suggesting are from manufacturers that have a long history of producing quality products.
Lee Precision Breech Lock Challenger Kit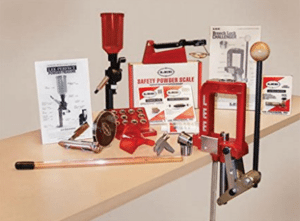 The Lee Precision Breech Lock Challenger Kit includes everything a beginning reloader needs. Though certainly a basic model, and quite inexpensive, it's made to a very good quality. The kit contains a complete powder handling system, a safety scale, and a powder funnel. These tools offer simple and repeatable measurements. The breech lock press and quick change bushings in particular are reviewed kindly.
Although this isn't a kit with the fastest or flashiest tools for reloading, it is fantastic for beginners. Buyers say they have made thousands of rounds with this equipment without trouble. Other items included in the set are a case cutter and lock stud to trim cases, a chamfer tool, primer pocket cleaning tools, as well as a tube of sizing lube. A few buyers commented on the plastic used for the powder thrower, but also said that it was still accurate enough for beginners, just not ideal for precise fine tuning.
While it's not a progressive reloading kit, and as such is a little slow and basic, most shooters agree that it's a fantastic choice for people new to reloading. It's especially suitable for those who don't shoot more than one or two hundred rounds per week. Overall, this kit is a good, solid system for both newbies and experienced users.
Check Amazon To View Current Pricing & Availability
Hornady Lock-N-Load Auto-Progressive Reloading Press
Hornady's Lock-N-Load AP is professional grade piece of equipment, but still suitable for beginners. The Lock-N-Load is an auto-progressive reloading press, meaning you can quickly switch dies to load other calibers—a much-loved feature. Buyers say they can switch from loading rifle to pistol rounds in under 5 minutes.
Although this system is slightly more complicated than others on this list, reviewers say it's one of the best they've seen—and that it's fairly easy to get the hang of. The built-in priming system is a huge bonus that users love. Reviews also say it can reliably produce hundreds of rounds an hour. If you're a beginner or don't shoot much, however, then a simpler, cheaper option may be a better choice.
Check Amazon To View Current Pricing & Availability
RCBS Rock Chucker Supreme Master Reloading Kit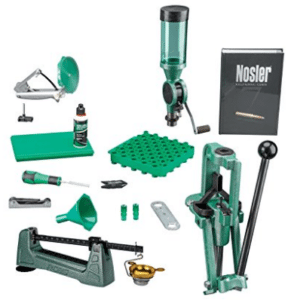 The Rock Chucker Supreme Master Reloading Kit by RCBS is a top-quality toolset suitable for beginners that includes several great features normally found in much more expensive ones. The kit comes with a press, scale, accurate powder measure, and everything else you need to reload your cartridges.
Buyers say the quality is top-notch, and that the tools are built to last decades of use. In fact, one thing that comes up in reviews is that this kit hasn't changed much since the 1970s. For most reloaders, this is a positive thing. If it ain't broke, don't fix it! The included manual and instructions are good by most accounts, making it even easier to get started.
RCBS has a great product here, built to the highest standards and with decades of experience and great reviews. The kit provides everything you need to start handloading ammo. Reviewers generally agree it's a fantastic option for a beginner, suitable for a wide range of ammunition types.
Check Amazon To View Current Pricing & Availability
Conclusion
Owning your own reloading equipment doesn't just save you money, it also makes for an enjoyable and relaxing hobby. Getting started can be confusing but, with the right kit, you'll be up and running in no time. It's important the tools are top-quality and reasonably-priced, especially when you're a beginner. Our top pick for a new reloader is the Lee Precision Breech Lock Challenger Kit. It's a trusted and quality set of equipment with great reviews. Though perhaps not the fanciest kit available, it comes with everything you need to get started reloading your own cartridges, all at a fantastic price.
Image credit via Flickr Creative Commons: Ryo C.
Additional Resources
More Articles