At the end of the day, all guns need a safe haven to be put into. In some places such as Australia, keeping your firearms in a gun safe is required by law.
However, even if the law doesn't expressly demand it where you live, getting a gun safe is pretty much essential for practical and moral reasons. To keep these powerful and dangerous tools from ending up in the wrong hands, of course.
But also in case of an accident or natural catastrophe that could destroy your gun collection, valuables, and important documents.
Fireproof gun safes exist for those extreme situations and are there to protect your belongings when all else fail. In this article, we gathered a list of the 7 best fireproof gun safes on the market in 2020.
1. SentrySafe SFW123DSB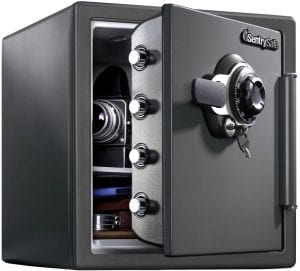 https://www.amazon.com/dp/B005P12F2K/
SentrySafe is an extremely reputable company for gun safes, and when it comes to fireproof safes, they are one of the very first names that come up. The SFW123DSB is an excellent fireproof safe which is UL classified to withstand temperatures of 1700 degrees Fahrenheit for up to one hour. The interior of the safe remains at normal temperatures to prevent any important documents from being destroyed. What's more, the safe is also water resistant, with ETL verification that it can offer 24 hours of protection in case of a flood.
In addition to being fireproof and waterproof, it's just a very good safe overall. It has four one-inch bolts to lock your valuables, is pry-resistant and has a solid steel build. The safe uses a dial combination lock to open, with a backup key. The interior features an adjustable shelf to keep your valuables neatly organized.
2. First Alert 2096DF
https://www.amazon.com/dp/B000WUJ5X6/
The First Alert 2096DF is a medium sized fireproof safe that offers a 2.1 cubic feet capacity, which is plenty to keep a few handguns with ammo, or a combination of firearms and valuables. Its exterior measures at 23.38 x 17.63 x 24.13 inches. This unit's interior features two adjustable and removable shelves to help you micromanage the storage area.
This is a strong safe, pry-resistant and with concealed-hinges to make it even more difficult to pry open. This unit will resist temperatures of 1700 degrees Fahrenheit for up to one hour. It's also sealed to be water resistant even if the safe is entirely submerged. The 2096DF uses a digital lock and keypad, and comes with an override key in case of a malfunction.
3. Steelwater Standard Duty 16 Safe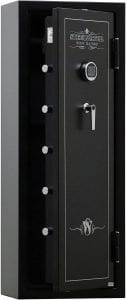 https://www.amazon.com/IMPROVED-Steelwater-Gun-Protection-AMEGS592216-BLK/dp/B00UPDTEI6/
This Steelwater unit will protect up to 10 long guns, with an additional storage space to store smaller rifles. When it comes to fire protection, the Standard Duty 16 has no problem resisting temperatures of 1,875 degrees Fahrenheit for up to one hour. The safe is also protected against EMP, with its EMP proof electronic combination lock, and of course provides the customer with an override key.
In addition to the fire protection, this Steelwater safe offers powerful security against intruders. The four-inch thick door and 10 1.5 inch steel locking bolts attest to that. Inside the safe is a built-in light for ease of access at night. This excellent safe is a solid choice to keep your rifles, though it's not necessarily the best fit if you have bigger guns.
4. Winchester Pony 19 Safe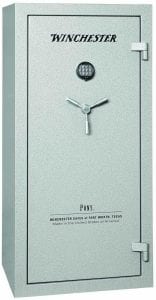 https://www.amazon.com/Winchester-Pony-Safe-Electronic-Granite/dp/B079GJ3XZ6/
The Winchester Pony 19 safe will satisfy gun owners who have a decent sized gun collection. It's advertised to be able to store up to 24 long guns, though you can generally bank on storing half of that amount if you have a fair amount of accessories. Nonetheless, it's a pretty roomy safe, though with dimensions of 60 x 20 x 28 inches, it's not very bulky.
As for fire protection, the Winchester Pony 19 will withstand temperatures of up to 1400 degrees Fahrenheit for 60 minutes. The safe is RSC approved and exceeds California DOJ requirements. Furthermore, it has a strong build made out of 12-gauge steel, and a beautiful powder coated granite finish. The interior is extremely adjustable, allowing you to arrange long guns, pistols, ammunition, jewelry and other valuables to your liking. We regret the absence of an interior light, but overall, the Winchester Pony 19 is a sturdy mid-sized safe.
5. SentrySafe SFW123GDC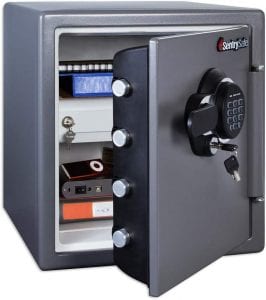 https://www.amazon.com/SentrySafe-SFW123GDC-Fireproof-Waterproof-Digital/dp/B005P12C5A/
The SFW123GDC is another entry by SentrySafe, a company that specializes in making quality fireproof safes. The safe has four one-inch steel bolts, which makes them thicker and more durable than most of what's found on the market. In addition to a solid lever hinge, the SFW123GDC features a combination of lock and key to make it more difficult to break into. The security code is easily set and the override key is there for more reliability.
Naturally, this safe provides a strong protection against fire as it is UL grade fire-resistant and can resist temperatures of 1700 degree Fahrenheit for up to one hour. Furthermore, it is ETL certified as waterproof, and is guaranteed to protect your valuables for 24 hours in case of a flood.
The safe's interior has an adjustable shelf and even features a safety drawer for more possibilities of organization. The interior is also lit when you open the safe to avoid fumbling about in the dark if you're ever in an emergency situation.
6. Hollon HS-360D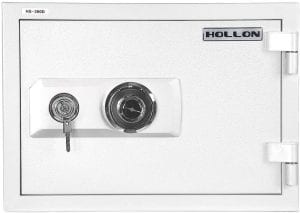 https://www.amazon.com/Hollon-HS-360D-Hour-Fireproof-Home/dp/B0090Z7MFW/
When it comes to getting a strong fireproof safe, the Hollon brand shouldn't be discounted. The HS-360D comes with a superior fire rating compared to other safes. It can withstand temperatures of up to 1700 degrees Fahrenheit for a duration of two hours. Inside the safe, the temperature never rises above 350 degree Fahrenheit, guaranteeing that your important documents, firearms, and other valuables remain intact. In addition to the outstanding fire protection, this safe is also impact rated for a fall of 30 feet.
The interior has a storage tray to keep your goods organized. One thing to note is that you can't combination code comes preset and cannot be changed. The door also requires a firm pull to open, so keep that in mind if you need instant access in the middle of the night.
7. SentrySafe SFW123TSC
https://www.amazon.com/SentrySafe-SFW123TSC-Water-Resistant-Alarm/dp/B0786P3FBD/
If you want even more protection with your fireproof safe, just what you might need is a unit with a tamper alarm. The SentrySafe SFW123TSC guarantees that your safe will resist temperatures of 1700 degree Fahrenheit for up to an hour, while also offering the protection of an adjustable siren and four live locking bolts. With its 1.23 cubic feet, this safe is quite spacious. To get access to its content, there's a digital backlit keypad. The SFW123TSC has also been EL-rated to remain unopened after being dropped 15 feet.
If any thief tries to get access to your safe, the built-in siren will ring instantly. What's more, you can adjust the alarm to suit your preferences: set the sensitivity and duration of the alarm as you like for maximum peace of mind and security according to how your home is set up. The alarm will also ring after five incorrect attempts with the keypad, and if anyone tries to pry open the safe.
How to Choose a Fireproof Safe
Naturally, the first thing to look at when shopping for a fireproof safe is resistance to heat and flames. In that department, not all safes have the same capacity. Some may only be able to withstand heat for up to half an hour before sustaining damage. Those safes have minimal fireproof ratings. Most safes, however, are able to be exposed to fire for one hour. The most fire resistant safes carry a two-hour fireproof rating. Furthermore, some safes are also waterproof and have been drop-tested.
Another thing to consider is the weight of the safe. Safes can come in a wide variety of different weights, and that's going to affect how easily they can be carried. Larger safes can weigh more than 100 pounds, which makes it very difficult for any would-be thieves to walk away with your belongings. Alternatively, some safes in the 8-15 pounds range are pretty lightweight, and you can easily take them with you while traveling. For lighter safes that are at risk of being stolen, you generally have the option of bolting them down. These safes can also often be placed in hidden areas of your home due to being smaller.
Finally, you can look at the locking mechanism of the safe you want to purchase. Of course, the locking mechanism needs to be sturdy, otherwise it can present a vulnerability. Some safes have old school locks with key closures, though they are not for everybody as a key is easily lost. Many fireproof safes feature keypads where you have to enter a passcode to unlock the safe. Other safes have a combination lock. Lastly, state of the art safes often have biometric locks, where fingerprints are used to open the safe.
The Best Fireproof Gun Safes of 2020
When it comes to fireproof gun safes, you can't really go wrong with a SentrySafe unit, but all the items present on this list should guarantee the safety of your guns and valuables against thieves, fires, and in some cases, even water. At any rate, we hope you'll find the safe you're looking for, and hopefully never have to test its resistance.