Defending yourself and your loved ones isn't just a luxury, it's a right. For this purpose, a handgun is pretty much the perfect weapon. You can keep one close-by at the ready, to face any unexpected situation that comes your way.
Not to mention that shooting a gun is just plain fun.
Of course, it might be difficult to know which one to choose with so many options available.
In this article, we'll explore some of the top rated handguns in 2021 to help you make an informed decision.
1. Heckler & Koch – VP9 Pistol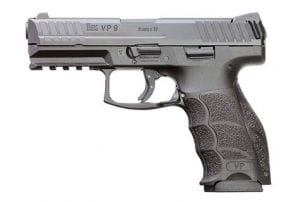 Heckler & Koch is a top-notch gun manufacturer. They are not the cheapest brand out there, but the VP9 is a top pick considering the features, quality on display, and competitive price.
The "Volkpistole", or "people's pistol", boasts an elegant look with an intelligent, ergonomic design. The ambidextrous controls will please left- and right-handed shooters alike.
When holding the pistol, a slight bulge is felt. If you squeeze it inward, the action cocks to prepare the gun for firing. This feature prevents any risks of inadvertent firing as the VP9 cannot be used unless this is done.
As for the trigger, it is quite simply excellent. It's short, crisp, and light, making the VP9 ideal for home defense. The gun is easy to use and ready to fire in an instant. The VP9 will suit inexperienced shooters seeking to learn.
Furthermore, it has great accuracy thanks to its fixed cold hammer forged barrel with polygonal rifling. It also features a gas retardation system which has the benefit of considerably reducing felt recoil when firing.
This striker fired pistol weighs 1.66 pounds, with a barrel length of 4.1 inches. The pistol's overall length is 7.34 inches. The VP9's capacity is 15+1 rounds, and it comes with two magazines.
It's equipped with the very popular H&P 3-dot front sight. Lastly, the polymer finish of the stock guarantees the gun's durability.
2. Glock 19 Gen 4 9mm Pistol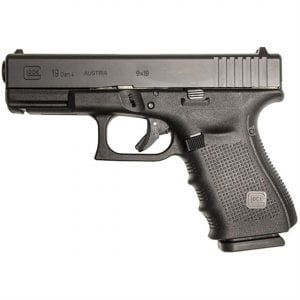 In the world of pistols, few names are as recognizable as Glock, a manufacturer known for quality. Living up to its reputation, the Glock 19 Gen 4 is a powerful offering, and the weapon of choice of many law enforcement professionals.
The Glock 19 is nothing if not extremely dependable. It is the perfect handgun for personal protection. This striker-fired, semi-automatic gun is quite compact and light making it excellent for conceal carry. Additionally, it doesn't have an external hammer or manual safety.
In other words, simply pulling the trigger is enough to shoot the pistol. New shooters will find it extremely easy to use.
The gun is highly customizable. It comes with a modular backstrap design that lets the user adapt the grip perfect to his or her hand size. It is also intended for ambidextrous use.
The Glock 19 is ideally suited for a wide variety of situations, including home defense, practicing at the range, and competitive shooting. The standard magazine capacity is 15 rounds, although extended capacity models can also be purchased.
3. Ruger SP101 .38 Special Revolver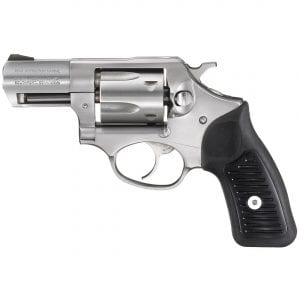 The SP101 by Ruger is a popular revolver that can be obtained for a decent price. This handgun offers an amazing combination of power and maneuverability. It can take 357 Magnum and 327 Federal Magnum cartridges but remains highly controllable.
This double-action revolver is perfect for people looking for a small-frame weapon. It is a potent handgun that is very reliable. The SP101 is a pleasure to shoot, and comes with a recoil-reducing grip. The design is straightforward with solid steel sidewalls, meaning there are no side plates to be concerned about.
The SP101 is fit for beginners as it is very easy to use and dependable. The only potential downside is the 5-round capacity that might be a little low for some shooters.
4. Smith & Wesson – M&P M2.0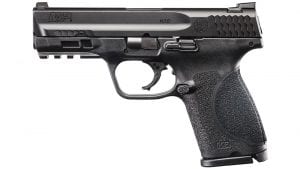 Smith & Wesson is another world renowned gun manufacturer, with a long history of quality, dependable handgun models.
The Smith &Wesson M&P (Military & Police) M2.0 follows that tradition. It is an innovative pistol made of polymer that gives the shooter a completely new platform.
The M&P M2.0 is a striker-fired, semi-automatic pistol that comes in either flat dark earth or matte black finish. It features a 4.25 inches long barrel with a 1 in 10'' twist, and has an overall length of 7.4 inches. It weighs 1.55 pounds and is equipped with a fixed front sight.
The magazine capacity is 17+1 rounds and the pistol comes with two magazines. S&W's company guidelines offer a limited lifetime warranty and a lifetime service policy.
The M&P M2.0 improves upon earlier S&W designs in several areas, including the frame, grip, trigger, and finish. Furthermore, the stainless-steel chassis and enhanced high grip to barrel bore axis ratio work to diminish muzzle rise and quicken aim recovery.
The trigger action has been refined even further. The pull is lighter and the tactile reset can clearly be heard. The grip is aggressively textured and its angle has been optimized to 18-degree for a perfect natural point of aim. As a result, the M&P M2.0 is a joy to handle and delivers high performances in any environmental conditions.
Lastly, this handgun has four interchangeable palmswell inserts that help ensure the best hand-fit and trigger reachability for any shooter.
5. Sig Sauer – P320 M17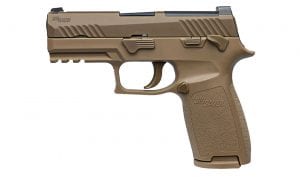 Like other manufacturers in this list, Sig Sauer is a heavy hitter when it comes to handguns. The P320 M17 in particular is a pistol of amazing quality.
The U.S. military conducted extensive testing to elect the best possible side weapon to their soldiers. After getting a vast array of handguns from various respected manufacturers, the M17 model eventually emerged victorious above all others and was adopted by the military.
Later on, Sig Sauer decided to release a commercial version of this superlative pistol, and the P320 M17 model was born. While not an exact replica of the gun carried by soldiers, the P320 has the same specifications.
This pistol comes in a stylish Coyote finish with contrasting black controls. It boasts a Physical Vapor Disposition coating on its grip and stainless steel slide. This type of coating is not only extremely durable, it is also the most environmental friendly option available.
The P320 is 8 inches long, with the barrel measuring 4.4 inches, and weighs 1.85 pounds. It features front and rear SIGLITE night sights for excellent target acquisition in any lighting conditions. Additionally, the gun has a removable rear plate to attach slide-mounted optics.
This pistol also comes with two magazines of 17 rounds upon purchase. Naturally, security is on the menu with the addition of a thumb safety. Furthermore, the P320 exists in versions with or without a manual safety.
6. Beretta M9A1 9mm Pistol
A list of the best handguns just has to include at least one Beretta. In particular concerning the M9 series, these handguns are among the cream of the crop and worthy of consideration for anybody seeking their money's worth.
The M9 series have found use among the US Marine Corps. If that isn't an indicator of quality, then nothing is. Reliability, maneuverability, durability, accuracy, the M9 has it all. With its intrinsic quality, this handgun is ideal for personal defense just as much as competitive shooting.
The M9A1 comes with a host of tactical features that will ravish even the most experienced shooters. The gun is equipped with an integral Picatinny MIL-STD-1013 rail located under the barrel to attach any laser aiming device, tactical light, and other gear with ease.
It otherwise has a 3-dot sight system optimized for quick aiming. The M9A1 features checkered front and backstrap on the frame which guarantee a firm grip under in any environment. Additionally, the 15-round magazines supplied with the gun have an aggressive internal bevel for lightning fast tactical reloads.
The safety feature is designed to accommodate both left- and right-handed shooters equally. The M9A1 measures 8.5 inches in length, with a barrel of 4.9 inches, and an unloaded weight of 33.9 ounces.
7. Glock – G41 G4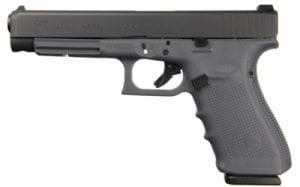 The second Glock of this list is another critically acclaimed model. The G41 G4 is a powerful dependable unit that has garnered many fans since its inception.
This model was designed for maximum practicality with an ingenious tactical bend. Sight radius is emphasized with a carefully thought out weight distribution. As a result, the G41 G4 is well balanced and has an increased efficiency. You'd be hard pressed to find a better pistol for home defense.
The pistol has a longer barrel and slide work in order to diminish muzzle rise as well as felt recoil when firing. The longer sight radius provides the shooter with better aiming opportunity.
If you're already familiar with Glock Generation 4 models, you'll feel right at home with the G41 Gen 4. It has all the standard features of the Gen 4 units, including Glock's famous grip frame, interchangeable backstraps, and reversible magazine catch.
However, the G41 G4 tends to be lighter than other Gen 4 Glock pistols. It weighs a mere 1.5 pound. It also features a new design dual recoil spring assembly, and comes with three magazines of 13 rounds upon purchase.
The G41 has a highly durable polymer stock. It is 8.9 inches long, with a barrel of 5.31 inches. It has a fixed front sight and adjustable rear sight. All in all, you can't go wrong with the G41 G4.