Need a tactical backpack? The army has created advanced designs for them, along with other top-of-the-line accessories and clothing articles. These items are convenient not just for combat, but everyday uses and are now available to everyone. Tactical gear is the best quality gear you can get, which is why so many manufacturers have borrowed the technology for their products.
While some brands only claim tactical quality, you'll be glad to know that 5.11 Tactical is the real deal and won't disappoint. This level of durability is worth spending a bit extra on. Below, we will list the 5 best tactical backpacks available from 5.11 Tactical. Then, we will cover their features in a bit more detail.
The Best 5.11 Backpacks on the Market Today
The 5.11 Tactical RUSH Moab 10 Backpack
5.11 Tactical COVRT 18 Backpack
The 5.11 RUSH MOAB 6 Backpack
5.11 All Hazards Nitro Backpack
The 5.11 56319 Havoc 30 Backpack
The 5.11 Tactical RUSH Moab 10 Backpack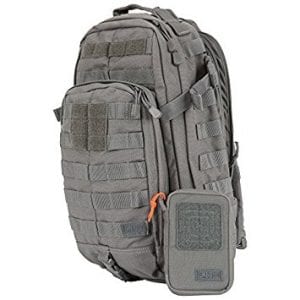 Image via Amazon
The MOAB 10 tactical backpack from 5.11 Tactical offers plenty of room for your accessories and gear. It also expands to offer more storage space and a customizable layout. This pack comes with a hydration pocket so you'll never have to hit the trail thirsty. The bag has plenty of room for your everyday carry items and also has some unique features you won't find on other backpacks.
You can access every compartment by sliding the backpack in front of you. When you're on the job and need quick access to your tools and accessories, this is a crucial and very helpful feature. In addition, there's a hidden compartment big enough to fit a semi-automatic weapon. Another great advantage is that the bag is ambidextrous and comfortable for left-handed users.
5.11 Tactical COVRT 18 Backpack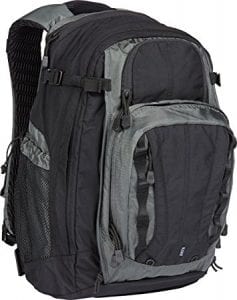 Image via Amazon
The COVRT 18 by 5.11 Tactical is another impressive, roomy tactical backpack. The main compartment has lots of space and the secondary storage compartments can also hold plenty of accessories. Its side-entry system area is accessible easily for both right and left-handed people. And there is a roll-down compartment large enough to fit a full-sized gun.
You'll find a reinforced handle on the tactical backpack, along with an ID panel, pocket for sunglasses, and internal sleeve for your laptop, complete with padding. This bag was designed with comfort in mind which is why it has yoke-style straps for the shoulders and an adjustable strap at the sternum area.
The nylon is water-resistant and durable, while the YKK zippers are tough enough to take a lot of abuse. And the backpack has ties that can lock access to certain areas and comes with a discreet design that won't draw any attention to you.
The 5.11 RUSH MOAB 6 Backpack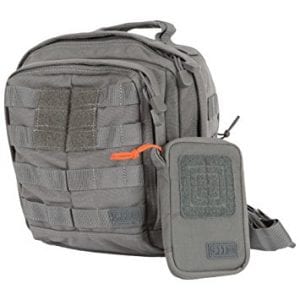 Image via Amazon
The RUSH MOAB 6 tactical backpack is crafted from durable nylon, comes with a carry handle, side and front web platform, external and internal organization, and a backup belt arrangement. It's suitable for both left and right-handed users due to its ambidextrous system and design. If you're left-handed, you won't have to struggle to comfortably access your items anymore.
The backpack can easily fit a large iPad along with knives, pens, a notebook, a tactical flashlight, your wallet, extra clothes, and more small items. This is a great choice if you're looking for something a bit smaller and more discreet. Although it's smaller than other backpacks, it's no less heavy duty than other bags by 5.11 Tactical.
5.11 All Hazards Nitro Backpack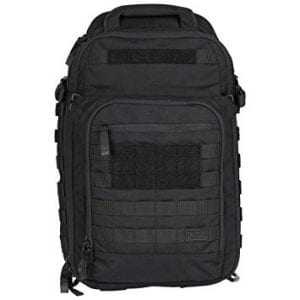 Image via Amazon
If you're looking for a tactical backpack suited for long range, patrol needs, or a bag works as a carry-on for travel, the All Hazards Nitro Backpack could work for you. It's imported, made from 100% nylon, and has dual compartments with 180-degree opening. This allows for easier access when you're on the move. The backpack comes with patches on its sides for hooking and looping important items. And the top of the bag enables you to attach an ID or name tag.
You can place your baton or breaching tools in the pass-through slots. The web platform included on this bag is compatible with Slick Stick and MOLLE. And there's also an orange lining included so you can identify your items and gear easier when lighting is low either indoors or outdoors. The bag measures 4.5 inches in depth, 9 inches in length, and 19 inches in height and comes with a sunglasses pocket.
The 5.11 56319 Havoc 30 Backpack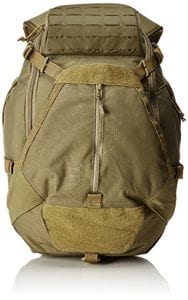 Image via Amazon
Crafted from super-strong nylon, the 56319 Havoc 30 bag is equipped with admin pockets, pockets for your water bottle or double AR magazine, magazine pockets along the waist belt, and more. The waist strap is compatible with zero-G plates. And measures 1.5 inches. There is a hydration pocket included on the backpack which is compatible with chest plates. In other words, this low-profile, sleek package offers unmatched ammo and armor support.
Like the others on the list, the Havoc 30 tactical backpack has a MOLLE platform and also comes with a protected pocket for your glasses. Bring this bag hiking, on the range, or on professional duty trips and it will suit your needs well. It can also make a great bag for motorcycle trips. This bag holds an impressive amount of gear and offers a few different flexible choices to store extra accessories. And to top it all off, it looks great.
What to Use to Clean your Tactical Backpack
Tactical backpacks aren't exactly cheap, so you will want to take some extra time to care for yours properly. You can start by gathering the right supplies and items to get it clean. Here are some materials that are generally considered safe to use for this purpose:
-Your vacuum cleaner
-A small, soft scrub brush
-Mild, gentle soap
-Baking soda
-A rag, cloth, or small towel
-Clean Water
Since tactical, military-style backpacks are usually made of high-quality nylon, you may not want to just throw yours in the washer. Instead, take the time to clean it by hand using the safe materials listed above. Taking the extra time to do this will help your bag last much longer and stay looking great over the years.
Go back to our full 5.11 Tactical review.