What separates tactical pants from ordinary pants? Tactical pants are among the most functional garments out there, offering durable material and plenty of storage. Since they have grown in popularity in recent times, the market is now full of endless options.
Although tactical pants have been made even more efficient for EMS workers with EMS pants, some paramedics still choose to wear the original style of tactical pants. These life-saving, quick-moving professionals need plentiful, deep pockets. And this style of pant offers a way to have their important tools within reach when it matters most.
Law officers have also taken to tactical pants for special forces like FBI as tactical pants are more functional and often more practical than polyester pants. A quality pair of tactical pants will be made by the manufacturer from a strong material with plenty of easy-to-access pockets. Here are our top picks from the 5.11 Tactical brand.
The 7 Best 5.11 Tactical Pants
5.11 Tactical #74273 Men's TacLite Pro Pant
The 5.11 Tactical #74251 Men's Cotton Pant
The 5.11 Tactical #74003 Men's Ripstop
5.11 Tactical Ridgeline Pant
The 5.11 Tactical Stryke Pant
The 5.11 Men's Apex Pants
5.11 Tactical Pant GSA Approved
5.11 Tactical #74273 Men's TacLite Pro Pant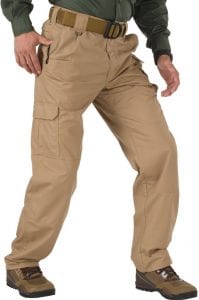 Image via LApolicegear.com
These new TacLite Pro pants are similar to the traditional style from 5.11 Tactical with poly-cotton fabric and a gusseted crotch for easier motion. Also, the pockets are conveniently located to allow easy access to crucial gear. And an outer knife pocket near the front keeps your important weapon always within reach.
Each thigh has cargo pockets and the left side has a pocket for your cell phone or magazine. The knife pocket is Cordura nylon-reinforced for extra durability. These are lightweight, comfortable, and offer a professional, clean look along with functionality.
The 5.11 Tactical #74251 Men's Cotton Pant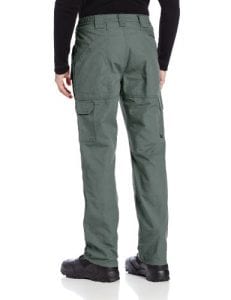 Image via Desertcart.ae
These are a favorite of fire professionals, military, and law enforcement and set the standard for utility and quality for the rest of us. 5.11's #74251 Cotton Pants are crafted from comfortable, tough 8.5 oz. canvas and use triple stitches for extra durability.
The waistband is self-adjusting, offering a reliable fit when you're in motion on the job. There are seven pockets on this pair of pants, offering plenty of room for your gear and a D-ring for your ID or keys. And the knees and seat are double thick to minimize the risk of tearing.
The 5.11 Tactical #74003 Men's Ripstop TDU Pants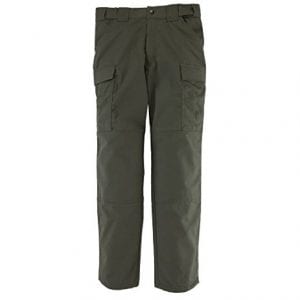 Image via Amazon
These pants were crafted by 5.11 with security and law enforcement professionals in mind and offer all they could need. The 5.11 TDU pants were designed based on input from military, special ops, and police officers over the course of a year. They are made with Rip-stop material (durable cotton and polyester). As a result, this option offers a superior fit, functionality, and comfort.
The comfort waistband is self-adjusting so you can stretch and bend with ease as needed and the front pockets have plenty of room. And included snaps and zippers will stay closed even in the midst of strenuous chaos in the field or while bugging out.
5.11 Tactical Ridgeline Pant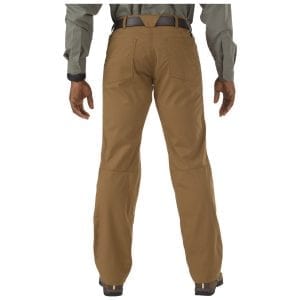 Image via Amazon
These pants combine a casual feel and look with a rugged, reliable standard of utility. The Ridgeline Pant by 5.11 is built with a mechanical stretch thanks to the Flex-Tic fabric. Also, the double stitching at the major seams and durable buttons keep the pants functioning. Consequently, these pants will work hard for you no matter what situation you find yourself in.
Made from a 38% cotton and 62% Polyester blend, these tactical pants offer comfort and mobility on the job. Also, the Ridgeline fabric has stain and moisture resistance thanks to the added Teflon finish, so you can wear them in rain without any worries.
The 5.11 Tactical Stryke Pant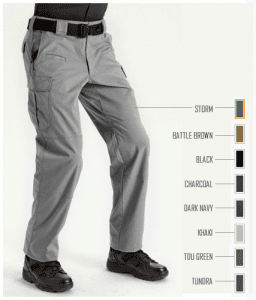 Image via Allworkgear.com
These are the most popular option of tactical pants offered by 5.11 Tactical. Stryke Pants are crafted from stretch fabric, have a self-adjusting waistband, articulated knees, and a fully gusseted crotch for added mobility. They are perfect for active days at work or in the woods.
There are 12 pockets on the pants, including front pockets for everyday carry and extra deep cargo pockets. You can wear these in the field or at home. Built to be extra durable, they come with strong snaps and YKK zippers to keep your items safe and sound while you're on the move.
The 5.11 Men's Apex Pants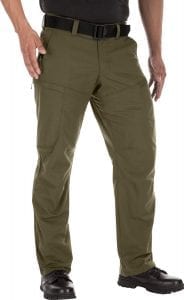 Image via Amazon
Blending functionality, precision engineering, and a strong, durable construction, these Apex Pants by 5.11 Tactical are more than suitable for whatever role you need. Best for covert, casual, or tactical uses, these pants are made with 7.2 oz. stretch canvas for flexibility, mobility, and durability.
Included front hip pockets on these tactical pants have a reinforced knife clip and the thigh pockets are smooth, deep, and come with zip closures for stability. Each pouch has internal pockets sewn in so you can keep your spare ammo within reach. Another benefit is the front waistband pocket for flex cuffs.

5.11 Tactical Pant GSA Approved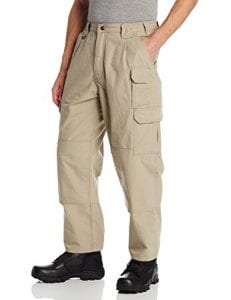 Image via Amazon
Imported with two cargo pockets, these GSA Approved pants by 5.11 tactical have the signature slash pocket and rear strap design to keep your tactical gear safe. While the Teflon fabric layer repels stains and water, the external knife pocket keeps your weapon close by. Since GSA approved fabric is breathable, these tactical pants are perfect for hiking, hunting, camping, and more.
Quick Tactical Pants Care Tips
Your uniform will last much longer if you care for and wash it the right way. So here are a few quick tips for tactical fabric care that you may not know about:
Cold Water: When you first wash your tactical pants, don't use any detergent and use a permanent press setting with cold water instead of hot.
Air Drying: Using low heat, dry your pants for no longer than 15 minutes, then hang them and allow them to air dry for the remainder.
Mild Detergent: For future washes, use a mild soap with warm water on a permanent press setting and use low heat to dry your pants. To prevent wrinkles, always hang them up immediately after drying them.
With the proper care, the right pair of tactical pants will last you for years. Follow these tips and you'll see for yourself!
Go back to our full 5.11 Tactical review.