In this article, we review the best survival hatchets (axes) available in 2017.
The quality of the blade materials will determine the price you pay for your axe (well, maybe about 75% of it). Don't forget that blade size, and handle length when making your decision.
Comparison Chart
Mobile Device Users: For best results, turn your phone landscape (wide view) to see the entire comparison chart.
| Product | Wallet Score | Our Rating |
| --- | --- | --- |
| Fiskars X7 (our top pick) | $$$ | 94 |
| | $$$$ | 94 |
| | $$$ | 90 |
| | $$ | 88 |
| | $$$ | 90 |
| | $ | 74 |
| | $$$ | 90 |
Our Buyer's Guide
A good hatchet can be your best friend when the SHTF (shit hits the fan) because it can also be used as a weapon in close combat. It can consume a bit of time that most people do not have. Of course, there are plenty of options out there as well and going through the decision-making process can be daunting.
Note that survival hatchets can be called "camp axes" "tactical tomahawks" or "hatchets". The names are interchangeable, and all are used to describe the same tool.
There are a couple of different types of handles to choose from like:
Hardwood (traditional)
Fiberglass
Axe Size
There is a difference between a forest axe, felling axe, and a hatchet. The largest difference between the three is the size. While the heads may all weigh close to the same weight (most forest axe heads are heavier), the shafts or handles will be different sizes. The handle is what gives the giddy up to your swing so if you are using a forest axe that handle is going to be a lot longer than a hatchet handle. We determined that the ideal hatchet handle length for survival should be between 10 and 14 inches.
Handle Material
We like the fiberglass handles for longevity. Wood rots, it is just that simple over time no matter how a handle is treated if it is made of wood it will rot. Fiberglass does not rot. The best ones will have a fiberglass handle just to take that rot off the plate of things to worry about.
Top 3 – Best Survival Hatchet (Axe) 2017
1. Gerber 31-002070 Bear Grylls
Specs:
9.45 inches long
Fiberglass handle
Full tang for safety/durability
Blade is 3 and ½ inches long
What others have to say:
The compact size makes it super easy to carry. The blade is sharp, and the handle is durable.
What we love:
We love the handle material but would have liked it to be just a couple of inches longer. We do love the full tang and are impressed by the edge on the blade. Overall, this hatchet comes fully recommended as a prime choice.
Check Amazon To View Current Pricing & Availability
2. United Cutlery UC2765 M48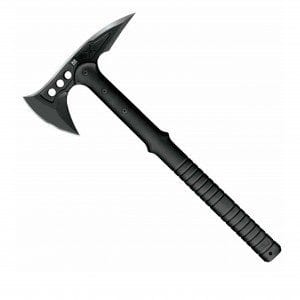 Specs:
15 inches long
Nylon Sheath
8-inch blade
Fiberglass handle that is nylon reinforced
What others have to say:
This is not a throwing tomahawk; it is not made for throwing, and instead is more suited for survival activities.
What we love:
The length is great. We love the fiberglass handle and the beefy sized blade. United Cutlery is a great brand that is well known for producing quality products. This is a great hatchet for survival activities.
Check Amazon To View Current Pricing & Availability
3. Estwing Sportsman Axe 14 inch
Specs:
Leather handle
Steelhead
Black powder coated
3 and ¼ inch head
What others have to say:
Estwing has a great reputation for producing great tools, and that's one of its best selling points.
What we love:
We love the quality construction but are not so crazy about the handle. Overall, this is a highly recommended survival hatchet.
Check Amazon To View Current Pricing & Availability
Conclusion
We found that the Gerber 31-002070 Bear Grylls Survival Hatchet with Nylon Sheath is the best survival hatchet (axe) on the market. It met all of our requirements and is highly regarded by those that own it. The Gerber name holds a lot of weight in the survival communities because they offer well-made products that are affordable for most. This hatchet is a great choice for anyone that needs one.
Additional Resources
More Articles